Reviewing the Pros and Cons of the GXCM Online Investing Platform
Online trading in Australia had benefited from competitive services over the past several years as trading brands raced against each other for customers. GXCM is one of the names providing access to an online investing platform promising both performance and simplicity for an audience of traders already accustomed to professional trading conditions.
To help Australian CFD traders looking for more insights on the platform, we would like to review some of its pros as well as its cons, and later assess if it is a trading solution well-suited for the current financial market conditions.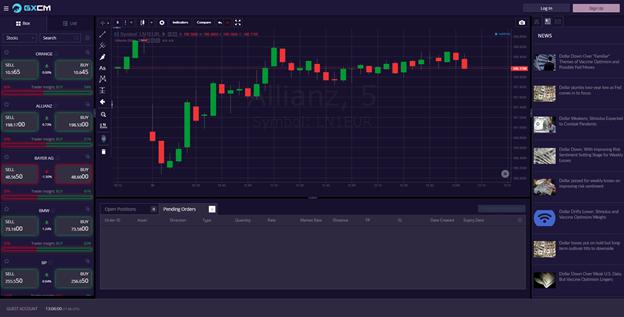 # A personalized trading experience
One of the main benefits of a proprietary trading platform is the ability to provide a personalized trading experience. GXCM used its expertise to come out with a trading solution that can be used by both beginners and experienced traders, on all 3,000+ CFDs that are currently covered.
Its online investing platform is customizable and can be used on any type of device, given all it takes to get access is a simple log in via the website. Also, GXCM uses powerful SSL security used by the banking sector, showing that security can't be sacrificed for increased performance.
# No Expert Advisors supported
On the negative side, the GXCM platform is a web solution and because of that, traders won't be able to use Expert Advisors to automate the trading process or other tasks. All trades will need to be placed and managed manually by the trader. The platform does have social trading capabilities and traders can choose to copy trades placed by other experts but can't automate their trading strategy with EAs.
# Fast execution and lightweight performance
At GXCM trades are executed within milliseconds and with increased accuracy, without requotes. Traders can get in and out of the market at the desired price, an important requirement when markets are volatile. As a browser-based trading solution, the platform does not need advanced hardware resources and because of that, it can work on any device, including mobile or smartphone.
Combined with advanced charting, traders can find the right tools for their trading style and take advantage of new trading opportunities without having to worry about delayed information or suboptimal execution.
# No live chat service available on the platform
GXCM customers don't have access to live chat support integrated into the platform, although they can get in touch with a representative via phone or email. However, it is possible to see any new message sent by the company's personal assistants. Keep in mind that the customer support service is available 24/6.
# Simple platform for all traders
Since it aims to provide trading services not just for experienced traders but for anyone willing to learn how the markets work, the GXCM platform is simple to use, regardless of prior trading background. Opening a trade or adding technical indicators on the charts are not difficult thanks to the optimizations made by GXCM.
The bottom line
After putting the pros and cons in the balance, the GXCM online investing platform is an efficient trading solution, given the challenging market conditions traders need to face. With multiple tools built into it, a simple user experience, and several premium features such as market news, this is a platform Australian traders might fancy.
What's even more important is that the platform does an extremely good job when trading a variety of assets, including FX, stocks, indices, commodities, or cryptocurrencies. Incorporating advanced trading technology and the GXCM expertise, this is a software with a proven track record and plenty of benefits to incentivize traders into using it.