Reviewing the Pros and Cons of the Trustpac Online Investing Platform
Global and local Australian financial markets are still posting elevated volatility, even though the pandemic started more than a year ago. Retail traders have the unique opportunity to take advantage of these favorable conditions and some of the most important requirements are to work with a reliable broker, as well as to have access to an optimized online trading platform. Trustpac comes to the market with a customized solution, which makes this review a must for those wanting to know its main pros and cons.



Advanced charting powered by TradingView
The Trustpac trading platform is a web-based solution integrating advanced charting capabilities from TradingView. This ultimately transpires into more tools and features traders can use to not only spot new opportunities, but also manage risk professionally, and place trades, regardless of geographical location.
TradingView charts are very popular among professional traders due to them being easy to use, as well as their complex instruments. Trustpac is aware of all the hurdles its customers can face, providing advanced trading benefits, to show its proactive approach.

No EAs but Social Trading is provided
The Trustpac platform does not come integrated with Expert Advisors (EAs), a benefit generally seen with software developed by MetaQuotes. However, traders wanting to put their trading process on autopilot can take advantage of the Social Trading service. This enables them to copy trades placed by experts. In the platform, they can see the Social section on the right, where the ranking of traders, based on P/L and number of copiers, is available.
Multiple execution modes
Many times. markets keep traders on their toes until things start to move in the anticipated direction. Not everyone has the ability to stay in front of the charts all day, making multiple execution modes imperative. With the Trustpac platform, traders can place market orders, limit orders, and stop orders on any of the assets covered.
This is an important feature, especially when trading assets that are active 24/5. Opportunities can knock on the door when traders are off their desks, forcing them to enter at a worse price or lose return potential. A pending order can ensure market exposure, even if the trader can't monitor charts constantly.
It is also worth noting that the "set-and-forget" trading approach comes with limitations in terms of risk management. Traders need to always place stop losses and try to check the platform from their mobile phones if they're not near a PC, to see how valuations are unfolding.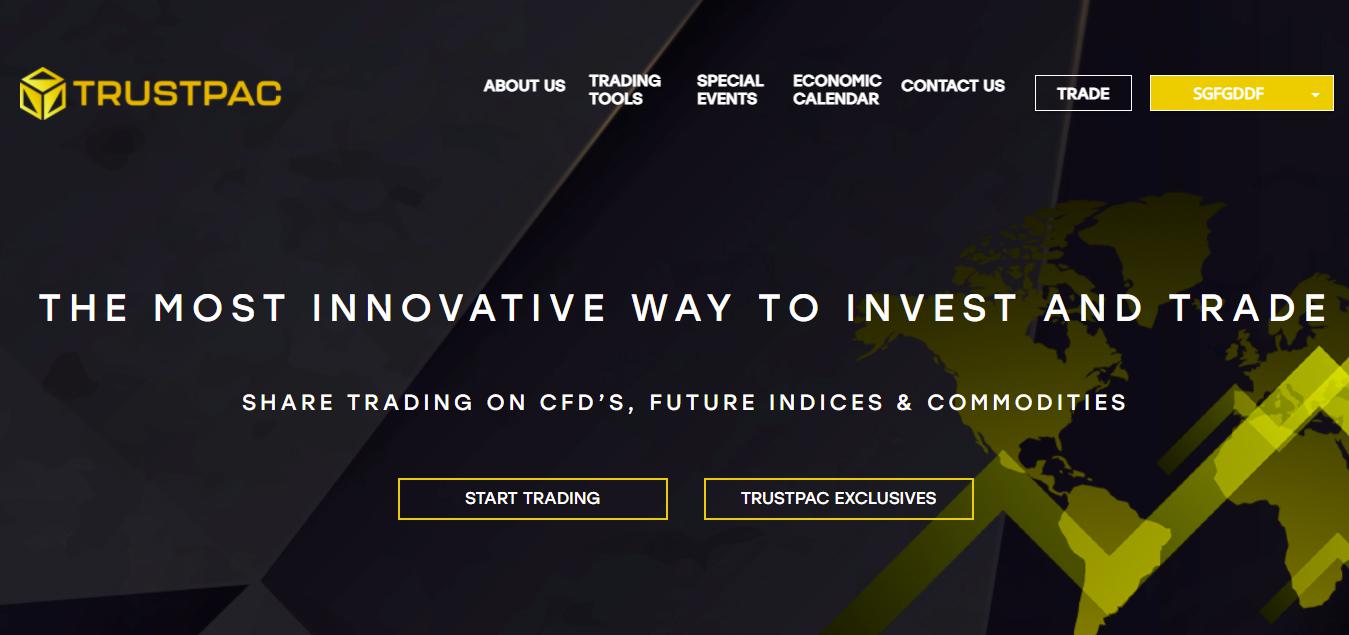 A friendly user interface and strong security
So far there has been no other point in history when so many beginners joined the financial markets en masse. Trustpac is aware of these developments and offers a platform with a very friendly user interface. Setting up charts, placing trades and funding an account are all tasks anyone can learn, without any solid previous background.
Also, Trustpac deploys powerful SSL security used by the banking sector, to ensure strong financial and personal data protection. Trading has to be a secure activity since only when that is ensured, traders can focus on taking advantage of new trading opportunities.
Trading with Trustpac in Australia
In order to easily trade in the financial markets from Australia, local citizens have access to the feature-rich platform provided by Trustpac. This proves to be a solution suited for both beginners and advanced traders, due to a user-friendly interface and also the generous package of tools and features. An efficient trading strategy should be able to factor in all the critical variables having an impact on valuations. The Trustpac trading platform was developed to meet this demand.