Car Next Door Will Be Back on Shark Tank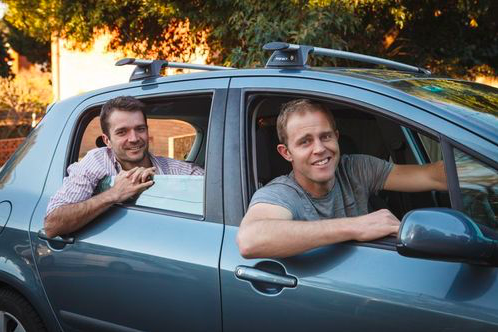 Car Next Door Will Be Back on Shark Tank Exactly One Year After Their First Successful Face Off With The "Sharks"
Exactly one year ago Car Next Door CEO Will Davies and friend and CTO Dave Trumbull stood in front of five of Australia's most successful entrepreneurs, with a combined net worth of more than $1 billion, and walked away with the capital injection and priceless mentoring of leading Brisbane entrepreneur, investor and Shark Tank "shark" Steve Baxter.
The start-up, which offers a platform for car owners to rent out their car when they're not being used, will be brought back on the show this month for a behind the scenes look at where they are now.
A successful 12 months saw the start-up's value reach past the $20m mark as they enter the initial weeks of a Series B capital raise – having previously secured $2.5m investment from Caltex and $1.3 from venture capitalists and individual investors in other capital raising efforts.
Car Next Door CEO Will Davies said in the last 12 months the business has tripled in size and also expanded out of Sydney and Melbourne, into Brisbane.
"We were already on a growth trajectory – doubling our database of members every 6 months and gaining momentum in the industry, however being on the prime-time show gave us a kind of exposure we hadn't seen before," he said.
"At that stage we were already well known in inner-city Sydney and Melbourne as we've been running since 2012, but it's taken more time for people outside of the big cities to understand the sharing economy and the huge implications it's having on our entire economy."
"By the time we pitched on Shark Tank, I must have given that pitch more than a hundred times. Raising capital took 70 per cent of my time for nearly a year. It takes a massive investment of your time and energy, and a really thick skin."
"I remember pitching to a group that included [renowned Australian businessman] John Singleton, and he just slammed the whole idea. I found it really motivating, actually. It gave me another reason to make it work – just to prove him wrong!"
"If I'd listened to all of the people who said this would never work, it would never have worked. You've got to back yourself, work hard, and keep going."
Mr Davies said the two biggest impacts of being on Shark Tank have been:
      Mentoring: Gaining the mentorship of renowned IT entrepreneur Steve Baxter has given Will and Dave access to a wealth of experience and a valuable sounding-board for ideas.
      Exposure: The Shark Tank screening saw a massive spike Car Next Door's website traffic followed by extensive media coverage. Steve Baxter has been proactive in sharing updates about Car Next Door with his extensive social media following..
Car Next Door launched in 2012 and now has more than 30,000 borrowers and some 900 cars in Sydney, Melbourne and Brisbane.
The average owner makes $3500 a year on the platform, while the high earners walk away with up to $10,000 a year. Cars generally cost around $5 an hour or $25 a day to rent.
For more information visitwww.carnextdoor.com.au