Is HYDRAGUN The Best Massage Gun for You?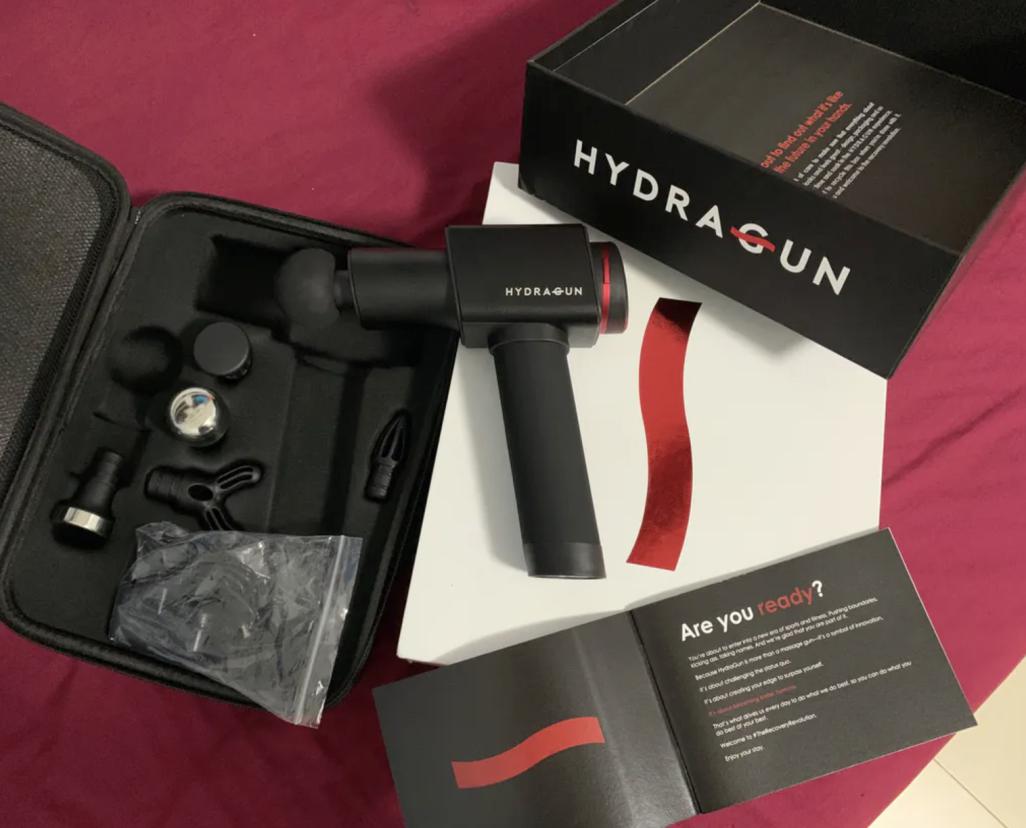 2020 is a trainwreck of a year, but one good thing did come out of it: people have discovered new hobbies. Some people fell in love with gardening while others sought refuge in fiction. For me, I really got into working out — so much so that during the first few months of lockdown, I actually splurged in some workout equipment for my home gym.
When I first began to work out, I was on top of the world. But then, the more I work out, the more I feel soreness creeping in. My muscles start to feel raw and tender — like I've just gone through a car crash.
Normally, I'd go to a spa for a massage, but since that's not possible for now, I decided to look into the alternative: the massage gun. I asked a friend of mine who has tried several brands of massage guns what I should get. Almost instantly, he replied HYDRAGUN. According to him, HYDRAGUN is a high-quality massage gun that's actually reasonably priced — 399 AUD.
Aside from that, he told me that they also have their own initiative, HYDRAGIVES, where every month, they hand out a free HYDRAGUN kit to one underprivileged athlete who is passionate about their sport.
My interest was definitely piqued by my friend's enthusiasm and by the brand's interesting mission. I do love supporting businesses that go beyond just making sales and actually trying to make a difference in the world.
So, I eventually decided to buy the HYDRAGUN. And my oh my, what a delightful device, indeed.
Why I ADORE the HYDRAGUN
It's Portable and Convenient
HYDRAGUN definitely has a lot of pros, the first being the fact that it takes portability and convenience to a whole new level.
You see, HYDRAGUN comes with a free protective carrying case. From my research, a lot of massage gun brands do this, but usually, the free protective cases can only hold the massage gun. There's usually a separate bag for the head attachments. Some brands even sell the bag separately, which, frankly speaking, is kind of annoying.
HYDRAGUN's carry case holds the gun and all its accessories, meaning I won't have problems misplacing a massage gun head or the charger.
The carry case — even with the gun and all accessories in it — is slim and lightweight. It easily fits in my gym bag or locker. This makes HYDRAGUN even more portable, which I didn't even know was possible until now.
Its Battery Life is Astounding
Depending on usage, the battery of HYDRAGUN can last up to 7 hours — which, honestly, I'm shocked by because from what I've heard muscle guns usually last between 45 minutes to an hour.
Because of this, I'm able to use the HYDRAGUN for days at a time without charging it. And when I do have to charge, it doesn't take a long time at all. I just need to charge the device for 45 minutes to get a full battery once again. It's incredibly easy and time-saving.
It's Ridiculously Quiet
From the videos I've watched of people trying out various brands of massage guns, I've noticed that the device usually emits a loud whirring sound that honestly gets into my nerves. But since the massage gun has a lot of pros that eclipse this one con, I figured I can live with that sound.
So you could imagine my surprise when I received my HYDRAGUN and discovered how quiet it is. . I even put it on the highest setting, and still the same result — a whirring sound that's only above a whisper.
As a result, I can be on a Zoom call or watch TV as I give myself a massage. I can even carry on a normal conversation while I'm using it. And for that reason, this muscle gun is a winner for me.
It's Easy to Hold
One of HYDRAGUN's qualities that I don't think gets enough praise is its design, especially the handle. Sure, its design is simple, but it has details that actually contribute to the device's ergonomics.
For one thing, its handle is at a 99° angle, and it's also covered in silicone. As a result, the handle feels natural and comfortable, and I don't lose my grip even when my hands are sweaty.
In addition to that, I can hardly feel the vibration through the handle. When I was still at the beginning stages of my research, it didn't occur to me that feeling the vibration through the device's handle is something that I need to watch out for. But now, I realize that it's important: it must be really inconvenient and distracting if you could feel the vibration as you're holding the massage gun.
Luckily for me, the team behind HYDRAGUN really thought things through and made sure that their customers' convenience is the number 1 priority.
Not Satisfied? HYDRAGUN Has a 30-Day Return Guarantee
Since I obviously love my HYDRAGUN, I didn't feel the need to contact the brand and let them know I'm returning the product.
But it's still worth noting that HYDRAGUN has a 30-day return guarantee, meaning that if you're unsatisfied with your order, you have 30 calendar days from the date you received your order to return it.
 Verdict: Is The HYDRAGUN The Best Massage Gun for You?
Overall, I really love my HYDRAGUN. It offers so many benefits, especially the long battery life and low noise level, and I also think that this massage gun is versatile. It can be perfect for those people who don't do sports but like getting a massage every now and then, those who enjoy casual workout sessions, and professional athletes.
So, if you want to invest in the best massage gun Australia has several brands that you can choose from. Personally, I do think that HYDRAGUN is worth every penny. It's a high-quality massage gun at a reasonable price. I recommend giving this a try — you'll definitely enjoy it.