What can I purchase with a Low Doc Business Loan?
Written by

NewsServices.com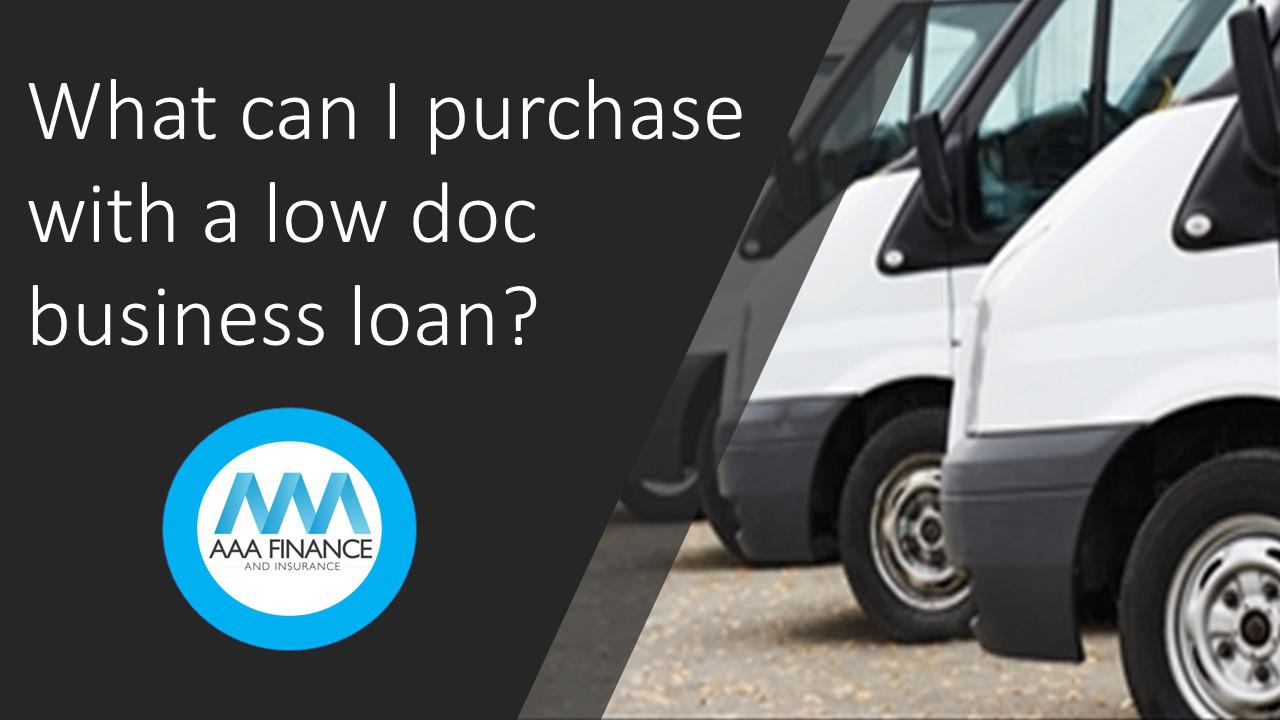 As a business owner or self-employed individual, approaching a traditional bank or lender for finance can be complicated, especially when first starting out. There is a plethora of paperwork required that you may not yet have gained, from tax returns to financial statements. Not having the capacity to provide this information usually means an unsuccessful application.
Servicing business clients with quick and easy finance is what AAA Finance do best. They will help save you from the paperwork challenges with a low-doc business loan. The following items are discussed below.
What is a low doc business loan?

How to qualify

Types of businesses that can apply

What can be purchased

Benefits

How AAA Finance can save you time and money
What is a Low Doc Business Loan?
This type of loan enables business owners and the self-employed to access needed cash flow without the need for up-to-date tax returns. This is a great option when business owners do not have the required standard documentation for traditional options or simply don't want to divulge their full financials to an outside party.
How to qualify for a Low Doc Business Loan?
The main requirement for a Low Doc Business Loan is that you have a valid Australian ABN that is GST registered. Along with this, you will also require:
Some form of proof of income. This may be in the form of bank or bas statements or a letter from your accountant. Alternatively, a No Doc Business Loan negates the need for any proof of income.

Good credit history.

Confirmable credit – that is a history of a previously paid loan.

Affordability – the ability to make the monthly loan repayments for the duration of the loan.

Vehicle must be used for 50% or more for business.
Types of businesses that can apply
All professionals must have options to keep their trade functioning without the risk of closing down, especially when there is reliance on a vehicle. Our services are offered to the full range of business types from small to medium and up to corporations, including:
Sole traders - Where you are responsible for all aspects of your job, e.g., Bookkeepers, landscapers, house cleaners, electricians, and so much more.

Partnerships - Involves two or more people in partnership together, e.g., a small or new law firm or other comparable roles.

Self-employed - Where you work for yourself, e.g., Freelance copywriter, plumber, family day carer and other similar jobs.

Trusts - A legal relationship between a trustee who's required to look after the trust and its beneficiaries.

Pty Ltd - Refers to a private company where the shareholders have defined legal responsibility for any debts incurred by the company.
What can be purchased using a Low Doc Business Loan?
When it comes to running your own entity, most often, you are reliant on a vehicle that ensures you can successfully do your job. Whether you deliver items, travel to and from to complete your tasks, or carry produce across Australia, reliable wheels are essential. Business vehicle finance can be used to purchase:
Cars - Any type of car you can think of as long as it is used at least 50% for work. Anyone from a computer repairer to a person who does rideshare benefits from a reliable car.

Utes – These vehicles can be kitted out with trade specific accessories such as a roof rack for a plumber or toolboxes for a carpenter. All accessories can be included in the low doc car loan amount.

Vans and People Movers - These are practical and robust, ideal for smaller loads and deliveries. These can be used for anything from pool maintenance, delivery driver to a mobile coffee van.

Trucks - Anything from tow trucks, prime movers, concreters, refrigerator trucks, and so much more. Low doc truck finance can be used for both the truck and any trailering equipment.

Planes –
However, not all people want to buy transportation; some acquire this aid for purchasing equipment and machinery. Low doc equipment finance can assist you get whatever item that is necessary for your workplace. The list is endless and encompasses:
Farm machinery such as tractors and harvesters.

Industrial fabrication machinery including lathes, band saws and borers

Earth moving equipment from bobcats to excavators and bull dozers

Office equipment including computers and furniture

Mining equipment
Benefits of Business Vehicle Finance
Applying for any type of financial aid can come with uncertainties; however, when applying for this finance type for a vehicle or equipment, there are specific advantages that make it the right choice as a business owner.
1. Access to reliable vehicle or equipment
There is much value to be had by being reliable and gaining clients' trust. Reaching clients on time means gaining a good reputation and saves you both time and money.
2. Tax benefits
One of the positive aspects is that you can claim tax deductions and GST benefits as long as you're an ABN holder. This includes being able to claim an immediate deduction for business vehicles and equipment purchases through the ATO Temporary full expensing.
3. Fixed monthly repayments
Payments are simple; these are made monthly via direct debit. This means you can focus on growing your company while your payments are automatically doing their job.
4. Freeing Cash Flow
With the flexibility on terms of your loan, you can make smaller payments over 7 years to free up the remainder of your cash to put into your profession. Prefer a quicker plan? Making your monthly plans higher over fewer years is an option too.  Our balloon payment option also allows you to reduce the monthly repayments and have a lump sum payment due at the end of the loan term. Many business owners simply sell the vehicle at the end of the term, use the proceeds to pay out the loan and then update to a new car!
AAA Finance - Leaders in Easy Business Finance Solutions
Looking to secure a low-doc business loan? Experience the expertise of our brokers, where we have access to over 40 lenders, so you get the most competitive rates. The AAA team has many years of experience understanding the different requirements of a variety of lenders. As finance brokers, they advocate for their clients. They will save you time and money.