WINNERS - Universities win tough robotics competition
Written by

Lauren Trucksess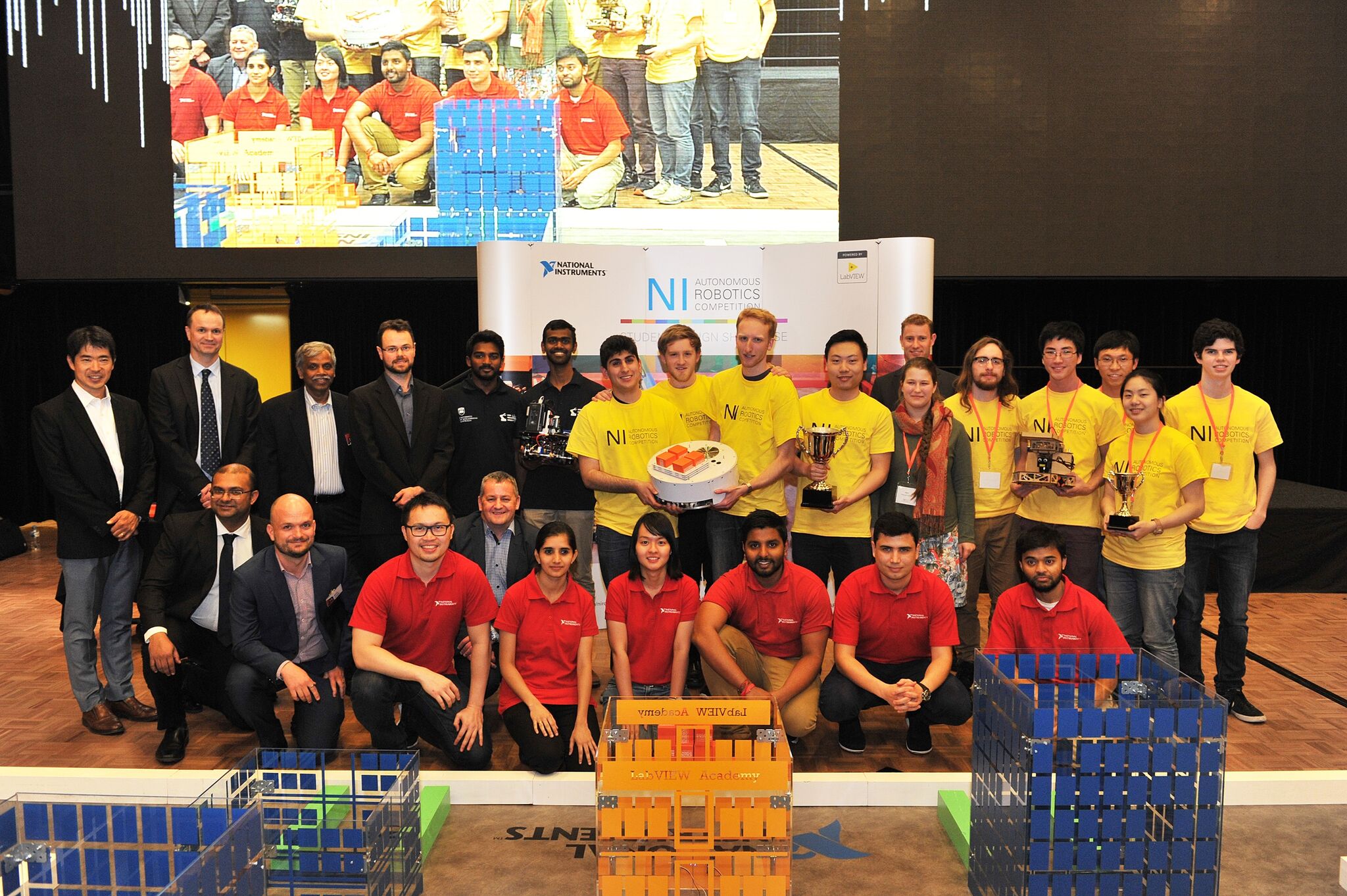 Australia is once again home to the region's top university robotics title. RMIT University took home the top finish and bragging rights at the finals of the 2017 National Instruments Autonomous Robotics Competition (NIARC) in Sydney. The team beat last year's winner, The University of Wollongong, in the final round. 
Two dozen university teams from across Australia, New Zealand and for the first time ever, Singapore, competed in the live finals event, making it one of the toughest competition fields to date.
Top finishers for 2017 included:
1st Place: RMIT University
2nd Place: The University of Wollongong 
3rd Place: University of New South Wales
Best Robot Design (By popular vote): University of Waikato
NIARC is a student competition designed to encourage development and innovation in the field of robotics. In line with this year's theme; "Transportation Innovation", the robots were required to navigate a 'smart city', respond to changing road rules, avoid obstacles, pickup 'passengers' and return home safely, earning points for speed and efficiency.
 "It was a challenging course and our robot certainly wasn't the fastest in the competition but it turns out, slow and steady really does win the race!", said Genevieve Houghton of the winning RMIT team.
"This was the first time many of us have competed in NI ARC so to come away with the win was a very pleasant surprise. We enjoyed seeing all of the designs from the other teams and it has definitely been a great learning experience for us," added Houghton.
RMIT's first place finish has earned the team a free trip to Austin, Texas where they'll attend NIWeek, a leading engineering conference attended by thousands of professional engineers and scientists from more than 60 countries. Other finisher prizes included Google Home, Parrot Mini Drones and Google Chromecast.
"We were definitely eager to come back and defend our title but unfortunately, it didn't quite work out as we planned. This year's course had a lot more challenges and we knew it was going to be a tough fight with so many great teams competing. We're still really happy with how we performed and for the opportunity to compete and gain this experience," said Jerome Justin of the University of Wollongong.
Each of the more than 120 engineering students involved had worked for more than six months on their robot designs, giving them an opportunity to bring classroom theory to life. NI provided industry-leading hardware and software to help the students design and program the intelligent vehicles.
"We're always so impressed with the talent and commitment of the NI ARC participants and this year was no exception. The students have proven that they have the capabilities to design and develop the smart transportation solutions of the future," said Ryota Ikeda, Marketing Director, APAC, National Instruments.
"This type of hands-on learning solidifies what the students learn in the classroom and gives them an opportunity to work with the hardware and software used by today's top engineers. The transportation industry is just one of many that is being transformed by robotic technology and these students will certainly have a unique advantage in helping shape the future of these industries," added Mr Ikeda.
Finalist universities for 2017 included:
University of Auckland (NZ)
Curtin University (WA)
*Edith Cowan University (WA)
Flinders University (VIC)
Macquarie University (NSW)
Massey University (NZ)
*University of Melbourne (VIC)
Nanyang Technological Institute (Singapore)
University of New South Wales (NSW)
University of Tasmania (TAS)
*University of Technology Sydney (NSW)
University of Queensland (QLD)
*RMIT University (VIC)
Swinburne University of Technology (VIC
*University of Waikato (NZ)
Western Sydney University (NSW)
University of Wollongong (NSW)
*Victoria University of Wellington (NZ)
*Denotes universities with more than one team participating
Recent winners from previous years include, University of Wollongong (2016), University of South Australia (2015) and University of New South Wales (2014), among others.
About National Instruments
Since 1976, NI (www.ni.com) has made it possible for engineers and scientists to solve the world's greatest engineering challenges with powerful, flexible technology solutions that accelerate productivity and drive rapid innovation. Customers from a wide variety of industries—from healthcare to automotive and from consumer electronics to particle physics— use NI's integrated hardware and software platform to improve the world we live in.