Infineon and Delta Electronics to collaborate on electromobility; Memorandum of Understanding extends long-term partnership from industrial to automotive applications
Written by

Telegraph Magazine
MUNICH, GERMANY AND TAIPEI, TAIWAN -
Media OutReach
- 21 March 2023 - Infineon Technologies AG (FSE: IFX / OTCQX: IFNNY), global leader in automotive semiconductors, and Delta Electronics, Inc.
, the world-leading power and energy management company based in Taiwan, are expanding their long-term cooperation from industrial to automotive applications.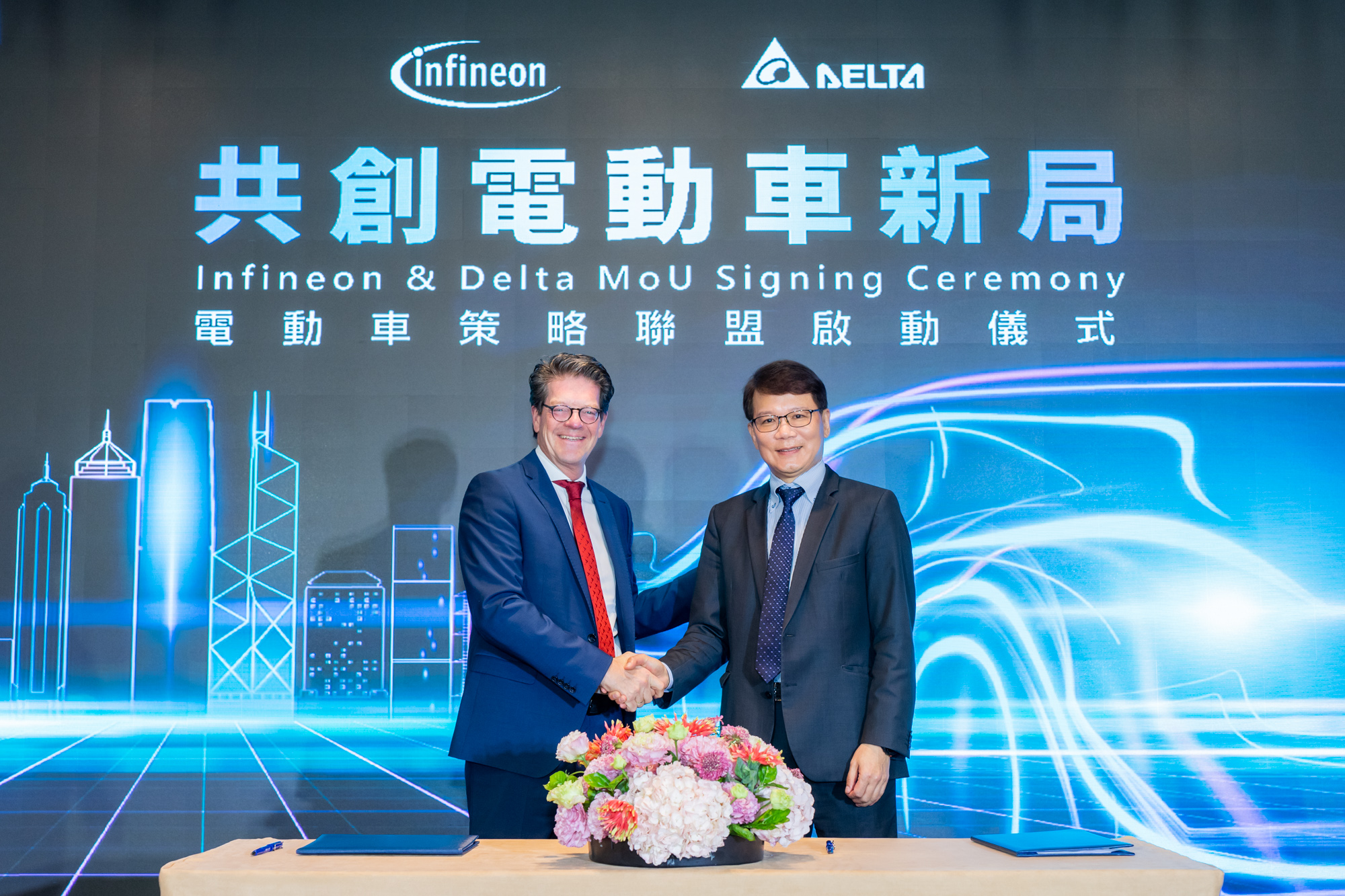 Today, both companies signed a Memorandum of Understanding that will deepen their joint innovation activities to provide more efficient and higher-density solutions for the fast-growing market of electric vehicles (EV). The agreement covers a wide range of components such as high- voltage and low-voltage discretes and modules as well as microcontrollers to be used in EV drivetrain applications such as traction inverters, DC-DC converters and on-board chargers.

In addition, both parties agreed to set up a joint innovation lab for automotive applications. The Delta-Infineon Automotive Innovation Center will be co-managed by both companies. It is scheduled to be set up in Pingzhen, Taiwan in the second half of 2023.


"Infineon and Delta share the common goal of developing increasingly energy- efficient and CO2-saving solutions that support global decarbonization efforts," said Peter Schiefer, President of Infineon's Automotive division. "We want to further advance the energy efficiency of electromobility together by combining Infineon's comprehensive automotive product portfolio and application know-how with Delta's expertise in integration and system optimization. Ensuring the energy efficiency of automotive applications is of paramount importance in our time and we are committed to further improving it."


"Infineon is a trusted partner of Delta. Over the past 25 years we have successfully collaborated in the area of industrial products. We are now looking forward to extending this partnership to electromobility," said James Tang, Corporate Vice President of Delta Electronics. "We see a growing demand in the automotive industry for innovative, clean and energy-efficient solutions. Together with Infineon, we are committed to support the global transition to electromobility with our products and solutions and to bring electromobility to a whole new level."
Hashtag: #Infineon #semiconductor #Delta #automotive
https://www.linkedin.com/company/infineon-technologies/
https://www.facebook.com/Infineon
The issuer is solely responsible for the content of this announcement.
About Infineon
Infineon Technologies AG is a global semiconductor leader in power systems and IoT. Infineon drives decarbonization and digitalization with its products and solutions. The company has around 56,200 employees worldwide and generated revenue of about €14.2 billion in the 2022 fiscal year (ending 30 September). Infineon is listed on the Frankfurt Stock Exchange (ticker symbol: IFX) and in the USA on the OTCQX International over-the-counter market (ticker symbol: IFNNY).
Infineon is at the core of the transformation of the automotive industry towards sustainable mobility. Further information on Infineon's mobility solutions is available at www.infineon.com/mobility

About Delta
Delta, founded in 1971, is a global leader in switching power supplies and thermal management products with a thriving portfolio of smart energy-saving systems and solutions in the fields of industrial automation, building automation, telecom power, data center infrastructure, EV charging, renewable energy, energy storage and display, to nurture the development of smart manufacturing and sustainable cities. As a world-class corporate citizen guided by its mission statement, "To provide innovative, clean and energy-efficient solutions for a better tomorrow," Delta leverages its core competence in high-efficiency power electronics and its ESG- embedded business model to address key environmental issues, such as climate change. Delta serves customers through its sales offices, R&D centers and manufacturing facilities spread over close to 200 locations across 5 continents.
Throughout its history, Delta has received various global awards and recognition for its business achievements, innovative technologies and dedication to ESG.
Since 2011, Delta has been listed on the DJSI World Index of Dow Jones Sustainability™ Indices for 12 consecutive years. In 2022, Delta was also recognized by CDP with double A List for its substantial contribution to climate change and water security issues and named Supplier Engagement Leader for its continuous development of a sustainable value chain.
For detailed information about Delta, please visit: www.deltaww.com