HKSTP Partners with JYCGIF: New Memorandum of Understanding Aims to Draw Female Secondary Students to I&T
Written by

Telegraph Magazine
Partnership Focused on Developing Female Talent Pipeline for Hong Kong's I&T Ecosystems
Summer "Ideathon" between HKSTP and JYCGIF targets female secondary school students.
Participants will compete in groups to propose innovative I&T end-to-end solutions, under the guidance of leading female entrepreneurs.
A MoU was also signed between the two organisations that aims to organise other such I&T related activities in the future to help draw female secondary school students to the I&T field.
HONG KONG SAR -
Media OutReach
- 18 May 2023 - Hong Kong Science and Technology Parks Corporation ("HKSTP") and Jennifer Yu Cheng Girls Impact Foundation ("JYCGIF") signed a Memorandum of Understanding ("MoU") that aims to draw female secondary school students to the field of Innovation and Technology ("I&T"), promote gender diversity in the industry and empower women as influential figures promoting Hong Kong as an international I&T hub.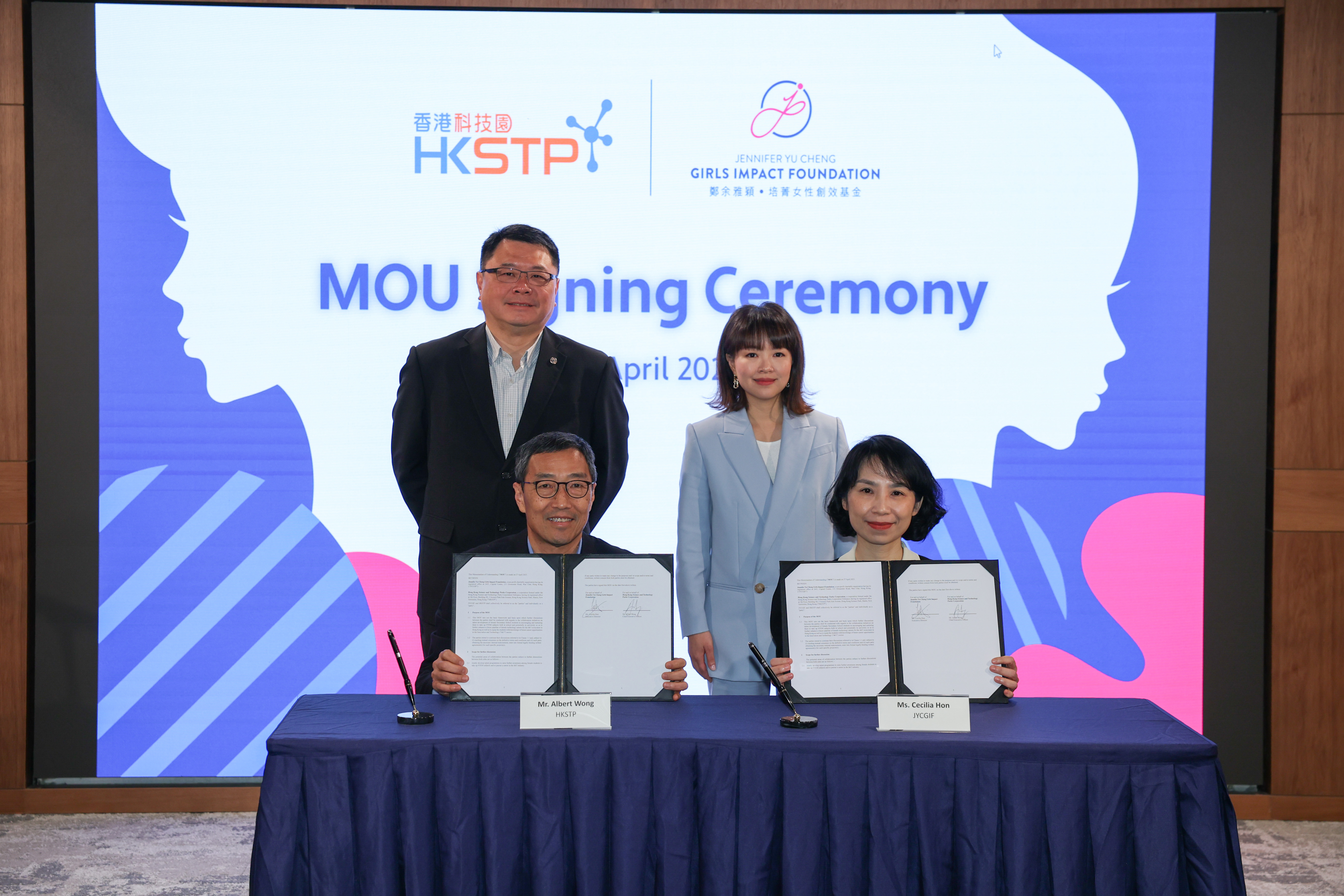 The partnership will involve organising and conducting various I&T-related activities to allow female secondary school students to experience first-hand the opportunities made available by Hong Kong's I&T ecosystem. The hope is such exposure spurs more young women opting for I&T-related tertiary courses and a career in these industries.
One of the collaboration highlights is the "Ideathon", a programme scheduled to launch in the summer through November 2023. Under the guidance of leading entrepreneurs, female secondary school participants will compete in groups to propose innovative end-to-end solutions involving planning, prototype production and marketing to address specific challenges in society. The programme aims to nurture greater understanding and interest in I&T, new industrialisation, and grow entrepreneurship among female students.
Dr Sunny Chai, Chairman of HKSTP, said, "We have entered a golden era of innovation and technology in Hong Kong, providing a platform for young people to realise their full potential. Within HKSTP's thriving I&T ecosystem, many of the founders or senior management of Park companies are women, demonstrating exemplary contributions made by women in the industry. I sincerely hope that this collaboration with JYCGIF will enable more female students to experience what Hong Kong's I&T sector has to offer to attract them to become advocates for the city's innovation scene, and thereby contribute to Hong Kong becoming an international I&T hub."
Mrs Jennifer Yu Cheng, Founder of JYCGIF, said, "Hong Kong is poised to develop into an international I&T hub. Considering the opportunities ahead in the changing landscape of the future world of work, there is an urgency to level the playing field for women across industries and sectors, particularly in I&T fields. Through our new partnership with HKSTP, we hope to help teen girls map out their educational and extracurricular goals leading to future careers, particularly in I&T. By empowering teen girls today, we are working together build a strong pipeline of future women talents motivated to drive the development of Hong Kong as a world-class I&T hub."
Archireef Co-founder and CEO, Vriko Yu, shared her insights along her journey in innovation and technology during a panel discussion: "Many people have stereotypes about women in the workplace in which they would perceive women to be mostly work in nursing and teaching. However, by sharing my experience, I hope we can see that young women can also become CEOs of I&T companies. Furthermore, I wish for female students to be able to discover and develop their strengths through the innovation experience, as well as to explore the limitless possibilities."
Among the programmes' avid participants was Ms Chan Oi Yiu (right) of Hong Kong True Light College. She said that CareerXplorer and other programmes inspired her to contemplate the close link between empathy and design thinking, which is driving her to pursue opportunities in the I&T field.
Hashtag: #JenniferYuChengGirlsImpactFoundation
The issuer is solely responsible for the content of this announcement.
About Hong Kong Science and Technology Parks Corporation
Hong Kong Science and Technology Parks Corporation (HKSTP) has for over 20 years committed to building up Hong Kong as an international innovation and technology hub to propel success for local and global pioneers today and tomorrow. HKSTP has established a thriving I&T ecosystem that is home to two unicorns and Hong Kong's leading R&D hub with over 13,000 research professionals and over 1,300 technology companies focused on healthtech, AI and robotics, fintech and smart city technologies.

Established in 2001, we attract and nurture talent, accelerate and commercialise innovation and technology for entrepreneurs on their journey of growth in Hong Kong, to the Greater Bay Area, Asia and beyond. Our growing innovation ecosystem is built around our key locations of Hong Kong Science Park in Shatin, InnoCentre in Kowloon Tong and three modern INNOPARKs in Tai Po, Tseung Kwan O and Yuen Long. The three INNOPARKs are realising a vision of new industrialisation for Hong Kong. The goal is sectors like advanced manufacturing, electronics and biotechnology are being reimagined for a new generation of industry.

Through our infrastructure, services, expertise and network of partnerships, HKSTP will help establish innovation and technology as a pillar of growth for Hong Kong, while reinforcing Hong Kong's international I&T hub status as a launchpad for global growth at the heart of the GBA innovation powerhouse.

More information about HKSTP is available at www.hkstp.org.

About Jennifer Yu Cheng Girls Impact Foundation
Jennifer Yu Cheng Girls Impact Foundation ("JYCGIF") is non-profit charitable organisation focused on educating, inspiring, and empowering teenage girls to become "future ready leaders" – proactive, digitally savvy decision makers who leave a major local and global footprint. JYCGIF is on a unique mission to uplift the status of women in society and in the workplace by building the strongest pipeline of teenage girls who are both inspired and equipped with the future ready resources, skills and mindset to become tomorrow's leaders. For over a year now, JYCGIF has been providing teen girls with a variety of STEM learning and leadership development opportunities that rest on three pillars: "Future-Ready Leadership Development", "STEM Exposure and Skills" and "Education Access." JYCGIF's signature programmes include "10,000 Girls4Girls Coding+" and the first "FutureGen Girls Leadership Summit". Its most recent "CareerXplorer Programme," part of the flagship G4G Coding+ initiative, helps students map out their educational and extracurricular goals in pursuit of careers in a future world of work.

More information about JYCGIF is available at https://www.jycgirlsimpact.org/.