IT solutions company EBS rebrands and offers Cyber Incident Response Solution to help SMBs defend against cyber threats
Written by

Telegraph Magazine
HONG KONG SAR - Media OutReach - 25 September 2023 - Cyber threats are prevalent in different technology applications. With the digital transformation trend of global enterprises, hackers take chances to look for security vulnerabilities.
Electronic Business Solutions Limited (EBS), an Asian IT solutions company, has launched its Cyber Incident Response Solution for SMB customers, leveraging real-time technical support from EBS's Cyber Incident Response Team to help businesses defend against cybersecurity threats.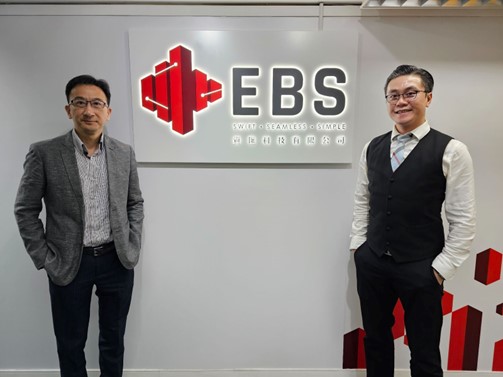 Provides SMBs with Cyber Incident Response Solution

Cases of cyberattacks and malware have surged in recent years, with market data indicating that 43% of cyberattacks target SMBs, 86% of which are unable to defend against cyberattacks, and 60% of customers have closed their business within six months of a data breach or cyberattack. The survey shows that cyber security for SMBs is increasingly important. Third-party professional services can protect companies' business from hackers and help them resume operations.

In view of SMBs often lacking professional teams to deal with cyber security issues, EBS provides SMBs with a complete Cyber Incident Response Solution with 24-hour emergency support. When enterprises encounter hacking or blackmail threats, the cyber incident response team will immediately assess the situation, define the scope of impact, stop the spread of the virus and carry out remedial actions. They will also assist in the recovery of affected data, find out the cause of the incident, and make recommendations to improve the security solution. One case scenario is when a well-known bank encountered a data breach. They used EBS services to ward off hackers, recovering the most important data to minimise the impact.

For more information on the Cyber Incident Response Solution, please visit EBS's website at https://bit.ly/3rjMpKy

Rebrands to highlight the positioning in the IT industry

Meanwhile, in order to better explain its existing business and inject vitality into the brand, EBS recently announced that the Group has undergone a rebranding and replaced a new trademark to highlight its positioning in the IT industry. Mr. Alex Wong, Chief Executive Officer of EBS, said, "Rebranding firmly delivers the message of the group's commitment to providing customers with cutting-edge IT solutions that are fast, seamless and easy to implement, helping them shape the future in the trend of disruptive technology." The new logo consists of five four-corner cylinders connected by three white dotted lines to reflect EBS's strong and stable organisational structure, and it works closely with customers to create teamwork and synergy.

EBS has served a number of enterprises in Hong Kong and Greater China, including SMBs and MNCs, providing IT solutions such as cyber security. EBS offers a variety of products to meet customer requirements, including data loss prevention, email security appliances, and DDoS mitigation. Customers reflected that after the implementation of the solution, malware infections are reduced, relieving the burden on the IT department and more effectively protecting customers' sensitive and confidential information.

Mr. Vincent Law, the Managing Director of EBS, said, "Since the establishment of the group in 1991, it has been committed to providing innovative solutions and services to customers in an era of constant change with our extensive experience in IT solutions and professional team. With the launch of our rebranded image, we hope to reaffirm our commitment to our customers, and we will continue to help businesses operate in a more stable, efficient and cost-effective manner through IT solutions."




Hashtag: #EBS #HKEBS

The issuer is solely responsible for the content of this announcement.
Electronic Business Solutions Limited (EBS)
Founded in 1991, EBS is one of Hong Kong's leading holistic IT solution specialists. It has served many businesses in Hong Kong and the Greater China region. It provides a full range of solutions and services for SMBs and MNCs, including infrastructure and network setup, cloud computing solutions, digital transformation, email management, network security, customised business applications, backup and storage, technical support and professional consulting, etc. It leverages its IT expertise and tailored solutions to help customers improve their competitive advantage and help enterprises and organisations catch up.

Official Website:
www.hkebs.com

Contact EBS: enquiry@hkebs.com / +852 3906 3111