The Hong Kong Enterprise Achievement Award 2023
Written by

Telegraph Magazine
Organized by Echolade, a brand of Pulse Radar Limited
Recognizing outstanding companies
HONG KONG SAR -
Media OutReach
- 25 September 2023 – Organized by
Echolade
, a brand of Pulse Radar Limited, the Hong Kong Enterprise Achievement Award 2023 Presentation Ceremony was successfully held on 21 September 2023 at the Marco Polo Hong Kong Hotel.
The event celebrated the remarkable contributions and accomplishments of companies and organizations from various industries, and was attended by representatives of the award winners and distinguished VIP guests.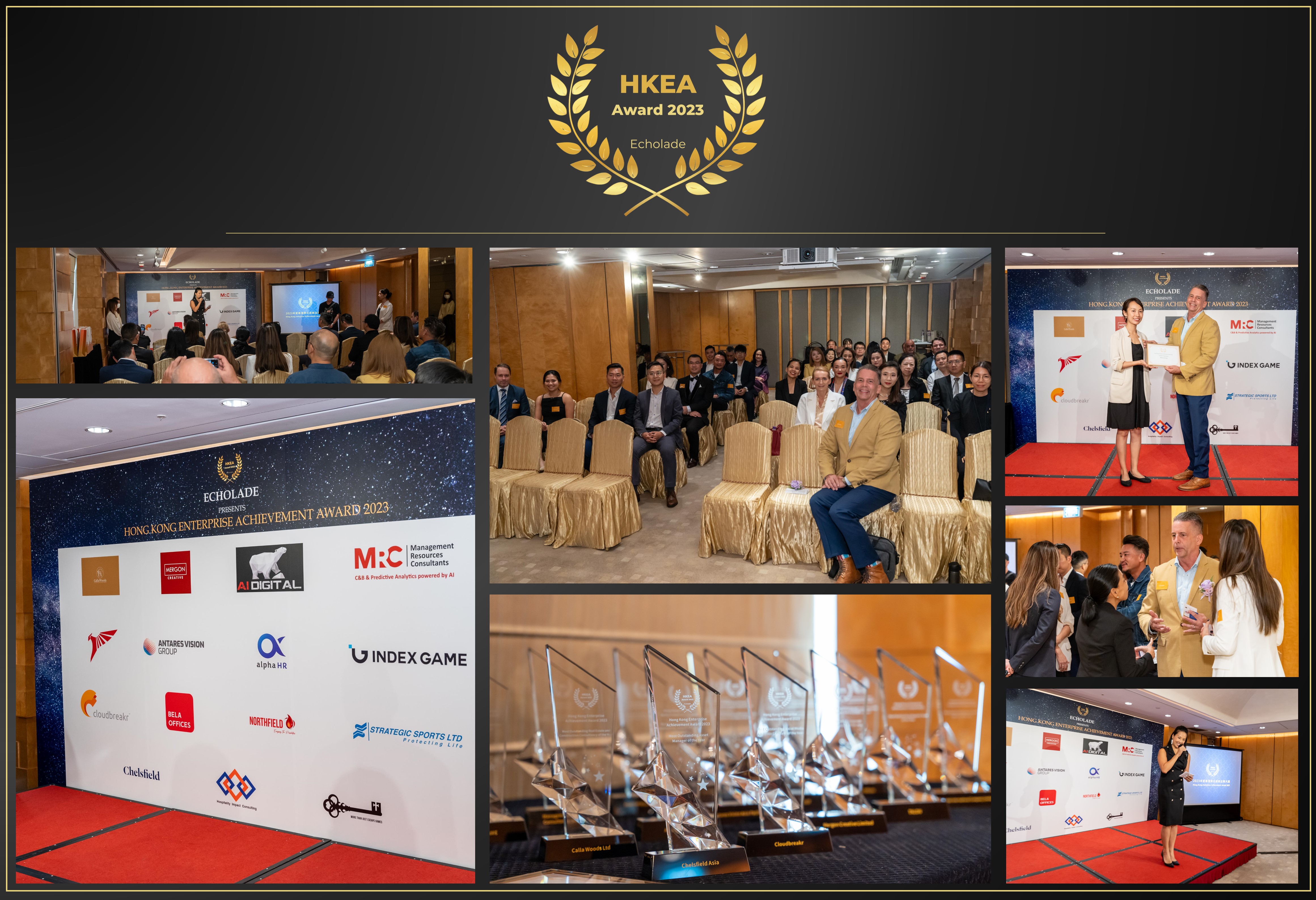 The Hong Kong Enterprise Achievement Award 2023

Organized by Echolade, a brand of Pulse Radar Limited, the Hong Kong Enterprise Achievement Award (HKEA Award) aims to encourage outstanding businesses and community leaders across different sectors to uphold their innovative spirit and steer their industries forward through top-notch products and services. It also provides an opportunity to showcase to the public the business acumen of local entrepreneurs and their continuous commitment to the community, all while acknowledging their endeavours and achievements.

This year's HKEA Award garnered an overwhelming response from a diverse range of industries, such as IT, e-commerce, asset management, real estate, insurance, accounting, legal, AI, Web3 and digital assets, healthcare, construction, manufacturing, trade, education, food and beverage, marketing, language services, human resources, ESG, and corporate consultancy. A total of 15 companies were selected as winners from a pool of numerous participating organizations by a panel of professional judges with an emphasis on "Corporate Management and Administration", "Creativity In Products and Services", and "Environmental, Social and Governance (ESG)". The award recognizes Hong Kong and international corporations that have made commendable contributions to Hong Kong amid a challenging economic environment, affirming their accomplishments. To elevate the grandeur of the occasion, Mr Walter Jennings, CEO of Asia Insight Circle, was invited to be the guest of honour at the awards ceremony.

Winners of the Hong Kong Enterprise Achievement Award 2023 (in alphabetical order)


Hashtag: #Echolade #PulseRadar
https://www.linkedin.com/company/pulse-radar-limited/
https://www.facebook.com/profile.php?id=100090528047722
The issuer is solely responsible for the content of this announcement.
Pulse Radar Limited and Echolade
With over a decade of industry experience, Pulse Radar Limited is a Hong Kong-based public relations and media company. It was founded by seasoned marketing and media professionals who aim to provide an online and offline marketing and promotional platform for SMEs and start-ups in Hong Kong. Pulse Radar appreciates and acknowledges the entrepreneurial spirit of local business leaders and their long-standing commitment to the community.

With this in mind, Pulse Radar launched Echolade and the Hong Kong Enterprise Achievement Award to share the inspiring stories of businesspeople with every Hong Kong citizen, thereby promoting their entrepreneurial journey and fostering their business development. In line with the post-pandemic business landscape, the Echolade Award aims to facilitate knowledge sharing across all business sectors and provide inspiration for everyone. Echolade regularly organizes large-scale events, including award ceremonies and business leader meetings, to honour outstanding enterprises. This platform enables individuals from different backgrounds to network and explore business opportunities.