From hobby to full blown successful start-up
Written by

Candice Meisels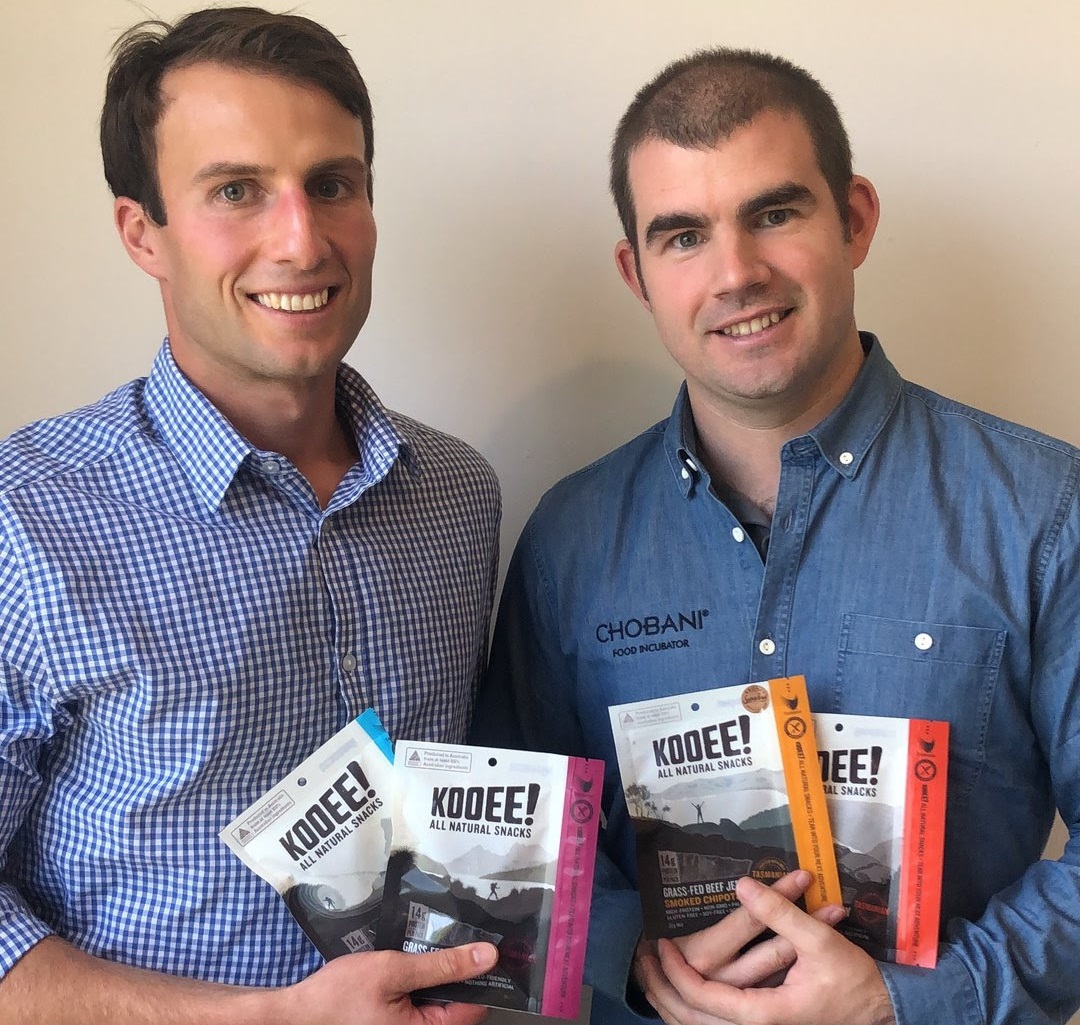 Two Aussie blokes create healthy, high protein beef jerky.
Tasmania, 26th April 2018, Friends and Jerkypreneurs, Andy Fist and Shaun Malligan, who share a passion for healthy eating and the outdoors, have collaborated to shake up an often-forgotten area of the supermarket – the beef jerky section. In doing so, they launched KOOEE!, which is now Australia's leading healthy beef jerky brand.
Shaun states: "We found that existing products were full of preservatives, artificial ingredients and added sugar. So we decided to make a healthier jerky made with only honest, natural ingredients and nothing else. What started out of my home kitchen as a hobby soon spiralled out of control – and KOOEE! was born. "

"KOOEE! Grass Fed Beef Jerky is crafted with 100% grass-fed beef, traceable to the Tasmanian farms where it was raised, and contains no added hormones or antibiotics. It's gluten and soy-free, non-GMO and contains no artificial ingredients. All KOOEE! products are proudly made in Tasmania, home to many world-class food brands."

The duo wants health conscious people to know that beef jerky can be healthy. In fact, their products are enjoyed by the men's and women's Australian Rugby Sevens teams, elite cyclists, mountaineers, and have been fuelling adventures on every continent – even Antarctica.

Andy adds: "Jerky is basically dried, seasoned beef; with a bit of care it is possible to make a healthy jerky. KOOEE! Grass-Fed Beef Jerky is exactly that. It's a natural, high-protein snack without any of the nasty stuff."
 
KOOEE! was also recently selected as one of five companies in the inaugural Chobani Food Incubator program in Australia – the first of its kind specifically tailored for food companies in the country. The founders hope to use the program to boost the company's reach across Australia and in lucrative Asian markets, where there is high demand for Australian beef jerky products.
 
KOOEE! beef jerky is available in four flavours:
Classic Sea Salt, Mountain Pepperberry, Smoked Chipotle and Habanero Chilli.

KOOEE! is currently sold in over 500 retailers nationwide, including Woolworths (Melbourne & Tasmania), Dan Murphy's, Virgin Australia, Paddy Pallin and Harris Farm.
A pack of KOOEE! sells for a RRP of $6.95 in-store, or cheaper when you purchase in bulk on their website, www.kooeesnacks.com.au.
10 x 30g packs per flavour cost $60 + shipping

KOOEE! has also won the following awards:
Silver at the Australian Food Awards (Classic Sea Salt & Mountain Pepperberry)
Bronze at the Royal Sydney Fine Food Show (Smoked Chipotle)
Bronze at the Royal Hobart Fine Food Awards (Classic Sea Salt, Mountain Pepperberry, Smoked Chipotle