Studio Moso looks back on the recently completed Mount Baw Baw website in September 2022.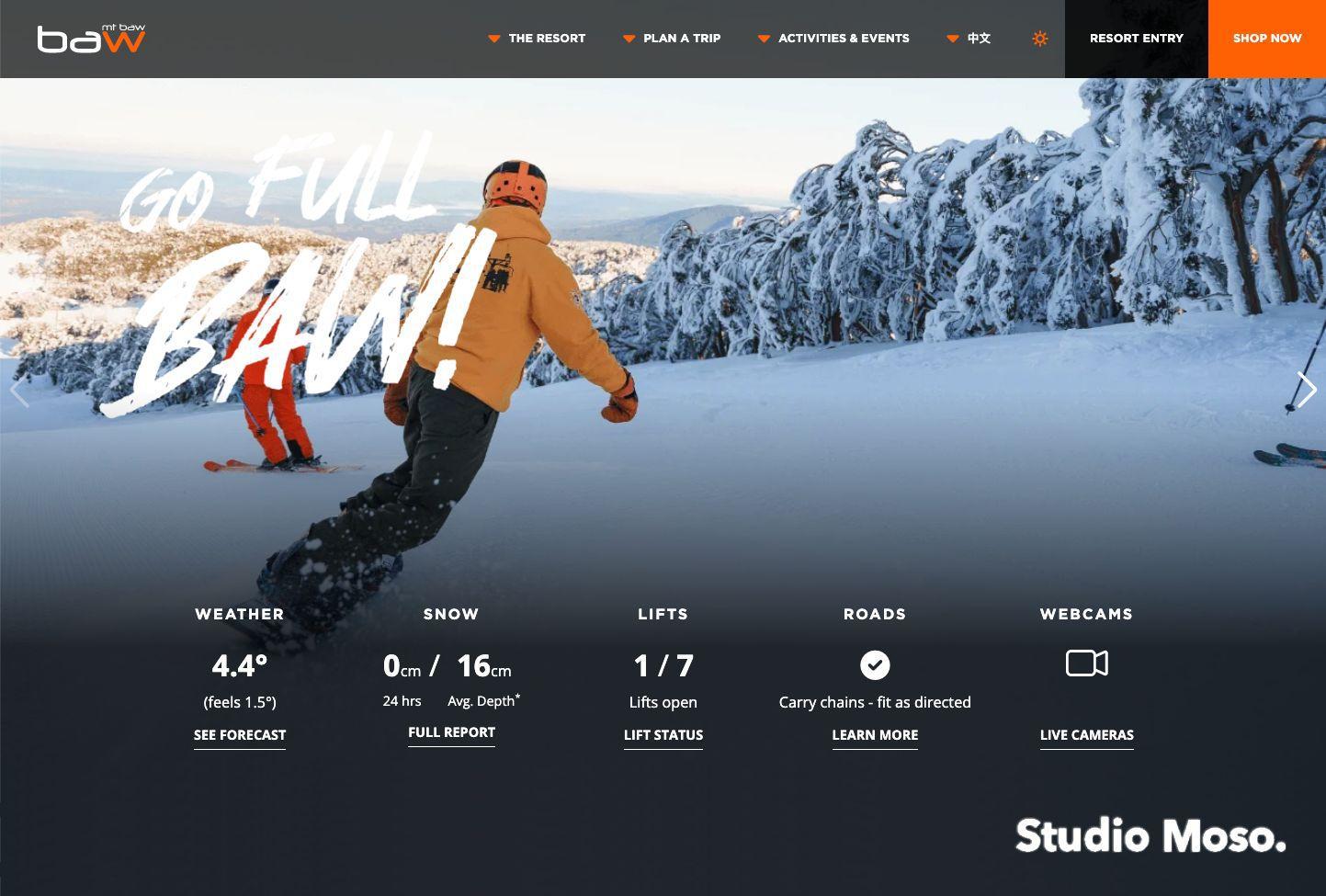 Studio Moso, an award-winning web design and development company based in Melbourne, speaks after the launch of the new Mount Baw Baw website.
Mount Baw Baw, an Australian mountain resort, collaborated with Studio Moso to give their website a makeover for the winter season.
We assisted the Mount Baw Baw crew in building a more contemporary and appealing website that was ready for the significant traffic that was sure to follow.
This is yet another illustration of our goal as a company to provide personalised client experiences while also improving the quality of our work with each project.
The goal of the new website design was to accurately portray Mount Baw Baw's image as the go-to alpine destination in the state.
We were able to improve conversions by developing a website that is visually appealing and evocative of mountain vistas. Furthermore, we removed any possible roadblocks or hurdles the client may encounter along the way.
Mount Baw Baw's new branding incorporates a vibrant color palette and sleek typeface to create a cutting-edge first impression for visitors.
Intro to Studio Moso
At Studio Moso, we design unique web and social media applications, mobile apps, and content management solutions for clients large and small. We've been in business since 2004 and continue to thrive to this day.
We offer custom-made web applications so that each of our clients can have a unique experience.
We don't just create any old content management solutions and mobile apps- we make sure to craft ones that reflect our client's unique brand identity. With every new project, we go above and beyond what is expected.
We've recently gone through a branding makeover to better align with our development as a company. With our new identity, we're able to differentiate ourselves and gain clients who will have a bigger influence in the industry.
The Mount Baw Baw website
The Mt. Baw Baw resort in Victoria, Australia, is a popular destination for skiing, snowboarding, and tobogganing. It's become one of the most popular resorts in Victoria State, and locals didn't have to worry about COVID-19 restrictions this winter for the first time since 2019.
In the hopes of luring in more customers, we were tasked to redesign the website and make booking a trip an easy process.
The website for Mt Baw Baw was designed to reflect the natural beauty of its location - visitors should feel like they are seeing important visuals when they explore the site.
"We kept the website design simple and easy to use so that users could make a reservation at the resort without any trouble." says Studio Moso
By renovating the company website and making it more user-friendly, we aimed to bring in new business and increase conversions for the resort. Customers can view up-to-date information such as snow levels, temperatures, accessible lifts, and live webcam feeds right from the homepage.
The future looks bright for Studio Moso
With Paul Matteo as our Managing Director, our team is able to develop innovative experiences.
"Our design team has a wealth of knowledge and experience that will guide you to make innovative choices that ensure your brand is communicated effectively and delights users" says Studio Moso
With numerous awards and honors from Awwwards, an authority voted by the website community, Studio Moso's future is bright.
Check back soon for more updates from Studio Moso!