GAP Strike Gold with New Smart Technology
Written by

Adam Santarossa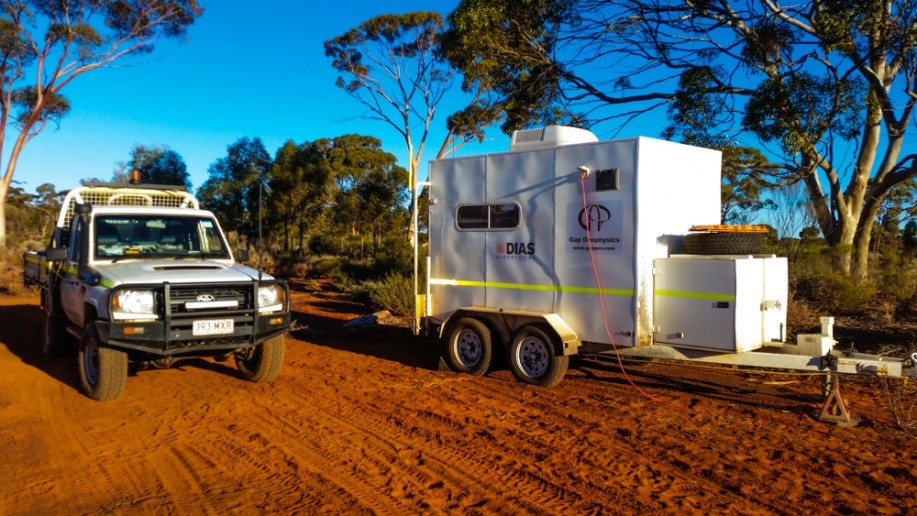 Australian company GAP Geophysics is finding immense success, following their introduction of the DIAS32 3DIP survey technology to the local market.
The innovative technology, provided through a joint-venture between GAP and creators Dias Geophysical, is already in operation across Australia, with various projects seeing outstanding results.
The DIAS32 3DIP system has been designed to acquire high quality resistivity and Induced Polarisation data at a resolution and scale which hasn't been previously possible.  It gathers data by using a large array of electrodes and recording nodes which measure the earth's response to electrical current that is injected into the ground using high powered geophysical transmitters.
GAP Geophysics CEO and Chief Geophysicist, Dr Malcolm Cattach says the new technology offers a truly unique way of working, that delivers both higher quality and more detailed survey results than conventional IP techniques.
"It's unique, in that, it uses a wireless network, originally developed for the seismic industry, to communicate with all of the recording nodes.  Several hundred electrodes may be monitored simultaneously, ensuring instrument integrity and enabling real-time quality control," Dr Cattach explained.
"Using this system, it is possible to build up a mesh comprising millions of data points, relating to the electrical properties of the sub-surface,".
 "Once the survey is complete, the information is harvested from the nodes and processed. The final stage is to perform 3D inversion using high speed computers and sophisticated software. So, it's basically a 3D imaging system for mineral exploration work."
"The DIAS 3DIP technology provides a quality of data for IP and resistivity that has never really been seen before. It's pretty rapidly gaining interest and acceptance in Australia and we're quite excited by it."
Benefits of GAP DIAS3DIP technology –
True 3D results: Data can be gathered in 3D, instead of conventional 2D. Previously so called "3D", is more of an offset 2D data. It is one of just two systems able to achieve True 3D in the world.
Major logistic gains: Ability to monitor data in real time and ensure quality control in the field. Saving time and money.
More Efficient: A lot easier for deployment team to plug in nodes, rather than setup logging technology, adjust settings and monitor throughout.  A real increase over conventional 2D or 2.5D IP surveys and their data quality.
Improved quality of data: 3D measuring ensures more confidence in the data and gives the ability to recognise unique features not detectable in 2D.
Can manage difficult terrain: Can overcome difficult terrain and difficult topography, as nodes and electrodes work on a wireless network, allow them to communicate to each other and ensuring accuracy.  
While the DIAS3DIP system increases survey costs over conventional surveys, Dr Cattach says it is well worth the added investment, given the quality data received and the savings such data will offer a project long term.
"It's more intensive to establish an array because you have so many more nodes to setup, but you're getting a hell of a lot more data," Dr Cattach explained.
"Even if you spent more money on this type of survey, we're able to target your drilling more effectively using this approach, so overall you're going to be in a better position."
"What it may cost to do a more extensive survey using this technology, you'd certainly save in the cost of your drill hole placement."
Dr Cattach feels the innovative technology compliments GAP's existing Sub-Audio Magnetic (SAM) and Heli-SAM (airborne) technology, giving the Geophysics leader a real ability to cater to the local market.
"We've always been pushing the leading edge of geophysical technology and with our other technologies, we've recognised that this is a major advance in the field," Dr Cattach said. 
"It uses equipment that we have developed for our other survey techniques, such as the high-powered transmitters, so it makes great sense."
Australian company Signature Gold Limited has used both the DIAS 3D DCIP survey and HeliSAM survey systems and seen tremendous results with Intrusion Related Gold Systems in Central Queensland.
"We partnered with GAP Geophysics to run the largest ever HeliSAM survey and the first ever DIAS 3D DCIP survey in the region," Signature Gold General Manager, Jonathan Robbeson explained.
"Working with the GAP and DIAS teams to unlock these challenging mineral systems has provided us with a breakthrough on our lead discovery."
Further information can be found at www.gapgeo.com