Aurecon's annual Bridge Building Competition launches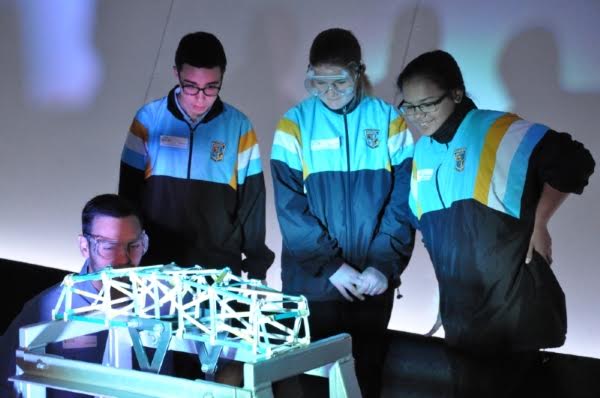 STEM skills shortage can be addressed with the right approach

Aurecon's annual Bridge Building Competition launches with new digital component to engineering skills
Considerable concern was raised recently by the plummeting rates of secondary school students in STEM subjects as highlighted in Engineers Australia's report, "The Engineers Make Things Happen". This warning of a looming shortage of engineers, has stimulated industry employer Aurecon to join forces with educational authorities to promote the value of providing more hands-on practical learning experiences in the high school system.
"We need to inspire our students with the challenges and career opportunities STEM related study can open whether it be in the area of robotics, designing new energy networks, intelligent buildings or the transport systems that will need to respond to driverless cars and the increasing digitisation of infrastructure," said William Cox, Aurecon's ANZ Managing Director.
To better engage students, global engineering and infrastructure advisory company Aurecon has launched its 2017 Aurecon Bridge Building Competition for high schools across Australia and New Zealand, with a new focus on building digital engineering skills.
The optional digital component has been introduced to encourage high school students to use a 3D platform, SketchUp, to design their bridges prior to construction. It reflects the increasing use of digital and 3D technology to design and build structures. The digital designs will then be reviewed by some of Aurecon's expert bridge engineers, with the top three digital designs from each location showcased on competition day.
The rise of digital engineers
"Given the exponential rate digitisation continues to shape the world we live in, there is a growing demand for the combined skills of IT and engineering, or 'digital engineers'," said Mr Cox. "The competition helps showcase these practical skills within the school system while providing a fun and challenging environment for our brightest STEM students to experiment and build their bridges of the future."
The solutions to the complex engineering challenges we presently face in areas as diverse as energy, transport and the built environment, now require cross-disciplinary skills and collaborative problem solving. The Bridge Building Competition is an opportunity for students in Science, Technology, Engineering and Maths disciplines to work closely together to do just that – collaborate and think multidisciplinary.
"It is critical for engineering, science, and technology industry employers to work with industry bodies, universities and schools to provide creative solutions to problems, and lead efforts in making STEM subjects more appealing to young students," Mr Cox commented.
"The Engineering Australia report also highlights that the number of both male and female students studying maths and physics has notably dropped from 2001 levels, and female participation remains well behind male participation in these subjects," he added.
Winners to defend their title
Teams from the Victorian High School of Kaniva College have won awards in the competition for the last nine years in a row, and the school will be participating again in 2017 to defend its title.


According to Mathematics and Science teacher David Staehr, 2016's Year 9 students built a bridge from popsicle sticks that withstood 438 kilograms, earning them an AUD1000 prize. "Our students love the hands-on approach, and many of them have subsequently expressed an interest in a career in engineering," he said. "The extension of the programme into digital is a great idea."


Registrations are now open to Years 8 and 9 high school students in Australia and Years 9 and 10 New Zealand students to enrol teams in the 2017 Bridge Building Competition. The immensely popular event offers participants a 'real-world' experience of what they can look forward to as future engineering students and professionals.
The Aurecon Bridge Building Competition engages approximately 250 schools, or around 1000 students, throughout ANZ each year. The annual competition works to cultivate a curiosity among students for science, technology, engineering, and mathematics (STEM) subjects at a time when enrolments across Australia and New Zealand are in continued decline. The Australian Government's National Innovation and Science Agenda, estimates that, within the next decade, approximately 75 per cent of jobs within the fastest-growing industries will demand STEM.
The competition will be held at seven locations throughout Australia and New Zealand (Sydney, Melbourne, Canberra, Brisbane, Auckland, Wellington and Perth) in the first three weeks of August.
Prior to Judging Day, students will be tasked with designing and constructing a model bridge using a kit and guidelines provided by Aurecon. Judging days will be held in August, when all teams will gather at venues across Australia and New Zealand for their bridges to be load tested and assessed for visual appeal, innovation, workmanship, creativity and functionality.


Entry for the Aurecon Bridge Building Competition is free and prizes are awarded to students and schools in four award categories: All-rounder award; Efficiency award; Strength award; Innovation award, and the newly introduced Digital Strength prize. 


Further information about the competition, including dates and venues as well as highlights from previous year's events, is available on the website: www.aurecongroup.com/buildingbridges 
About Aurecon
Aurecon is a global engineering and infrastructure advisory company which brings ideas to life to design a better future. Imagining what is possible, we turn problems into solutions. 
We provide advisory, design, delivery and asset management services on projects across a range of markets, in locations worldwide.  
Understanding the value of expertise, we mobilise our global pool of talent to understand and solve the critical and complex problems you face. We seek to unravel complexity, create clarity and invent new value for you.
We use our thinking to provide innovative solutions. 
We bring ideas to life by partnering with you and using our innovation and expertise, with technology, to solve your complex problems. 
To find out more about what we have been up to visit our newsroom, or take a glimpse into the future on our Just Imagine blog. 
Privately owned by employees, Aurecon formed in 2009 when Africon, Connell Wagner and Ninham Shand announced the formation of a new global group.
Please visit www.aurecongroup.com for further information.