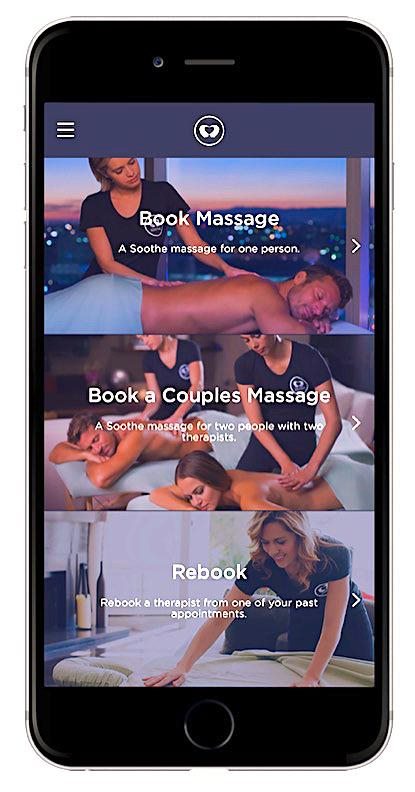 Welcome to the latest innovation in the on-demand economy.
From booking a private plane to ordering your favourite late night snack, on-demand apps are making it easier than ever to get exactly what you need, even from the comfort of your own home. The on-demand business model may be designed to help consumers go, go, go but one game-changing app is taking the stress out of being stress-free and disrupting the massage industry in a big way.
Meet Soothe, the on-demand massage service that delivers a licensed and experienced massage therapist to your home, office or hotel room in as little as an hour. Users can book a massage as early as 8 am or as late as midnight, from a network of 10,000 vetted massage therapists in more than 50 cities worldwide. Booking takes seconds with the easy-to-use app, a 24/7 concierge team connects clients with top therapists in their area, and pricing starts at $119. The best part? You won't have to leave your blissful state because you'll already be at home.
Unlike other on-demand apps, Soothe is just as committed to enhancing the massage therapists' experience as they are to providing high-quality massage for their clients. Soothe therapists are paid 2.5 times more than the industry standard and, with Soothe's flexible hours, therapists are able to choose an availability that works with their schedule.
In a world of unlimited on-demand apps, Soothe is one of the few Uber-like services that encourages clients to unplug, if only for an hour, and put their wellness first. Who says the perfect app doesn't exist?