A list of supplies to keep your workspace organized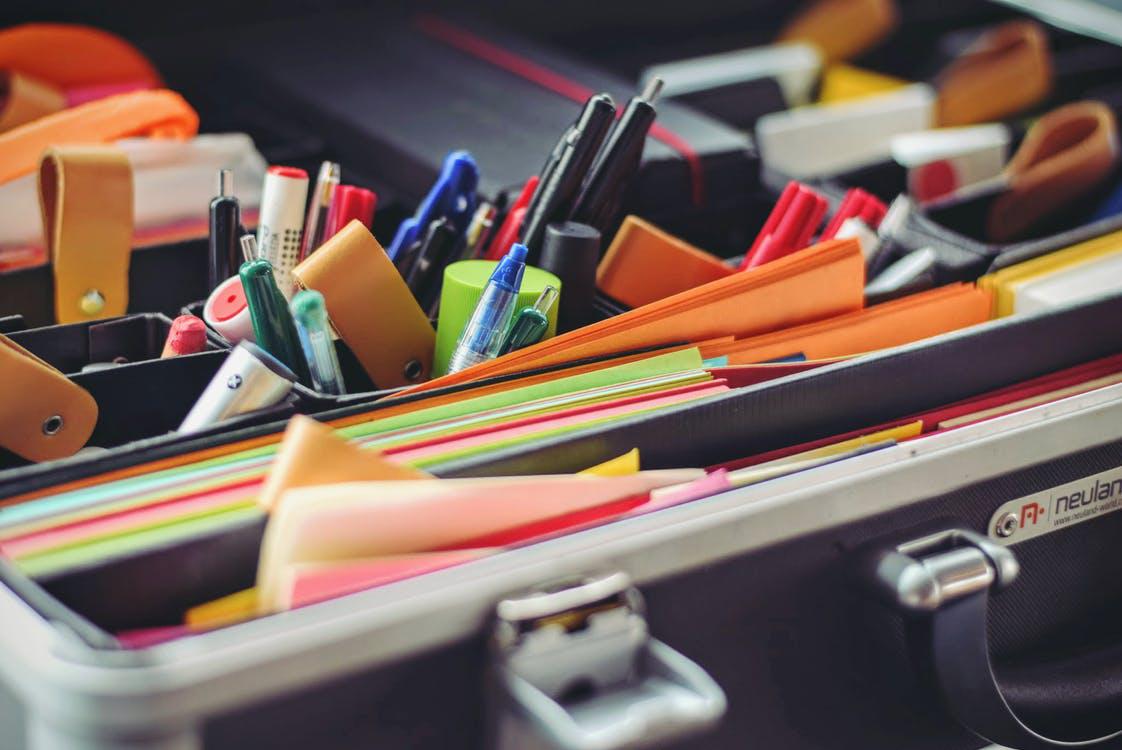 Let's start with the well-known saying, "Organizing is something that you do before you do something actually".
If you have decided to improve the workspace in a more organized way, it is better to go and visit your local office supply store like Winc Australia to know what items you should and could have at your place. If you see overwhelming the office supplies, it is better to stick with the basic stuff. It shouldn't mean if you like something it is important to get it. You should only go for the goods and supplies that you need to incorporate them into your work.
And yes, for all those people who have open seating plans in their offices with no cubical walls or no drawers and under the desk storage space, these tips can also help you out in managing your workspace.
In order to make the right choice, here we have shared a list of supplies to keep your workspace organized. You should have these tools and supplies at and around your desk.
These simple tips can help you focus on the supplies that are required for the workspace. Once you are done with the organizing workspace, you can get the work done within your time and leave early to be with your family or friends.
Basic Writing Tools
One may be appealed to go for the gel pen while visiting the office's supply store. You don't really have to do that. A simple ballpoint in black, blue or red color is economical and can do a better job for you. You can complete your work from the basic pen as well as you can do it with a fantastic one. Now if you are looking for a well-made mechanical lead pencil which couldn't break whenever you use it to write your important office notes or minutes of the meeting. You can go for the Pentel twist erase mechanical pencil with 0.7 mm of lead. So give it a try and enjoy the refill property, it is a bonus.
Then comes permanent markers. You can pick up a pack of five markers. Out of these five, keep two to three in your office drawer, one in the meeting room and another one in your bag. You can use them on cardboard boxes, labeling files, use them during the presentation.
You need to have a set of highlighters that can be used to organize your actions in the meeting notes. You can use them to correct the errors besides highlighting any important note that you don't want to forget.
Sticky Notes
In our daily life in offices, there come times when people are looking for you but you're nowhere to be found. You might be enjoying a good smoke in the balcony or taking those sips of your favorite coffee to stay rejuvenated for the upcoming tasks of the day. Would you like to see some notes left for you by your colleague when they are unable to track you down? The answer would be YES because you do want to know if someone wanted to meet you for some work or if there was some important update from the boss. As a matter of fact, we use these sticky notes to jot down what comes to our minds to keep them safe for the future. You can also use them to flag a page in a contract or during a brainstorming session.
Usually, sticky notes are so much popular that you can see aisle filled with these tiny notes with some important notes and quotations.
There are three sizes of sticky notes available in the market, i.e. 2"x1", 3"x3", and 3"x5".
Notepads
Though we are in a technology era that has converted our offices more paperless, we still need a notepad to note important points. These notepads are used to note some points in a meeting, list down to-do, used for drafting letters and memos. You can pick up two fancy notebooks for quick notes. These are mostly available in two sizes, i.e. 5 ½ X 8 ½ for taking notes, making a to-do list or using it as a daily planner. The other size is 8 ½ X 11 ½ which is generally used for taking notes during the meeting, projects details or client appointments.
Binders and Index Tabs
Since you are working to make your workspace more organized, you should consider the usage of the binder for every single task and ongoing project to manage it properly. The two-inch binder is a good and economical option with a see-through of the overlay that can be used to insert cover sheets. One can use binder more efficiently if used with index tabs.
Index sets are a bit expensive yet they are worth it. You can easily get index tabs from any office supply store.
File Folders and Labels
We all know that scattered papers would never work for many out there as they only make the system more complicated. There are multiple options in the market, i.e. Manilla, top-tab, 1/3 cut folders. You can buy a carton of 100 folders from any supply shop in less than $10.
You can write on the tab directly or go for the basic folder label. Avery's white file is the best option when considering file folders for laser and other printers.
Binder Clips to Keep Things Grouped Together
Another very useful tool used for organizing and maintaining office documents is Binder clips. You could definitely look for the ones available in small, medium and large sizes. You can use them to keep all project documents in one place. They can also be used to organize all distributing materials at the meeting or training, or filling documents in the file. You can also use binding clips to keep all your bills to be paid in one place. Or you can also organize coupons together to be used at the grocery or superstore.
3-Hole Punch
Binding clips are of no use and it couldn't serve you like the best organizational tool if all documents and notes are loose inside. So in order to keep them all together, you have to keep a 3-hole punching machine at your workplace. If you want to make sure that all of your documents remain appropriately in a file, this punching machine must be at your desk. Investing in this tool is a bit higher but you will get more in return. There isn't anything worse than scattered papers and unevenly punched documents. There is one of the mid-range options available in the market and that is Swingline LightTouch High Capacity Punch. You can get it for $15.
The Final Word
If you ask your colleagues to borrow a pen, I must say you are just wasting their time. Once you go and do shopping for your basic office supplies, you will be more confident and organized. And you will be able to keep your desk more organized and well-managed that can allow you to focus on more productive work. And you will be a relaxed and happier person at the end of the day.
It must be a time-consuming task to clear your desk regularly before you start doing your tasks. So it is a far better option to spare some time and try to manage all this stuff. You will be happier and can do more work without getting stress when your desk is organized and less uncluttered. Managing the documents and other supplies can help you in saving time.