Tradervue is a company that will allow you to earn money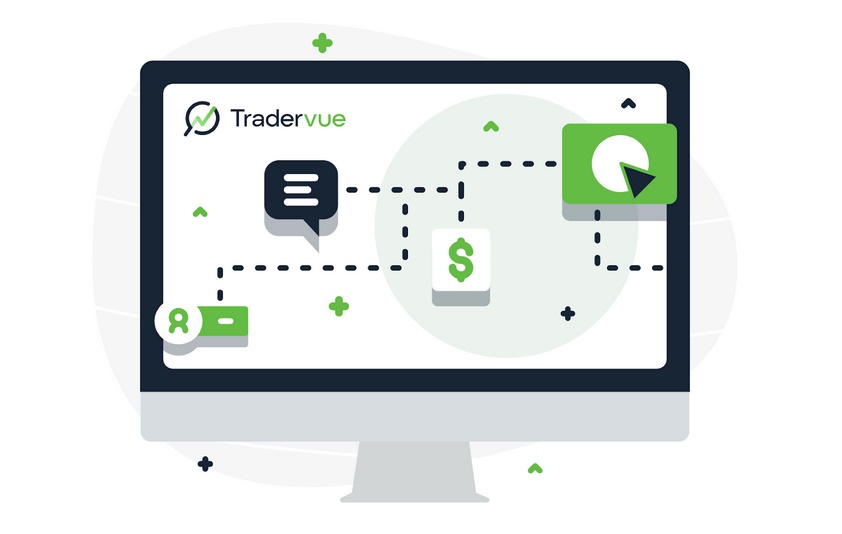 If you are interested in investing and love trading assets, then you are probably wondering in what period of trading you most often made mistakes and what exactly you did wrong. Unwittingly, the user wonders where you can keep a convenient journal to track the history of all the deals you have made. The answer is the Tradervue company.
Tradervue company offers users three tools: Journal Features, Analytical Features, and Sharing Features. Now, we are going to talk about the Tradervue Journal Features. This tool allows you to easily track the history of your trades, analyze the results and identify patterns. It will surely help you in developing your skills.
Trading Journal - The basics of profitable trading
So, Tradervue offers its clients a great tool that will allow them to make profitable trades and earn money on the international market. As mentioned earlier, this tool will enable you to track the history of the investor's works. This process is fully automated. You only need to connect to the trading platform where the process occurs. There are times when Tradervue does not support the broker, in which case the situation can be easily remedied. Just take and enter the name manually.
Trading journal makes it easy to visualize trading results using charts or tables. This approach allows traders to view history even more conveniently than before. Customizing reports, mark tags, and view charts by different indicators is possible. The charts are also customizable, and the user can choose an additional value for each axis (in this case, there are more than a hundred combinations). Using Trading Journal, you can easily view the recent performance results.
Why Trading Journal from Tradervue is a unique technology, and what are its advantages?
It should be said right away that all information is provided in a very convenient way. This process will seem easy and pleasant for people with minimal knowledge of analyzing charts. Since the process is automated, the chart is already available for analysis when you register a trade. The timeframes can be either minute or weekly. All buy and sell points are marked on these charts, regardless of the age of the work.
Trading Journal allows users to write their comments to be read later. This is an essential factor that is conveniently implemented in this tool. Also, in this journal, you can write "reviews" about your trading days, even if you have not made any trades.
A very convenient feature is the presence of filtering. The user can sort all his trades by a specific criterion, such as symbol, tag, side, date range, or duration. Once the filter is set, you can access all records related to the selected criterion. This is an essential factor in adapting to individual trader's needs.
Why Trading Journal by Tradervue is a unique tool that attracts users?
Does Tradervue Trading Journal have any analogs? Of course, there are. Everything has analogs; the only question is how qualitative they are. Here, a simple truth is revealed: all analogs of Trading Journal from Tradervue are cheap fakes that will never show the full potential of this tool.
What makes it so unique? To begin with, perhaps, it is not just a journal but a high-quality tool for productive analysis of your trades, the functionality of which is combined with a social network. Here, you can exchange thoughts and charts with other traders. Moreover, if you are practicing with a coach, you probably already know that Trading Journal increases the efficiency of such sessions through reporting.
Tradervue's Trading Journal dashboard is helpful because it shows much information. At the same time, the user can track the trades of other traders who have used the same tools as you. Another unique feature is the ability to add charts for comparison. Remember to keep track of the various commissions and fees.
No other service has been able to replicate the level of automation that Trading Journal offers. With such a wide range of functionality, the interface of this tool is intuitive and easy to master, so even novice traders can easily use this unique service.
Options for using Trading Journal from Tradervue
While we're on price, let's look at all the pricing plans that Tradervue offers. There are three of them: primary, silver and gold.
The first free plan will suit you as an introduction to the tool. It supports 30 monthly trades and provides access to the primary log and reports. Overview report and detailed report: There is an opportunity to tag and filter your transactions, share your results with the community and provide connection with the support of different brokers.
The silver plan already allows you to process an unlimited number of trades and includes all the functionality of the basic scheme with excellent bonuses. Thus, connecting the silver plan gives you access to daily charts P&L, Renko, Volume Bar and Range Bar, MFE/MAE statistics, and interactive and extended reports. The user is also offered the ability to export all information to Excel, hire a coach and compare price charts. The cost is $29 per month.
Gold is the ultimate in collaboration benefits. Yes, this package costs 49 dollars a month, but judging by the reviews of satisfied clients, it allows you to engage in profitable trading with all the comfort almost around the clock. It includes all the advantages of the silver package with such additions:
The ability to track risks.
A few more valuable filters.
Commission support.
Analysis at the end of the transaction.
Liquidity analysis.
Buy one of these packages and enjoy truly profitable trading.
Bottom line: The best tool for trading
Analyzing your trades is very important for constant development and self-improvement. Be sure that by using Trading Journal from Tradervue, you will start making exceptionally profitable trades and learn how to make money on the financial market. You can read many positive reviews about this tool and see how important it is and how much it helps traders worldwide. We recommend you use the trial period and see the productivity of using Trading Journal from Tradervue.