Startrack ORIAs Finalists Announced
Written by

Michelle Simmonds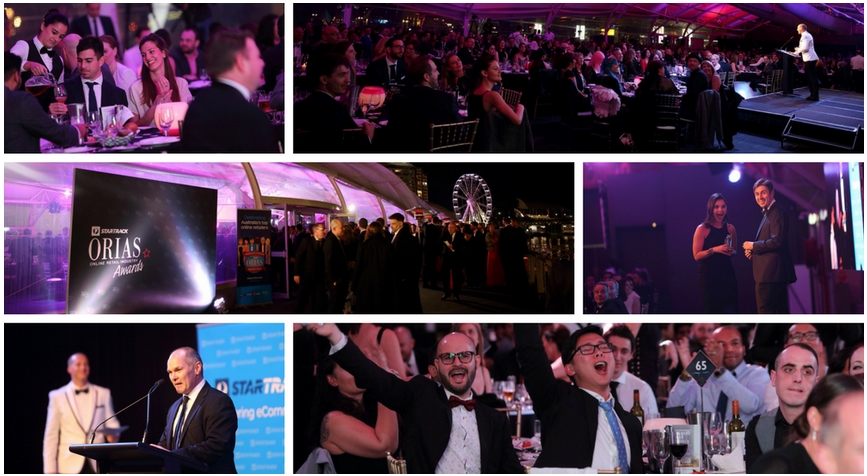 The 2017 StarTrack ORIAS Finalists were announced today at the Ivy Ballroom in Sydney, attended by close to 200 retailers and technology providers. The annual event showcases retail leaders and the outstanding work they achieve in the industry.
Six finalists were announced in each category, all celebrating the brilliance and tenacity of Australia and New Zealand's spirited online and multi-channel retailing heroes.
Now in its 8th year, the ORIAS includes a fantastic line up of categories, including Best Pureplay Online Retailer, Best New Online Retailer, Best Small Independent Retailer, Best Multichannel Retailer, Best In-Store Initiative, Best Pop-Up Experience, Best Online Retail Marketing, Best Site Optimisation & Design, Mobile Commerce Site/Application, Best Social Commerce Initiative, Best Omnichannel Customer Service, Best International Conqueror, Best Bootstrapped Growth Initiative, Industry Recognition, People's Choice, and People's Choice – Small Business.
This year saw a record number of submissions (a 21% increase on last year) and of unique companies entering (50% increase).
Event Director, Alice Kuepper said the StarTrack ORIAS is proving to be Australia's showpiece eCommerce event, recognising Australia's online platforms.
"The StarTrack ORIAS has truly established itself as the jewel in the crown of all eCommerce events in Australia. The partnership with StarTrack has truly elevated the popularity and importance of the award as it continues to grow year on year. The increased number of unique companies entering is also a reflection of the great things happening in the Australian retail industry."
"The unprecedented quantity and quality of entrants this year shows how much the industry values the award and the recognition it brings. Through the partnership with StarTrack and the People's Choice Award we are inviting the consumer to participate, as they are the ultimate judges of success."
Australia Post General Manager eCommerce & International, Ben Franzi said the partnership reinforces Australia Post and StarTrack's commitment to helping online retailers excel in the growing eCommerce space.
"Our major sponsorship of the awards reflects our ongoing commitment to helping local businesses succeed. We congratulate this year's StarTrack ORIAS' finalists for their unwavering commitment to their customers and eCommerce industry leadership."
The StarTrack ORIAS gala dinner will take place on July 27 at the ICC Sydney Exhibition Centre, Darling Drive, Sydney. Hosted by MC Osher Gunsberg, the evening will see around 800 guests celebrate the incredible achievements of Australian retailers as they enjoy a stellar line-up of entertainment.
Artist Brad Blaze (back by popular demand) will also be on hand to reveal the winner of the Industry Recognition Award via speed painting, while major event partner StarTrack will again announce the Finalist of the People's Choice Awards and People's Choice Awards – Small Business.
The official after party, sponsored by Afterpay, will still take place at Marquee at The Star, Sydney and will keep everyone up and dancing until the early hours.
StarTrack ORIAS FINALISTS:
Best Pureplay Online Retailer
Booktopia
Catch of the Day
Kogan.com
Nourished Life
Tinyme
Vinomofo
Best New Online Retailer
Cool Clutch
FitMyCar
Only Mine
partsales
Royal Essence
Wholesome Hub
Best Small Independent Retailer
BNT Curvy
Flora & Fauna
Hunting for George
Mountain Bikes Direct
The WOD Life
Best Multichannel Retailer
BWS
General Pants Co
Platypus
Supercheap Auto
The Daily Edited
Woolworths
Best In-Store Initiative
Icon By Design
Mon Purse
Myer
R.M.Williams
Speedmaster
Woolworths
Best Pop-Up Experience
DisruptSports.com
Grace Loves Lace
Krispy Kreme Australia
Menulog
Princess Polly
Williams-Sonoma Australia
Best Online Retail Marketing
Adore Beauty
birdsnest
Mon Purse
Princess Polly
Showpo
Yellow Octopus
Best Site Optimisation & Design
Adore Beauty
General Pants Co
Hunting for George
R.M.Williams
Showpo
SurfStitch
Mobile Commerce Site/Application
Adore Beauty
Booktopia
Catch
General Pants Co
Get Wines Direct
Tinyme
Best Social Commerce Initiative
Box For Monkeys
Nourished Life
Pottery Barn
Princess Polly
Showpo
Thankyou
Best Omnichannel Customer Service
Birdsnest
BNT Curvy
InStitchu
R.M.Williams
The Daily Edited
Tinyme
Best International Conqueror
Amcal Pharmacy - Sigma Pharmaceuticals
Cotton On
Mon Purse
R.M.Williams
Speedmaster
Tinyme
Best Bootstrapped Growth Initiative
Active Creatures
BNT Curvy
Flora & Fauna
Hunting for George
Showpo
Industry Recognition
Ben Hare, Tinyme
Kate Morris, Adore Beauty
Lee  Hardham, Brauz
Megan Ziems, Grace Loves Lace
Nathan Huppatz, Costumes.com.au
Nick Molnar, Afterpay
Tony Nash, Booktopia
Wayne Baskin, Booktopia
People's Choice
Booktopia
Catch
Kogan.com
Pillow Talk
Princess Polly
Showpo
People's Choice – Small Business
ADRL eBay Store
Arlo and Co
Beserk
Hunting for George
Skinnymixers
Uncle Jack
For more information visit http://www.onlineretailer.com/orias/



#ORIAS T: @eretailer F: @OnlineRetailerAUS L: Online Retailer Australiasia