Mahsuri Food Holds Ground Breaking Ceremony for a New Sauce and Condiment Plant in Malaysia
Written by

Telegraph Magazine
Providing high-quality Halal-certified sauce products to ASEAN region and beyond
Bhd. ("Mahsuri"), the manufacturer of Halal-certified products for the ASEAN region will fully operate a new manufacturing plant located in Bandar Enstek, Negeri Sembilan in early 2025 to expand its business locally and abroad.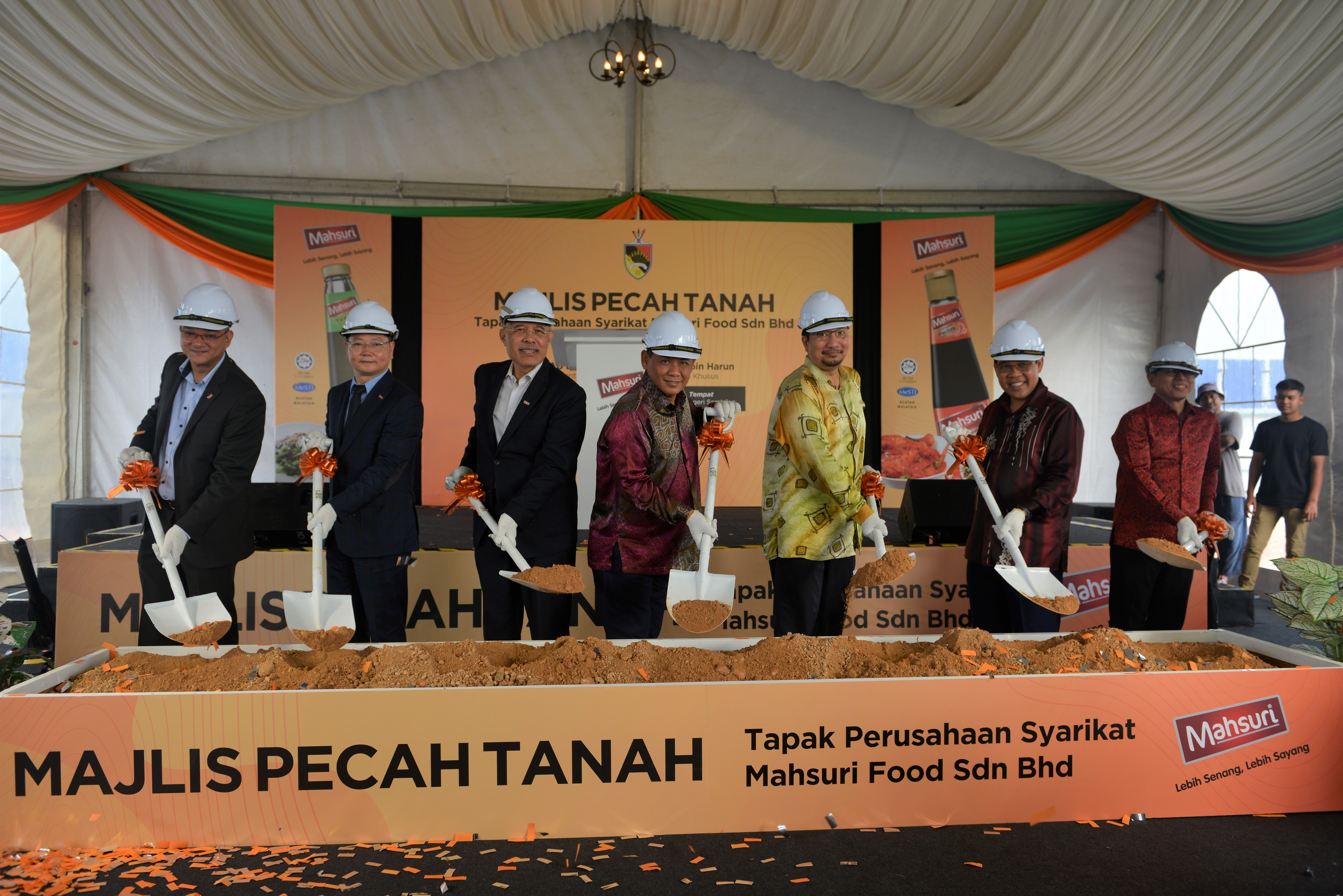 The new 24,000 sqm production plant will include facilities for manufacturing, warehousing, quality assurance laboratory, research and development centre, offices and social facilities. Mahsuri will also introduce the Rotary-type Koji-Making Machine, making it the first company to implement this advanced technology in soy sauce production in Malaysia.
Present at the ground breaking ceremony at Bandar Enstek, Negeri Sembilan on 18 May were the Menteri Besar of Negeri Sembilan, YAB Dato' Seri Haji Aminuddin Harun; Committee Chairman for Investment, Industry, Entrepreneurship, Education and Human Capital, YB Dato' Dr. Mohamed Rafie Ab. Malek; Deputy Chief State Secretary, YBhg. Dato' Muhamad Nahar Mohd Sidek; Chief Executive Officer of Invest Negeri Sembilan, YBhg. Dato' Hj. Najmuddin Sharif Sarimon; Chief Supply Chain Officer of Lee Kum Kee Sauce Group, Mr. Dillon Fu; Non-Executive Director of Mahsuri, Dato' Roslan Mahyuddin; Non-Executive Director of Mahsuri Dagang, Datuk Ahmad Tajuddin Idris; Head of Government and Community Development, Puan Lailah Mohd Darus; and Mahsuri Senior Commercial Manager, Mohd Jazri Ikmal Hijaz.
YAB Dato' Seri Aminuddin Bin Harun, Menteri Besar of Negeri Sembilan in his opening remarks welcomed Mahsuri to the state as a sauce production base and build a new eco-system in the related industry.
"Hopefully with the growth of the Halal industry and the high demand for Halal products by the Malaysian community and the world, Mahsuri will continue to grow and be among one of the World's Top Ten Halal Brands in the future," said Datuk Seri Aminuddin Harun.
Dato' Roslan, Non-Executive Director of Mahsuri said, "Mahsuri is committed to creating tasty convenience for consumers. The new plant will allow Mahsuri to increase its production capacity and provide its customers with high-quality Halal-certified products. It will lay a solid foundation for the future growth of the Mahsuri brand, enabling us to provide tasty and convenient experience to consumers locally and abroad."
The Halal-certified products made in the new plant will serve the local market as well as Indonesia, the Philippines, Singapore, Vietnam, Thailand, Myanmar, Cambodia, India and the Middle East. Over the next few years, Mahsuri will gradually embark on its journey to tap into the US market to bring "Made in Malaysia" products to the global markets.
With the establishment of a new plant in Negeri Sembilan, Mahsuri aims to create new employment opportunities for the local community and facilitate the upskilling of talents.
For more information about Mahsuri, please visit
www.mahsurifood.com.my
Hashtag: #Mahsuri
The issuer is solely responsible for the content of this announcement.
About Mahsuri
Mahsuri is committed to creating tasty convenience for consumers, making cooking fun and easy, offering a range of sauces that are Halal and made in Malaysia. Mahsuri's sauces have been available to the Malaysian public since the late 1990s, when Malaysia was undergoing a booming period of growth.

Through laborious efforts and countless trials and tribulations, Mahsuri successfully brought together expertise, modern manufacturing technology and fine Malaysian Halal recipes in offering effortless cooking for Malaysians – the blueprint for Mahsuri's success in Malaysia today.

Mahsuri has created a range of convenient sauces to help Malaysian cook easy meals at home. But the story does not stop there. It is now time to expand beyond Malaysia, to bring uniquely Malaysian flavours and sauces Halal-certified sauces to the world.