Wine Connection Presents the Annual Wine Tasting Fair 2023: A Celebration for Connoisseurs
Written by

Telegraph Magazine
SINGAPORE - Media OutReach - 16 November 2023 - Wine Connection, Singapore's largest chain of wine retail restaurants, is thrilled to announce the launch of its highly anticipated Annual Wine Tasting Fair 2023.
Spreading the appreciation of wine, this event offers a diverse range of wine experiences and a sneak peek into the world of festive wines set to grace all outlets. The wine curious, wine enthusiasts, wine connoisseurs and the general public are cordially invited to explore the wide choices of flavours and aromas at Wine Connection Bistro at Robertson Walk from November 25 - 26, 2023, across four sessions:

November 25, 2023, Saturday


12 pm to 4 pm (Session A)

6 pm to 10 pm (Session B) - Selling fast


November 26, 2023, Sunday


11 am to 3 pm (Session C)

5 pm to 9 pm (Session D)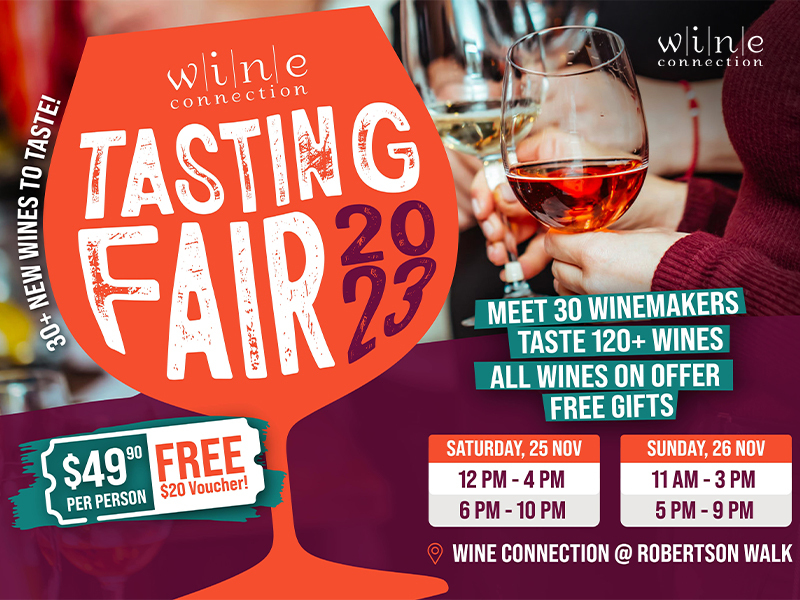 Unveiling the Exquisite: Discover the Unseen, Savour the Unforgettable
Wine Connection's Annual Wine Tasting Fair 2023 is set to captivate wine lovers and novices alike. Each year, Wine Connection's rigorous eight-week sourcing process ensures only the finest selections make the cut. Some of the shortlisted wines, including wines from Italy and
wines from France
, will make their debut at the fair this year before hitting the brand's wine list islandwide. The selection process involves an annual tender from 3,000 global winemakers, with Wine Connection's esteemed Tasting Committee, boasting certifications like Masters, WSET, and CWS, conducting two rounds to shortlist the top 50 offerings.
Attendees visiting the Annual Wine Tasting Fair 2023 will have the opportunity to explore a crafted selection of more than 120 unique wines including GF Angas from the Barossa Valley and Austin Brothers from Coonawarra. These exceptional wines promise more than just a sip, they embody the essence of South Australian reds at great value, influenced by the prestigious winemaking tradition of top Australian brands like Penfolds and Vasse Felix.
Exciting Benefits for Attendees: A Flavourful Adventure Awaits
At the Annual Wine Tasting Fair 2023, attendees will have the unique opportunity to meet over 30 winemakers including Zonte's Footstep, Mooiplaas and Evoi Wines. With each ticket priced at an affordable $49.90, attendees will enjoy the lavish array of
wine tastings
but also enjoy special deals. Every ticket is entitled to a $20 redeemable voucher, allowing attendees to offset their wine purchase during this exquisite fair. Wine Connection CLUB Members enjoy an exclusive 10% OFF, applicable online with code
and offline by mentioning their membership.

Delectable light bites created just for the fair will be available for dine-in. Enjoy Wine Connection's culinary creations while being the first to taste and preview some new wines from their highly anticipated collection of 2024. In addition to these quick delights, visitors will have the opportunity to secure exclusive deals and offers, allowing them to stock up on the finest wines from as low as $19.90, just in time for the festive season.

Moreover, visitors who spend $200 or more will receive a sleek and stainless steel Vacuum Pump with Stopper. For those looking to indulge further, spending $500 or more will earn them an Electric Wine Opener, while a $1000 or more purchase will receive 3 free gifts - a Battery Wine Aerator & Dispenser, Vacuum Pump with Stopper and Electric Wine Opener. Attendees who spent $250 or more will get to enjoy free delivery starting from December 1st, ensuring a smooth transition from the event to the comfort of their homes. For orders below $250, a nominal $20 delivery fee applies.

Tickets to the fair are now available for purchase. Enthusiasts can secure their spots by purchasing tickets from the different Wine Connection outlets or online at https://wineconnection.com.sg/wine-tasting-fair-2023.html.
Hashtag: #winetasting #winefromfrance #winefromitaly


https://wineconnection.com.sg/
https://www.linkedin.com/company/wine-connection-singapore-/
https://www.facebook.com/wineconnectionsgp/
https://www.instagram.com/wineconnectionsg/
TikTok: https://www.tiktok.com/@wineconnectionsg

The issuer is solely responsible for the content of this announcement.
Wine Connection
Established as Singapore's premier wine retailer, Wine Connection has seamlessly blended passion, expertise, and elegance in the art of wine appreciation since its inception. Dedicated to curating an extensive selection of exclusive and exceptional wines from both small and renowned vineyards worldwide, Wine Connection is the go-to destination for the wine curious, wine enthusiasts and connoisseurs. With a portfolio that spans across budget-friendly accessible wines to exquisite wine gems, Wine Connection transcends the boundaries of wine retail, offering a wine at any price point, for any occasion.