Schneider Electric Hong Kong President Jonathan Chiu has been named Sustainability Leader of the Year at the HKMA Hong Kong Sustainability Award 2023
Written by

Telegraph Magazine
HONG KONG SAR - Media OutReach - 16 November 2023 - Schneider Electric, the leader in the digital transformation of energy management and automation, announced that Schneider Electric Hong Kong President Jonathan Chiu has been awarded Sustainability Leader of the Year and the Distinguished Sustainability Leadership Award in the Large Organizations Category at the Hong Kong Sustainability Award 2023 organized by the Hong Kong Management Association (HKMA), for his leadership in accelerating the delivery of Schneider Electric's sustainability commitments, and contribution towards Hong Kong's ambitions for a more efficient, reliable, and sustainable energy future.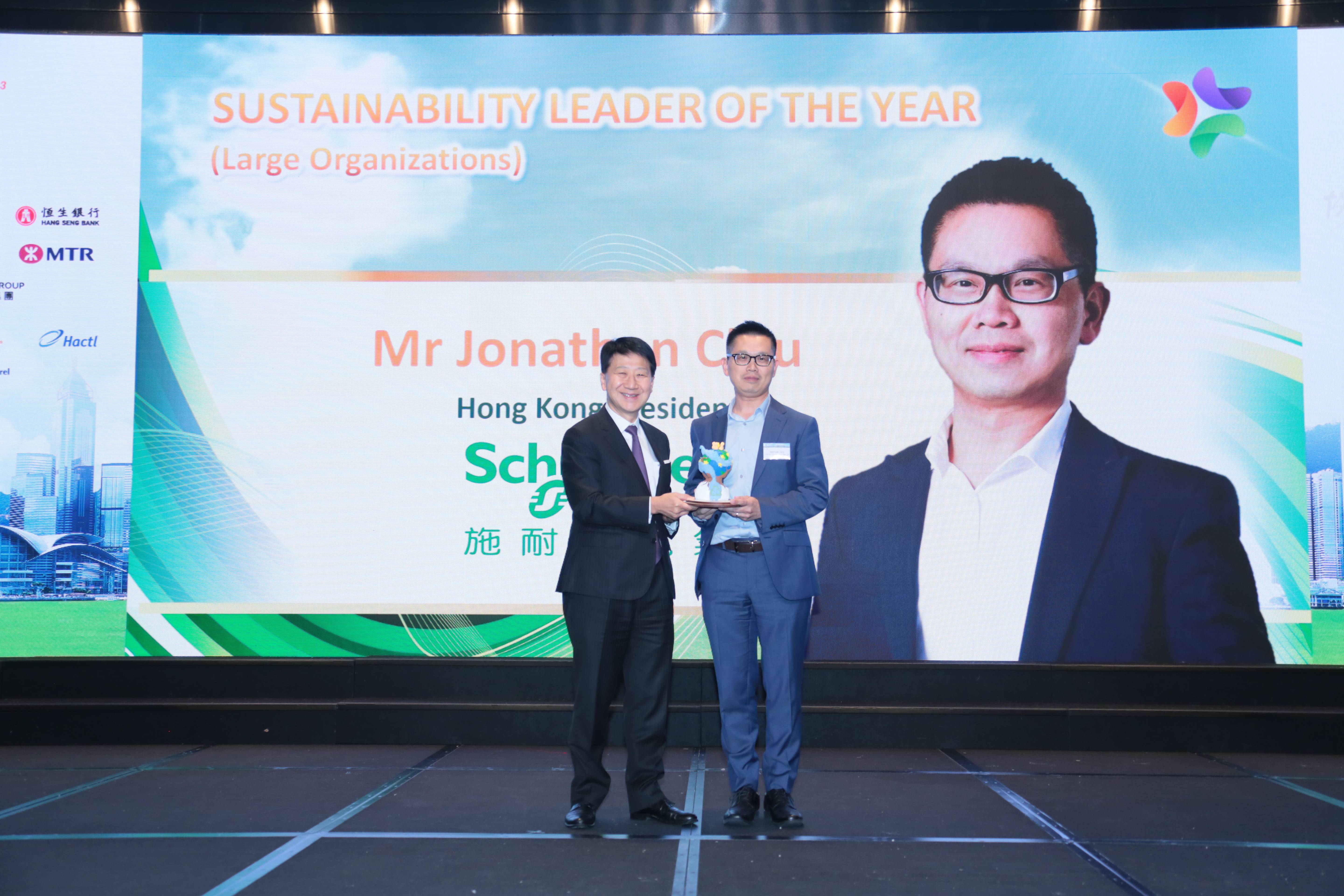 Launched in 2016, the award aims to raise awareness of the importance of sustainability within the business community, and recognizes business leaders and sustainability experts for their significant contributions to the sustainable development of their organizations and the wider community.
"I am immensely honored to be recognized amongst Hong Kong's business leaders delivering impact for the city's long-term prosperity and sustainability," said Jonathan Chiu, President of Schneider Electric Hong Kong.
"At Schneider Electric, we remain committed to accelerating our own ESG transformation, at the same time deploying our innovation portfolio for digitization and electrification, to help advance our wider ecosystem's transition towards greater energy efficiency, and a smarter and greener future. I would like to take this opportunity to thank our ecosystem of stakeholders – our people, investors, suppliers, customers, partners, and the wider community – without whose support we would not be able to bring our sustainability ambitions to life."
Since being appointed Hong Kong President in 2019, Jonathan Chiu's leadership has been pivotal in driving business growth and ESG transformation for Schneider Electric in Hong Kong and Macau – in alignment with the company's six long-term global commitments to act for a climate-positive world, be efficient with resources, live up to its principles of trust, create equal opportunities, harness the power of all generations, and empower local communities.
Hashtag: #Sustainability #SEGreatPeople
https://www.se.com/hk/en/
https://www.linkedin.com/company/schneider-electric
https://twitter.com/SchneiderElectric
https://www.facebook.com/SchneiderElectric?brandloc=DISABLE
https://www.instagram.com/schneiderelectric/
The issuer is solely responsible for the content of this announcement.
About Schneider Electric
Schneider's purpose is to empower all to make the most of our energy and resources, bridging progress and sustainability for all. We call this Life Is On.

Our mission is to be your digital partner for Sustainability and Efficiency.

We drive digital transformation by integrating world-leading process and energy technologies, end-point to cloud connecting products, controls, software and services, across the entire lifecycle, enabling integrated company management, for homes, buildings, data centers, infrastructure and industries.

We are the most local of global companies. We are advocates of open standards and partnership ecosystems that are passionate about our shared Meaningful Purpose, Inclusive and Empowered values.

www.se.com/hk

Discover the newest perspectives shaping sustainability, electricity 4.0, and next generation automation on Schneider Electric Insights.