Redbreast Irish Whiskey Teams Up With Cian Ducrot To Shed Light On The Loss Of Morning Bird Song With Wake Up Call Performance
Written by

Telegraph Magazine
1 in 8 bird species are on the brink of extinction, yet a significant 48% of the general population remains unaware about this decline in numbers

[1]
To mark Robin Redbreast Day, 16th Nov, Cian and the Irish Whiskey brand unite to promote awareness of the dwindling bird population.
LONDON, UK -
Media OutReach
- 16 November 2023
- With global bird populations in decline, skies may soon be empty of melodies. If the birds disappear, the silence will be deafening. This year on Robin Redbreast Day, Redbreast Irish Whiskey and singer-songwriter and social media star, Cian Ducrot, have taken to the streets of London in the early hours of the morning to give the city a much needed wake up call to raise awareness of declining bird populations.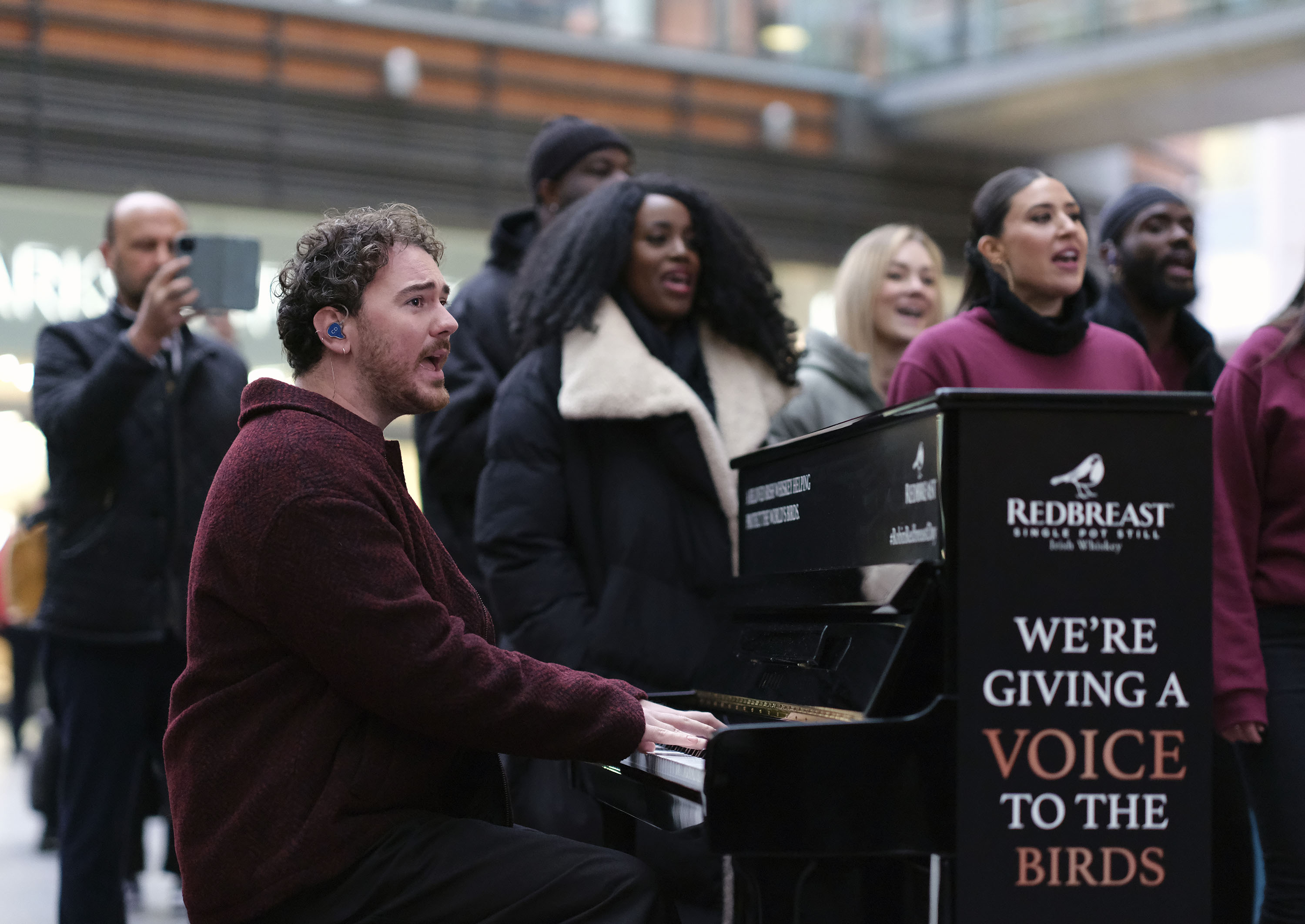 In a captivating and emotional performance, Cian Ducrot, accompanied by a live choir, emerged at Cardinal Place, London at dawn, filling the city's streets with the beautiful sound of song. Commuters and passersby were greeted with the enchanting melodies, brightening their morning. However, as the sun climbed higher in the sky, a sudden and profound silence descended upon the choir. One by one, their voices fell silent, mirroring the fading melodies of our cherished feathered friends. This dramatic moment served as a powerful metaphor for the loss of bird songs that once graced our mornings, leaving the public in contemplative silence.
Redbreast Irish Whiskey celebrates the fourth consecutive year of Robin Redbreast Day, an annual global date dedicated to raising awareness and donations for its conservation charity partner, BirdLife International. Since 2020, Redbreast Irish Whiskey has successfully raised over €250,000 in support of BirdLife's vital initiatives. The brand stands steadfast in its unwavering commitment to nurturing a positive future for all birds. A survey conducted across the UK, US and Ireland found that 48% of the general public is unaware of the disappearance of birds happening in their own back gardens. The survey also found that 52% of people rely on bird song as a way of connecting to nature, feeling calm and having a positive effect on their own mental health. With this being stripped from urban areas and cities around the world, Redbreast and Cian Ducrot are on a mission to wake up the world and shed light on the issue.
Cian Ducrot expressed his enthusiasm for the partnership, commenting:
"
I am very excited and honoured to be collaborating with Redbreast Irish Whiskey for such an important cause. It's more than just raising awareness for the loss of bird song but highlighting the much broader issue of the decline of many bird populations, which is an alarm bell for the health of our environment and planet. Our actions are impacting the world around us, which is leading to more polluted, less green, and very unwelcoming urban areas for nature and birds to thrive. The loss of bird song isn't something we want to witness and it is so crucial that we all work together to ensure that doesn't happen!
"
Currently, one in eight bird species faces the threat of extinction, while half of all bird populations globally are declining.
[2]
According to BirdLife International, the overwhelming majority of these declines can be attributed to human actions such as deforestation, agricultural expansion and habitat loss. Through its partnership with BirdLife International, Redbreast continues to play a pivotal role in fostering a positive future for all birds by combating these existential threats.
Zoë Traynor, Head of Brand Sustainability and Responsibility for Irish Distillers said:
"
We're absolutely thrilled to continue our partnership with BirdLife International, and we're honoured to have the support of singer-songwriter Cian Ducrot to further the reach of our mission. Redbreast's connection to birds has been at our core since day one when we named our whiskey. After four years of work with BirdLife International, we are more committed than ever to helping our partners address the decline of bird populations worldwide, which is often driven by our own human actions."
Martin Harper, Interim CEO of BirdLife International comments:
"
Bird song has decreased massively over the years, particularly in urban areas, making the work we are doing with Redbreast critically important. Redbreast's support has helped us benefit 726 threatened species with our conservation action and reached over 7.4 million young people in communities around the world with environmental action which we feel is truly remarkable!
"
To further amplify its commitment, Redbreast has once again released the popular limited-edition bottle of Redbreast 12-year-old whiskey, adorned with an intricately designed case that transforms into a bird feeder. A survey revealed that half of the general public across the UK, Ireland, and the US are actively using bird feeders in their back gardens. Redbreast is continuing its mission to supply all gardens with the equipment they need to feed our feathered friends and help combat the decline in populations this winter. Part of the proceeds from the sale of this special edition bottle will be donated to BirdLife International, a testament to Redbreast's unwavering dedication to creating a positive future for all birds. The limited-edition bird feeder bottle is available for purchase via
MidletonDistilleryCollection.com
and select retail locations in Ireland, Northern Ireland, Slovakia, Canada, China, Germany, Global Travel Retail, Hong Kong, Ireland, Northern Ireland, Slovakia and the USA priced at €78.
Visit
redbreastwhiskey.com
to find out more about Redbreast, its partnership with BirdLife International, and how you can help create a positive future for all birds.
Follow us on social:
Instagram @RedbreastIrishWhiskey
Facebook @RedbreastSinglePotStill
---
[1] This survey data is based on a poll by One Poll, conducted with 3,000 participants across the UK, US, and Ireland, carried out on the 23rd-30th October 2023.


Hashtag: #RedbreastIrishWhiskey
The issuer is solely responsible for the content of this announcement.
About Irish Distillers
Irish Distillers is Ireland's leading supplier of spirits and wines and producer of some of the world's most well-known and successful Irish whiskeys. Led by Jameson, our brands are driving the success of Irish whiskey globally. Jameson is the world's fastest-growing Irish whiskey, selling 6.4m cases in H1 FY23. Our brands are exported to 130+ markets around the world, with many of those experiencing double-or triple-digit growth.

Irish Distillers was formed in 1966, when a merger took place between John Power & Son, John Jameson & Son and Cork Distilleries Company. In 1988 Irish Distillers joined Pernod Ricard, gaining access to unprecedented levels of investment and an extensive global distribution network.

In 2022, we announced our ambition to significantly reduce carbon emissions across our distilling operations at Midleton Distillery in addition to our plans to invest in a new distillery on a site adjacent to our existing operations in Midleton.

We employ over 800 people across our operations in Cork and Dublin.

About BirdLife International
BirdLife International is the world's largest nature conservation Partnership. Together we are 116 BirdLife Partners worldwide and growing, with almost 11 million supporters, 7,000 local conservation groups and 7,400 staff. BirdLife is widely recognised as the world leader in bird conservation, a United Nations-recognised civil society observer, and our unique local-to-global approach delivers high impact and long-term conservation for the benefit of nature and people. Find out more at www.birdlife.org