Qantas Invests in Mad Paws for Pet Sitting
Written by

Michelle Narayan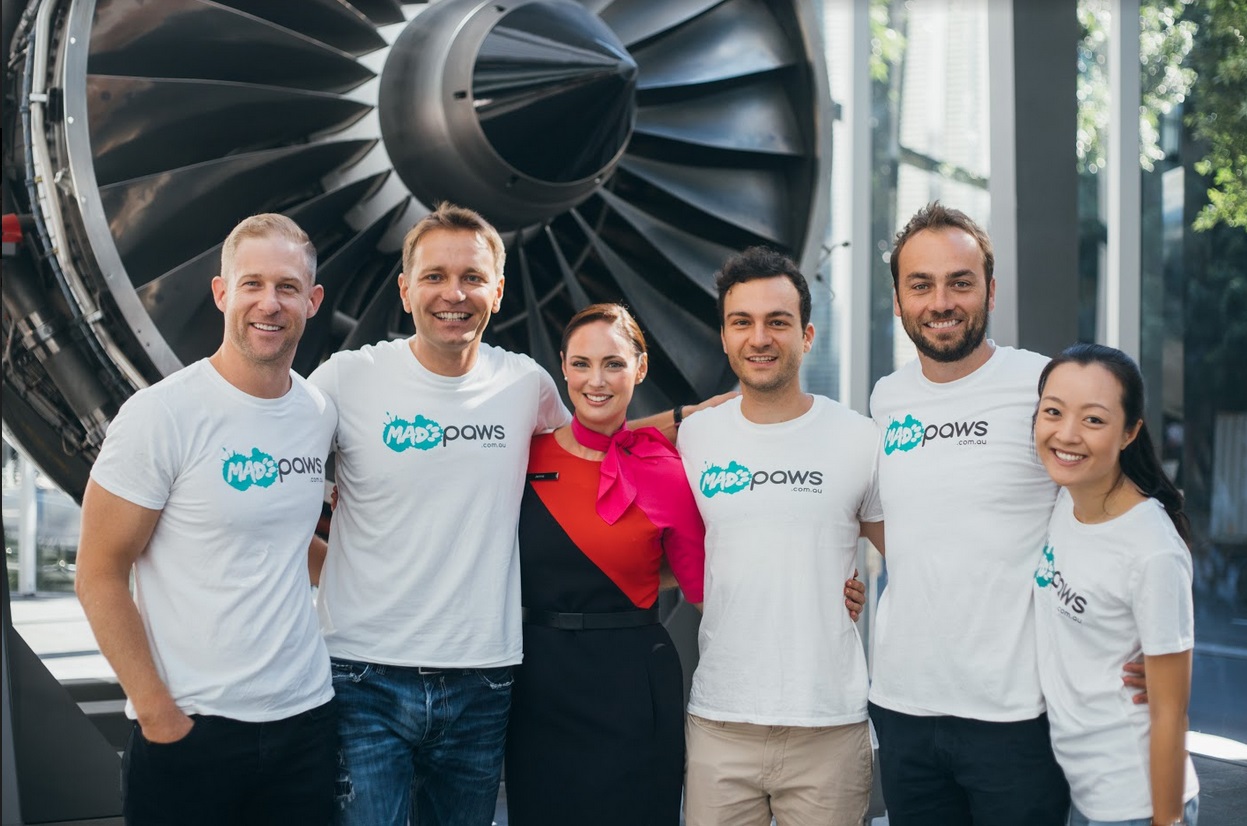 Sydney: Mad Paws, Australia's leading marketplace for pet services, today announced a successful $5M Series A funding round with a consortium of top investors, to further cement its position as the leading player in the relatively untapped $12 billion dollar pet industry in Australia.
Launched in November 2014 by Alexis Soulopoulos, Jan Pacas, Rolf Weber, Justus Hammer and Bjorn Behrendt, Mad Paws is the 'Airbnb for pets', where pet owners across Australia can book a local, vetted and insured pet sitter from 15,000 approved sitters and dog walkers. So far 300,000 pets have been registered on the platform. Mad Paws raised the funding from Qantas Airlines Limited ("Qantas"), Microequities Venture Capital, Scale Up Media Fund, existing investor Macdoch Ventures and Tim Fung, the CEO and Co Founder of Airtasker, who will be joining the Mad Paws board.
"I am extremely proud of the Mad Paws team who continue to work with the same passion and conviction they have demonstrated for the past 3.5 years. Every day we see the joy and comfort that Mad Paws brings pet sitters, pet owners and most importantly their pets. With this as motivation the team has managed to triple the business over the past year and we plan to continue nothing less than this growth trajectory. The new funds will allow us to enhance our technology and customer support processes to ensure the best possible service for Australian pet owners and their pets." comments Alexis Soulopoulos, CEO and Co Founder, Mad Paws.    
Part of Mad Paws' expansion includes a commercial partnership with Qantas, along with an investment, so Qantas Frequent Flyer members can now earn Qantas Points through every booking including overnight pet hosting (away from home) and pet sitting (at pet's home) as well as dog walking, pet day care and house visits.
Qantas Group Executive Strategy, Innovation and Technology Rob Marcolina, said: "Nearly two thirds of Qantas customers are pet owners and how they care for their pets when they're away is important, so it's a key part of their travel experience with us. Mad Paws is already growing strongly and we're excited to see what new opportunities this partnership and investment will bring for the business and their customers."
The pet services network will use the investment to further enhance its offering. This includes appointing additional local customer and pet sitter support staff to help growth while maintaining quality and continuing to develop technology to ensure a seamless and intuitive customer experience. The team is also building awareness through marketing initiatives which will be rolled out over the next year.
"Australians spend over $2 billion a year on pet services such as boarding, minding and grooming. Mad Paws is delivering an entirely new model for pet owners to identify, engage and pay for these services. Alexis and the team continue to do a great job of expanding the platform and driving market awareness. With platform revenue having more than tripled over the past year, we look forward to Mad Paws entrenching its market lead and continuing to deliver exceptional outcomes for pet owners and service providers alike," comments Howard Leibman, Director, Microequities Venture Capital.

It's estimated that there are currently 24 million pets in Australia. At 62%, Australia continues to have one of the highest household rates of pet ownerships in the world with around 5.7 million of Australia's 9.2 million households home to a pet. Mad Paws has seen its revenue triple each year since launch, with success in part due to its stringent vetting process of only allowing 25% of pet sitter applicants onto the platform to ensure quality, along with its exceptional customer support team of pet lovers.   
About Mad Paws:
Mad Paws is a Sydney-based startup that was created to fill an ever growing need in the pet boarding market for affordable, and local pet accommodation whilst still maintaining the care, love, and attention pets received at high-end, expensive, pet boarding services. Launched in November 2014, the company has tripled its revenue year on year since launch, and currently has 300,000 pets registered and 15,000 vetted and approved pet sitters and dog walkers nationally.
PICTURE CREDITS:
MP x QANTAS - Kevin Wilson – Investment Director, Qantas Group ; Jan Pacas - co-founder, Mad Paws ; Jenna Scanlan – Flight Attendant, Qantas Group ; Alexis Soulopoulos - CEO and co-founder, Mad Paws; David Parfett – Head of Group Innovation & Ventures, Qantas Group ; Betty Chen - Business Development Manager, Qantas Group
MP Leadership Team - Top: Dmitri Voronenko - Head of Technology ; Alexis Soulopoulos - CEO and co-founder ; Karim Mouahbi - Head of Marketing ; Christopher Nheu - Head of Product
Below: Tahnee Claeys - Head of Operations ; Bella - Labrador