MixMarvel successfully builds up the community of games powered by Blockchain in the Australian market
Written by

Yipei Lee, Victoria Segovia
Following a successful series of roadshows in Melbourne, Perth, and Sydney, MixMarvel has paved the way for the development of blockchain-based games in Australia. During the roadshows, MixMarvel not only collaborated with Australian crypto exchange ACX and crypto communities, but also connected with industry influencers, developers, and scientists. On top of that, MixMarvel explained blockchain game's structure and discussed the future of the industry concerning blockchain technology.

(Photo credit: ACX, Photographer: Clarence Wee)
Known by successfully reached the balance of global business development and non-profit institute, Sam Lee, the founder, and CEO of Blockchain Global, attended the roadshow in Melbourne and shared the concept of the commercialization of blockchain technology through blockchain-based innovation and gaming infrastructure.
Yat Siu, the chairman of Animoca Brands, shared his views about how Blockchain is shaping the mobile gaming market in Perth roadshow. Yat Siu explained how the concept of "play to earn" has become very interesting as gaming companies now have to start thinking about the vested interest of players.
Chris Teskey from Virtual Gaming Worlds (VGM) suggested that mass adoption will most likely occur via e-sport games. However, the industry is still in the trial and error stage as developers need to figure out how to integrate blockchain technology best.
Lucy Lin, the founder of Forestlyn, is a leader in global blockchain marketing and an advocate for innovative and emerging technologies. In the Sydney roadshow, Lucy and MixMarvel discussed how token economy can shape the ecosystem and how it has been adopted by the MixMarvel platform. MixMarvel also shared on how to overcome the obstacles of traditional gaming, and increase market awareness of blockchain games.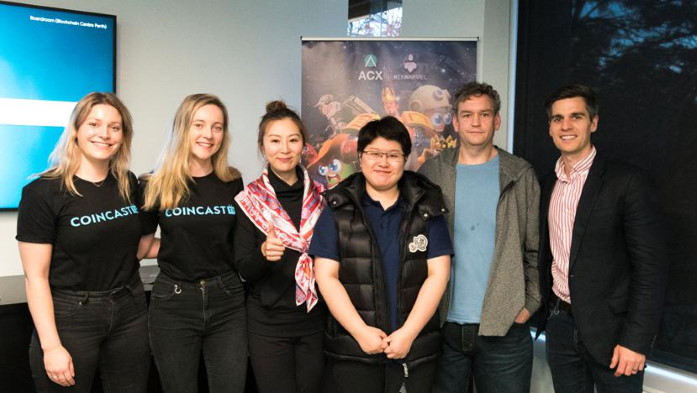 (MixMarvel with Digital X Limited and Coincaste. Photo credit: ACX)
MixMarvel's roadshows in Australia follow the release of MixMarvel's Layer-2 technology, Rocket Protocol 2.0. As reviewed by MixMarvel's CSO, Mary, Blockchain game development is currently facing significant challenges such as the poor performance of public chains. Most public chains have a low TPS (Transactions Per Second), thus cannot sustain either large-scale applications with millions of daily active users or a large number of transactions simultaneously.
MixMarvel provides its own blockchain solution, making it easier to create high-quality applications on mass users. Rocket Protocol 2.0 and its six modules, solve the migration problem, and games can efficiently operate on public chains. HyperDragons on Ethereum and Ontology is one of many successful applications of Rocket Protocol 2.0.
MixMarvel provides the opportunity for developers to launch their games on various public chains, without making significant technical changes using the MixMarvel Cloud technology.
Blockchain games return the ownership of digital assets to players, solve the problem of mutual trust between game developers and players, and reform the game marketplace with a token economy. MixMarvel aims to establish the future of gaming, which links developers, content creators, and players with a shared value network.
Shortly, MixMarvel aims to provide high-quality solutions and services on the MixMarvel platform. MarvelLand, MarvelGalaxy, and MarvelUniverse are the three phases of the MixMarvel platform. MarvelLand is the first phase of the MixMarvel platform that will grant easy access to first-party and third-party blockchain games such as HyperSnakes. MarvelGalaxy is the second phase, which brings vast amounts of digital assets, and players can create personalized game content. Lastly, in the third phase, MarvelUniverse will realize the dream of the "Ready Player One" gaming world and launch a highly autonomously governed game platform.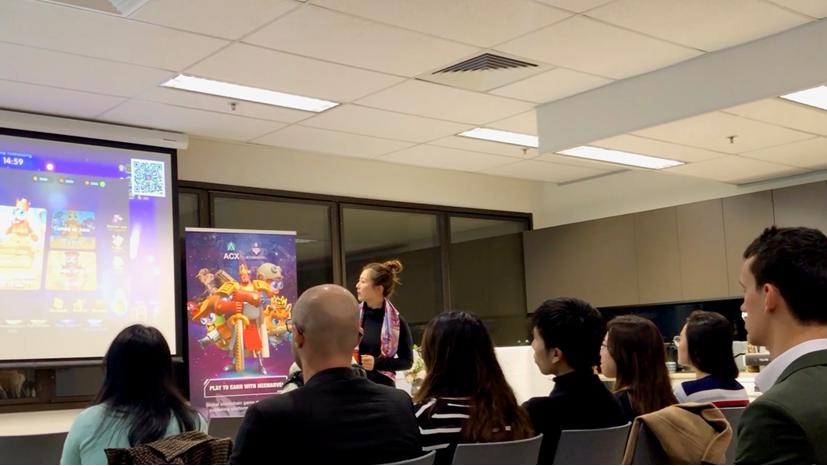 (MixMarvel CSO, Mary explained Layer-2 technology and MixMarvel platform. Photo credit: ACX)