Any Boat Charter Boat Business Wins Prestigious Business Award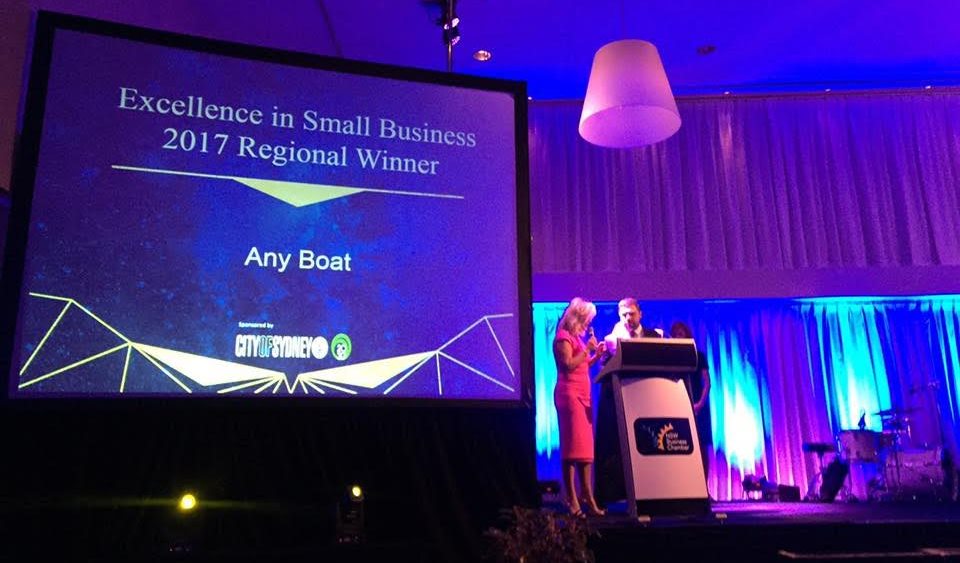 Cheers echoed throughout the Kirribilli Club on Friday night (12/05/2017) as Kerri-Anne Kennerley named a charter boat business as a winner in the NSW Business Chamber Awards.
Charter boat agency Any Boat, based at the historic Lavender Bay Boat Shed were announced the 2017 winner of the Small Business Excellence Award in the 2017 North Eastern Sydney Regional Business Awards.
39 year old Founder and Managing Director of Any Boat Daniel Da Silva also entered the highly contested Business Leader category in which he also became a finalist.  
"I was extremely proud to have even made the finals and Small Business Excellence is the big one so to be named the winner is nothing short of outstanding in my eyes" said Mr Da Silva.
"You put your heart and soul into your business, and winning such a prestigious award gives you validation and really lets you know that the team are doing great things and that your vision is coming together."
According to Daniel the vision was simply to unlock Sydney Harbour and give people easy access to any boat in Sydney.
"I wanted Sydney Harbour to be available for any one, on any occasion on any boat by having all of the charter boats available in one place" Said Daniel.
"It all started with a laptop in a spare bedroom and nine years later we are firing on all cylinders with a staff of six and a beautiful waterfront office looking at the Harbour Bridge."
"Today, Any Boat specialises in organising memorable events for corporate clients, team building activities, television shows, promotional shoots, celebrity events and special occasion cruises."
Morgan Taylor has been working for Any Boat for four years and has seen the business grow year on year, which she attributes to Daniel's focus on customers.
"It all comes down to a few simple things" Ms Taylor Said.
"Daniel worked day and night at winning the online game and making sure that we are always on the front page of Google since that is the first place customers go to hire a boat."
"Once people find us we use a few secret tools to make sure that we give them the fastest possible service, and we back that up with boats to suit any occasion so the customer chooses to work with us."
Mr Da Silva insists that whilst he may have been the one that started the business, there would not even be a business if it were not for such a dynamic team with a passion for delivering unforgettable customer experiences.
Any Boat will now progress to the NSW Business Chamber State Awards to be held on Friday 17th November at the new Sydney International Convention Centre.

About Any Boat Pty Ltd
Any Boat is Australia's leading charter boat agency supplying all types of boats for all types of events all over Australia including corporate events, team building activities, television shows, celebrity events and special occasion cruises.  The business was started by Daniel Da Silva in 2008.  
Daniel is the Vice President of the Commercial Vessel Association, the Public Officer for the Charter Boat Agents Association, is a commercial captain, and owns Any Boat, multiple charter boats, a yacht charter business, and a marina.
Contact Dan
Daniel Da Silva
Founder and Managing Director
0414 984 477 or
dan@anyboat.com.au
https://www.anyboat.com.au
https://www.facebook.com/Any.Boat
https://www.youtube.com/channel/UCzLtEoolqQTIlZ9otQgLCqg
https://twitter.com/AnyBoat1/
About the NSW Business Chamber Awards
The NSW Business Chamber's Business Awards celebrates business excellence in NSW by recognising and rewarding outstanding businesses whose passion, determination, innovation and success inspire other businesses and business people.
http://www.businessannualawards.com.au/