Crypto Trading in Australia - The 500Investments Review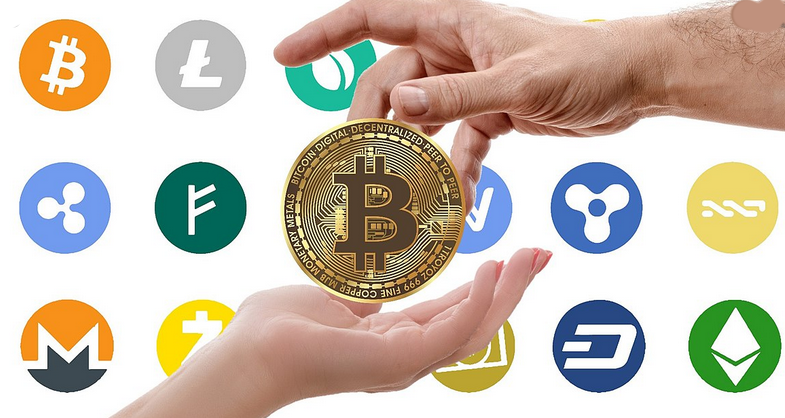 Each and every month, Cryptocurrency trading is getting trendier in Australia. As for 2020, Australian citizens finally have access to a truly broad range of cryptocurrency-oriented brokerage brands. One who surely deserves a mention is 500Investments, owned by Cabsy Holdings Ltd, which among the 1,000+ trading instruments, had included tens of different crypto assets.
With fiat currencies on the defensive, mainly due to aggressive actions from central banks and governments, cryptocurrencies had benefited extensively throughout this year, increasing the demand for crypto-related instruments. 500Investments wants to be a reliable trading partner and to achieve that, it has designed a comprehensive trading offer that aims to assist clients when dealing with the challenges of this market.



As a world-renowned financial services provider, 500Investments has a primary goal of unleashing your trading potential using advanced trading technology, financial proficiency, and a diversified trading ecosystem designed to navigate the crypto market with all of its pitfalls.
Crypto Offer
Australians that will check the 500Investments cryptocurrencies offer will see they can trade on tens of different crypto-related instruments. Currently, Bitcoin, Ether, XRP, Dash, Litecoin, Bitcoin Cash, Ethereum Classic, Stellar, Monero, and other tokens are available. It is important to note that clients can trade on Bitcoin instruments denominated in USD, EUR, JPY, and most importantly, in the Australian Dollar (AUD).
Also, there are instruments denominated in USDT, ETH, BTC, or XMR, to ensure access to some of the most liquid crypto instruments in the world. With increasing demand from all around the world, and not just from Australia, 500Investments has been constantly upgrading its cryptocurrency offer and now supports one of the most diverse lists of crypto assets in the world.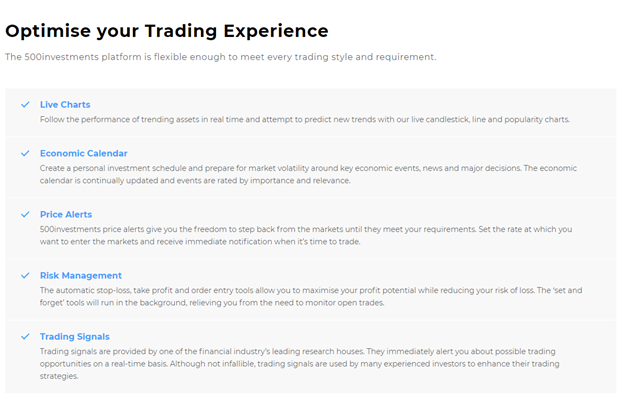 When it comes to cryptocurrency trading, Australian-based traders have access to 1:5 maximum leverage and tight spreads, especially when it comes to crypto-to-fiat instruments. They can make deposits in multiple currencies via credit/debit cards or wire transfers and start trading right away.
Crypto trading is available via a proprietary web-based platform that integrates multiple functionalities, including TradingView charts, Social Trading, one-click execution, risk management tools, and other customization features designed to enhance the trading experience.
Account Types
Since not all traders are equal and the needs are different for each customer, 500Investments offers diversified trading services. As a result, Australian traders can choose between 5 different account types (Basic, Silver, Gold, Platinum, and Diamond), each with a different minimum deposit required and multiple trading benefits. Crypto trading becomes a manageable experience with 500Investments because there's access to daily market briefs, trading academy, webinars and seminars, 24/6 support, industry-leading prices, dedicated/senior account manager, exclusive updates, and others.



To make sure that most of the traders will be able to open an account, 500Investments has a minimum deposit required of 250 USD/EUR/GBP, and even with a Basic account, all customers will benefit from enough trading tools and features to get involved in the crypto market.
With this trading offer, the broker proves to be flexible and with a customer-oriented approach, wanting to help clients to experience the full potential of cryptocurrencies.
Education
Considering education is part of a solid trading foundation, 500Investments has made great efforts to integrate a wide range of resources, proportionally available for customers, based on the account type they choose. Getting more insights into crypto trading is now possible via webinars, seminars, daily market briefs, assistance from account managers, one-on-one tutorials, technical analysis, video courses, and others.
Beginners, intermediate, and advanced crypto traders can improve their trading performance by studying all the resources and then integrating the new knowledge into their day-to-day operations. 500Investments is fully committed to adding new resources, in line with how the markets evolve over time.
Pros and Cons
· Tens of different cryptocurrency instruments available including BTCAUD.
· Flexible and diverse trading conditions, with 5 different account types.
· Simple, advanced, and fast trading software, compatible with any device.
· Leveraged crypto trading comes with both advantages and disadvantages.
· Enhanced trading benefits are only available for larger trading accounts.
Conclusion
With years of experience in the trading world, 500Investments now to bring all the benefits of cryptocurrency trading, with a tailor-made local approach strictly to the Australian audience.
The cryptocurrency market had been on an upward slope for most of this year, and so there is increasing interest from the wider public to get involved and be part of the new crypto revolution. Cryptocurrency trading means the ability to take advantage of both rising and falling markets, considering traders won't hold the underlying instruments.
The local crypto market interest had been elevated during the past 2 years, considering the government had a proactive approach. The 500Investment experience proves that brokerage who seek to reach a broader clientele will have to adjust their crypto offering constantly, and with attention to the local markets.