Best Electric Scooters for 8 to 12-Year-Olds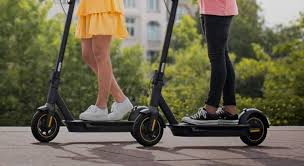 So your child wants you to buy him an electric scooter but you are not sure which model to pick. Unlike before, buying an electric scooter nowadays is more challenging given the huge selection to choose from. You see, some e-scooters come with great features but are low on speed and range, while some are monsters when it comes to speed but do not look as cool as their sluggish counterparts. With so many things to consider and options to choose from, which one should you go for?
Here are our top picks for the best electric scooters for ages 8 to 12 today or you can read more here to browse the best e-scooter for your kids:
Segway Ninebot E22
As a pre-teen, your child needs an e-scooter that is comfortable and can retain its stability even when going over bumpy surfaces. With its flat-free tires, the Ninebot E22 will certainly make the grade. Known for its integrated frame design, this model is a simple yet chic option that boasts of its 13.7-mile range and top speed of 12.4 mph. With these features, any adventurous kid will definitely love to have scoot around with the Ninebot E22.
Segway ZING E10
This electric scooter is perfect for kids ages 10 to 12. Despite its standard speed of 10 mph, the Segway ZING E10 is capable of handling taller and heavier riders than other e-scooters for kids. Whether your child is just beginning to learn how to ride an e-scooter or is already skilled at it, he will certainly find this e-scooter a great road buddy. Since it comes with three riding modes, you have the freedom to customize your ride depending on your skill level as a rider.
Swagtron SK3
One of the most affordable electric scooters out there, the Swagtron SK3 is a great choice if you are on a budget. Thanks to its dual modes, it lets your child choose whether he wants to kick start this motorized vehicle or put it on boosted mode, which means he needs to press a button on its deck to start it. It also makes a great choice for a cool e-scooter because of its cool LED lights, which display red and green lights at night.
Razor E100 Glow
If you want your child to enjoy everything that an electric scooter has to offer without having to spend a fortune on some premium electric scooter, the Razor E100 Glow should be the one for you. Especially if your child is a pre-teen, he will love how cool this e-scooter is—thanks to the gas lights on its side that are no doubt an eye catcher. Made of steel, this heavy-duty yet portable e-scooter can go up to 10 mph and run for 40 minutes straight.
Xiaomi Mijia m365
Unless you are living under a rock, you know that Xiaomi is one of the most trusted brands in the electronics industry. That is why if you are looking to buy an e-scooter for your child, you will never go wrong with the Xiaomi Mijia m365. This e-scooter comes with a 250W motor and runs at a top speed of 15 mph, making it one of the most powerful in its pack. You will also love how despite its amazing features and durability, this model is one that pre-teens get used to fast.
Segway ZING E8
The Segway ZING E8 is perfect for children who are just starting to learn the basics of e-scooter riding. This electric scooter offers three different modes, so it doesn't matter even if your child is a beginner. In fact, it is a great choice for beginners since its speed only reaches up to 8.6 mph and its range is only 6.2 miles. This electric scooter also boasts of its attractive design that is sure to catch your child's fancy no matter how picky he is, thanks to its uniquely arched handlebars and pink or blue body.
Voyager Ion
This is one of those electric scooters for kids that let you not worry too much for your child. Packed with a 250W motor, the Voyager Ion is a brushless e-scooter that runs at a speed of 12 mph and has a range of 7 miles. If design is your priority, then your kid will surely love how fashionable and elegant looking this electric scooter is. The Voyager Ion is also amazingly light and very easy to maneuver even when used in narrow paths.
Gotrax XR Ultra
Now if you are after both style and practicality, you should never miss the Gotrax RX Ultra. This electric scooter is one of the best choices in both aspects, thanks to its impeccable design and disc brakes that let you stop without blocking your tires.