Refrigeration Mechanic to Software Developer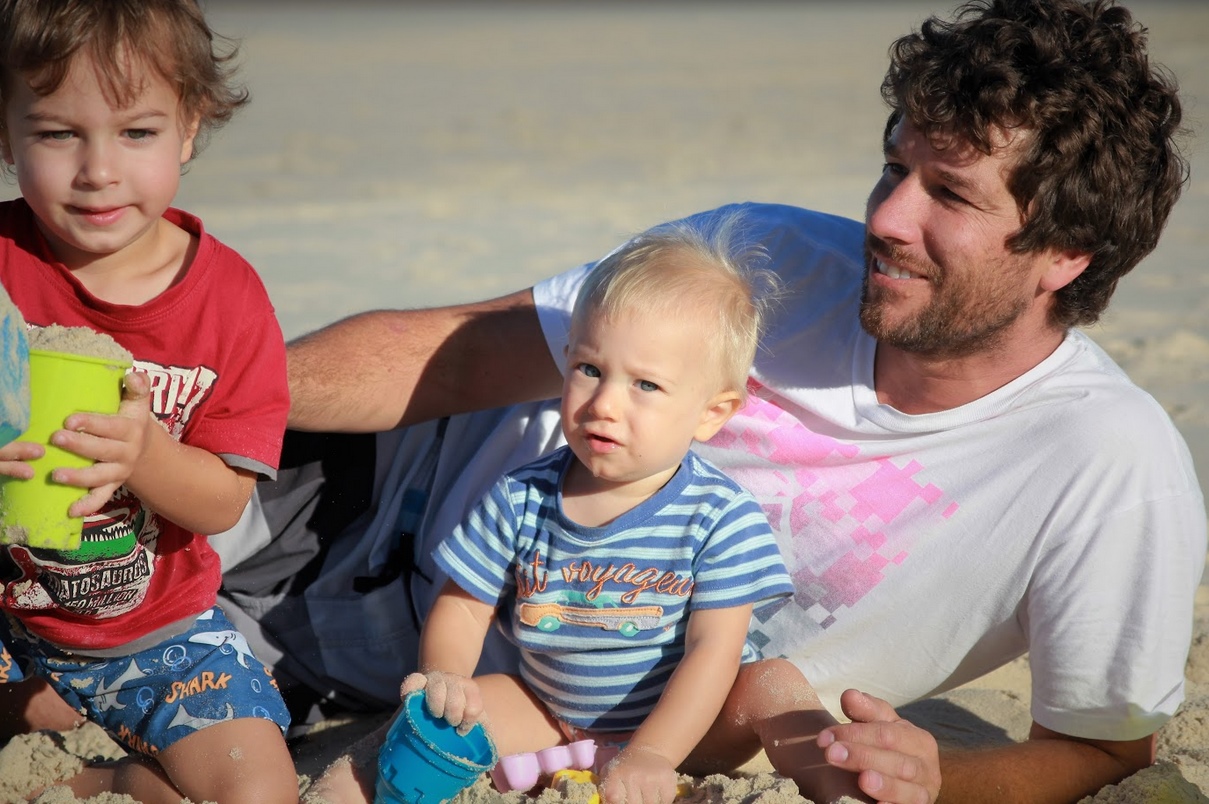 If you where in Refrigeration, Air Conditioning or any other mobile service  trade, you would know that managing all aspects of the operation can be a stressful, cumbersome task.
So what we do at TopWise, is provide the software to help organise any service business by giving new companies a structure that will encourage success straight off the bat or established companies a more organised transparent solution that makes growth easier.
In fact TopWise provides a low cost, super simple, software platform that your business can easily start using with minimal fuss or training. TopWise offers everything you need without the stuff you never use and not to mention the over inflated startup and on going costs of the competitors.  
What is TopWise Exactly
TopWise is services management software  primarily for the HVACR, Mechanical, Power, Fire and White Goods industries. TopWise is a simple service management platform designed specifically for the HVACR industry. Our out of the box solution can run your service and installation business and your national contracts. Instead of using a paper-based service docket system you can provide your employees and contractors  with a user login to receive and report on jobs via the TopWise platform. Employees and contractors can provide you with all the detail you require from them when attending your callouts and performing sales work. This also speeds up the process of communicating jobs to your contractors, in turn saving money and making your customers happier.
TopWise is a great tool for your business. If you have a team of techies out on the road this is what you need. TopWise is the perfect fit for your company!
We are offering 30 days free usage, free ongoing support, free training. TopWise is an out of the box solution, if there are business process or integrations you require above our base solution, we can tailor the software to you needs. Feel free to consult us for a quote.
The TopWise Story
It is a bitter sweet world, with the news of my father's battle with Mesothelioma (Cancer of the lungs from asbestos) had taken a turn for the worst. My father died of mesothelioma from asbestos he was exposed at Garden Island when he was an apprentice filter work on a ship. The laggers where ripping off insulation from pipes, 'it was like falling snow, some guys (not him), where having snow fights with the stuff' as my Dad told it. Maybe if they had've followed simple WHS steps he might still be around. When I brought up the idea of developing software to manage HVACR companies, he and mum, offered to put up the funds to produce this software. My father who was my best mate, and all around champion, allowed me to follow my dream and believed in my idea. I always gave my Dad a hard time for not pushing me to go to Uni. Maybe he new me better than I knew myself or that there's more than one way to skin a cat.
I am Paul Hawkins, a Refrigeration Mechanic who has been in the industry in various roles for the past 15 years. I have never owned my own company but that doesn't mean I didn't take note of how thing get done. I also ask lots of questions about everything. I remember saying to some of my tradesman as an apprentice. "There has to be an easier way to do paperwork and keep track of records." Most of the time to track the assets that a company maintains, a photo copied spread sheet was used. This was then handed to the receptionist and copied into the master file at the office. Most of the time this didn't work or was never updated. Now with mobile apps and smartphones being readily available, the technology is here. Throughout my career, I have constantly taken note of how the process of work flows from the office, to the tech, to customers and back. Using my experiences both good and bad, and the use of various other software management tools, I believe that TopWise is a great solution for efficient management of the service companies daily work flows.
To develop TopWise I have drawn on the knowledge acquired from working with some great companies, as well as some of the best technicians and minds in that industry. TopWise makes job creation, keeping track of tools, invoicing customers, asset tracking and compliance paperwork a breeze, streamlining your business  – allowing you to spend more time simply getting the job done or enjoying life.
Where is TopWise Headed
TopWise is going from strength to strength, having engaged Flashlight Solutions, an Australian software development company who will be fine tuning and making TopWise a mobile first software solution. Derek Ellison is the head developer with over 25years of experience. TopWise is in great hands.
TopWise will be highly integratable with other platforms in the future making for seamless transfer of data between your current methods and  other solutions in and out of TopWise to increase the benefits to your business.  
TopWise would also be highly beneficial to all service trades such as builders and carpenters, electricians, plumbers, property maintenance, pest control, fitters and telecommunications companies.

At TopWise we want your business to succeed. Our success depends on it!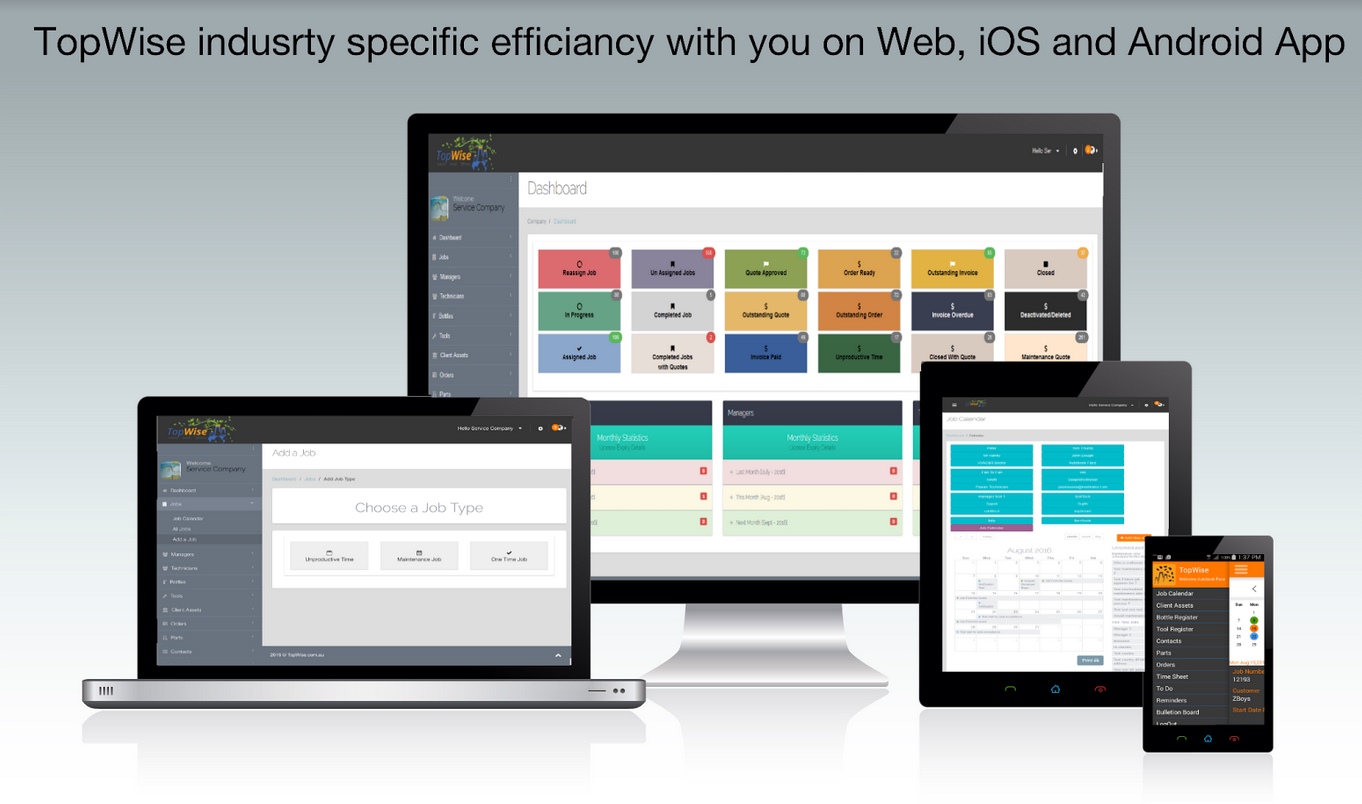 Please contact Paul on 0412070599 or paulh@topwise.com.au for further information.