THE CEO MAGAZINE REVEALS FINALISTS IN THE SIXTH ANNUAL EXECUTIVE OF THE YEAR AWARDS
Written by

Marlene Richardson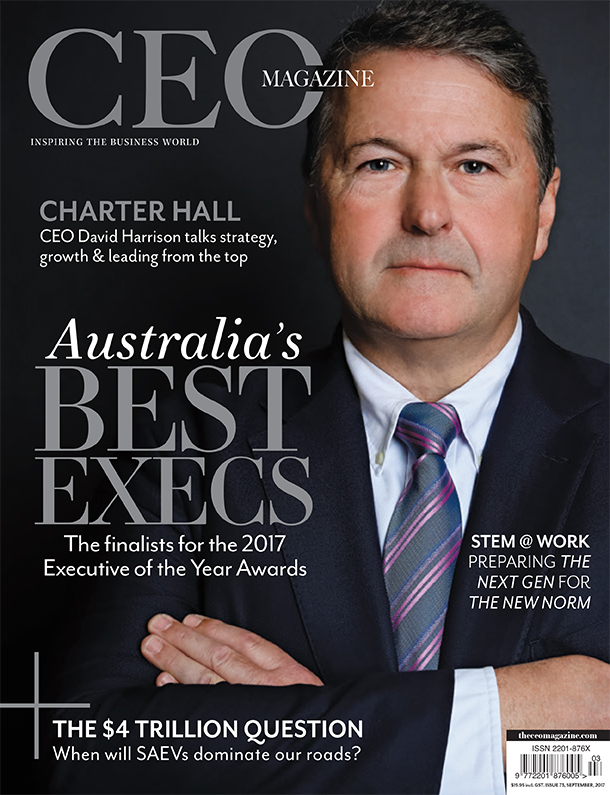 WINNERS TO BE ANNOUNCED IN MELBOURNE AT AWARDS EVENT HOSTED BY EDDIE MCGUIRE
THURSDAY 17 AUGUST 2017: The CEO Magazine has today revealed the finalists for the 2017 Executive of the Year Awards, including the coveted and heavily contested CEO of the Year category.
This year, the winners will be announced at a glittering black-tie event at Palladium, Crown Melbourne, on Wednesday 15 November 2017, which promises to be Australian business's networking night of nights as more than 550 of our executive elite gather to celebrate another year of outstanding personal achievements in business.
The Executive of the Year Awards identify the superior success of aspiring and established leaders in 23 categories, with key trophies awarded to Managing Director of the Year, Chairperson of the Year, CFO of the Year, CIO of the Year, and CEO of the Year. In 2017, a record number of applications were received for the night's top award – CEO of the Year – with a record nine finalists vying for this year's crown.
Chris Dutton, Founder and CEO of The CEO Magazine says: "Each year, the Executive of the Year Awards showcase the fantastic talent we have within Australian companies, celebrating their hard work and achievements. The event in November is a great networking opportunity among people who really are making a difference and we look forward to shining the light on Australia's true leaders."
Eddie McGuire will once again MC the event and announce the award winners, continuing his strong partnership with The CEO Magazine in celebrating and recognising the very best and brightest executives in the country.
The finalists in the 2017 CEO of the Year category are:
BOB BLACK - CEO/COO - StarTrack/Australia Post
JASON DOORIS - CEO - Atomic 212°
MICHAEL EBEID - CEO and MD - SBS
BARRY FITZGERALD -  CEO - Roy Hill
JAIMES LEGGETT - CEO - M&C Saatchi Australia
MARK NIELSEN - CEO APAC - Talent International
SEAN SENVIRTNEFounder and CEO - MyDeal.com.au
SCOTT STAVRETIS - CEO - Acquire BPO
SHELLEY SULLIVAN - Founder and CEO - ModelCo
An expert panel of highly regarded business professionals will now be faced with the challenge of filtering through all the finalists to agree on one winner for each of the 23 categories. Collectively, their industry knowledge and specific skill sets cover the broad spectrum of award categories presented at the event, from media and finance sectors to not-for-profit, technology and more.
The judging panel are Janine Allis, Founder of Boost Juice and Retail Zoo, and investor on Shark Tank Australia, Libby Roy, VP and MD of PayPal Australia, Larry Kestelman, Executive Group Chairman of the LK Group, Shelly Park, Chief Executive and Executive Board Member of the Australian Red Cross Blood Service, Stephen Cornelissen, Group CEO of Mercy Health and 2016 CEO of the Year, Michael Derin, CEO and Founding Partner of Azure Group, Holly Ransom, CEO of Emergent, John Karagounis, CEO of The CEO Circle, Chris Dutton, CEO of The CEO Magazine, Daniel Di Loreto, MD of The CEO Magazine.
To view the full list of finalists, please visit theceomagazine.com