ANCA is first to market yet again with its Dual Robot technology
Written by

Johanna Boland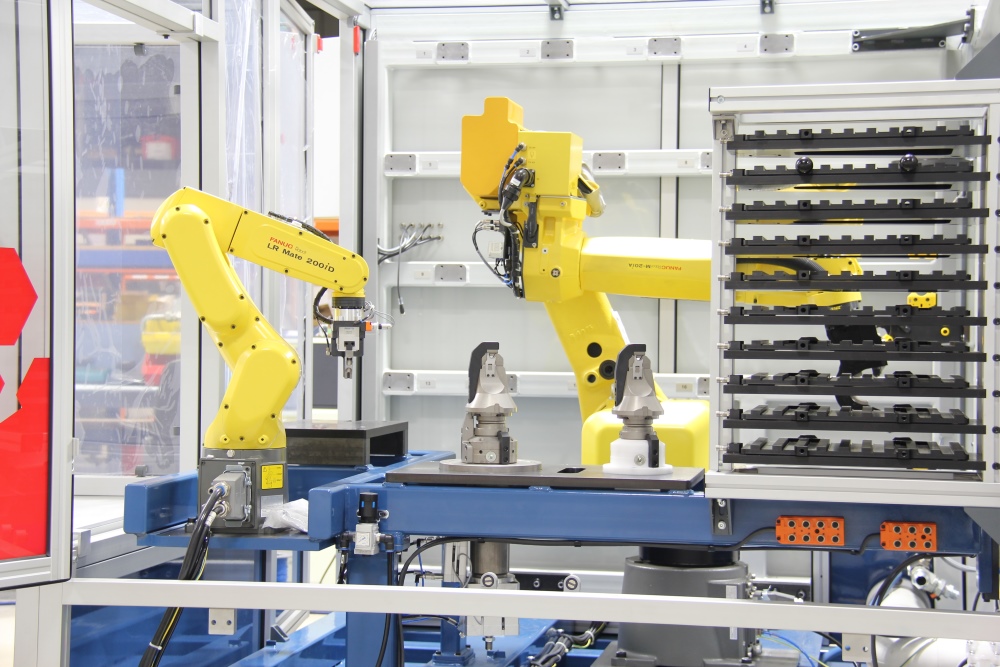 ANCA's custom designed and built industrial robot loader will also be on preview for the first time at the show.
21 August 2017: ANCA CNC Machines and sister company ANCA Motion will be demonstrating its world leading technology at EMO Hannover 2017. Visit the stand to find out how ANCA's latest software product launch, Management Suite, is bringing customers into Industry 4.0; see its world first Dual Robot technology in action and find out why ANCA Motion's linear motor is exciting the market.
Known for being first to market, this year will be no exception for ANCA who continues to enable its customers' success with its latest innovations. ANCA services a diverse range of competitive industries including cutting tool manufacture, automotive, aerospace, electronics and medical.
Pat Boland, joint ANCA Co-founder said "Our customers have come to expect ANCA to lead the CNC industry market trends with our latest product releases. This year will be no exception and I am excited by how much more grinding flexibility and performance our latest products offer our customers. Please come and visit us at Hall 6, Booth K59 and learn more about how we can help you."
ANCA stand highlights
Previewing ANCA's new custom designed and built industrial robot loader at EMO
ANCA is known for being the market leader in pushing the boundaries. We develop new products and innovations that continue to raise the bar of what a CNC tool and cutter grinder can deliver for our customers. Coupled with this, our commitment to investing in creating our own technology provides a complete machine solution and guarantees ANCA's promise of quality and expertise. 
Pat McCluskey, ANCA's co-founder and lead designer on the project said: "To give the market a taste of what we have coming up in the future we are excited to preview our robotic tool loader at EMO 2017 that has been fully designed and built in house by our experienced engineering team. We recognise that as the market moves towards greater automation, providing a low cost solution for tool loading was something our customers would welcome.
"As the lead designer on the robot development project I've been asked by industry players 'how can ANCA develop its own industrial robot?' Basically it's a logical extension for our company whose strength is having multi-disciplinary technical expertise and an intimate knowledge of the CNC market. It's actually a relatively simple task to develop the mechanical aspects of an industrial robot, but to make it function successfully you better be expert in designing your own CNC System, Digital Servo Drives and Core Software. These skills I believe are ANCA's unique strengths in the tool grinding industry." 
"For instance, the ANCA robot does not use a separate free-standing controller. The control system software actually runs concurrently within the machine's CNC core software and uses the machine's operator panel and handheld pendant to perform the teaching. If you can use an ANCA Tool Grinder, you can use an ANCA robot as well and our service engineers can easily fix your ANCA robot. We pride ourselves on providing customers with a complete ANCA machine solution and that is why we have invested in developing our own industrial robot. Visit our stand at EMO to see a live demonstration preview of our new robot that is still in development." concluded Pat.
A market first - duel robot grinding cell
CNC grinders now have the capacity to integrate several manufacturing operations into a single production line in ANCA's market first multi-robot production cell solution. The single-base cell includes automated part loading, high precision grinding, and quality assurance, outproducing the previous multi-machine process while achieving part quality requirements.  Watch a video explaining the new technology here: https://www.youtube.com/watch?v=eq47cvT3_g4
Using a single robot, ANCA's TXcell automated grinding cell can automatically load grinding wheel packs, and the work piece – a highly successful approach for ANCA customers manufacturing rotary cutting tools. And, with the addition of a second robot in the TXcell, the machine can complete secondary operations unmanned.  
Become a fully automated factory with the new Management Suite
Come and get a demo of the latest features of our software such as tool balancing and next generation ball nose and many more. Launched earlier this year ANCA's new Management Suite is a game changer for the CNC grinding industry. It provides customers the technology to monitor the performance of their machines no matter where they are in the world. The new software also enables companies to run smart factories by providing live production information to make data based decisions on operational improvements.
ANCA Motion to showcase its Laser Cutting product
ANCA Motion is excited to be part of The ANCA Group stand this year again at EMO 2017. Our motion control solutions have been powering ANCA CNC Machines for over 40 plus years. We provide customers with control solutions for all industries which has seen our product range expand from CNC's and motors to servo drives, IO, EtherCAT®, user interfaces and software.
This year at EMO, ANCA Motion will present several motion control solutions including our laser cutting package which is specifically developed to deliver best in class process performance on a variety of machine configurations. We will also be showcasing flexible open CNC software packages that can be tailored to our customer's requirements. Our Commander software is designed to allow human operators to seamlessly monitor and interact with processed data. Commander allows you to build custom interfaces and functionality, with no programming skills required.
TX Linear launches at EMO
ANCA's premium machine, the TX model has flexible software and tooling combined with a large working envelope enables the production of more complex tools, heavy duty manufacturing and component manufacturing. The new TX Linear will be on show for the first time in Europe at EMO for visitors to come and experience. The new machine will feature:
ANCA Motion's LinX linear motors on X, Y and Z axis that delivers superior grinding surface finish and long term reliability;
an updated ANCA Motion AM5X CNC and servo drive system, for the latest in motion control performance and reliability; and
new user friendly operator front panel with touch screen and ergonomic tilt adjustment to suit different operator heights.
How in-process measurement is giving an EDGe
The EDGe erosion and tool grinding machine has the flexibility to erode PCD tools and grind carbide and HSS tools. It includes a proprietary eSpark Generator for control over the energy level of the spark, surface finish, material removal and cycle time. Visit the stand to find out more about: 
The benefits achieved by in-process measurement and compensation of tool diameter and profile; and
how LaserPlus ensures the first tool is grinded accurately on the EDGe and subsequent tools in a batch hold tolerance.  
Learn about the MX7 Linear superior grinding capabilities
The popular MX7 Linear is a powerful versatile, next-generation CNC grinding machine designed to meet the rigorous demands for production grinding. The MX7 Linear a hardworking, high productivity system with unique features that make it capable of handling varied batch sizes with minimum set up time.
ANCA's Radio-frequency identification (RFID) increases the flexibility of tool programming, automating the tool loading process and removing the need for an operator to program individual loader pallet pockets to a specific tool. This product is ideal for regrinding or manufacturing a varied range of tools in small to medium sized batches and is available with the TXcell and MX tool grinders.
Visit the stand and see how the following features greatly improve grinding capabilities:
RoboMate with the Four Pallet Upgrade;
RFID and Collet Changing (loading a wide range of different size end mills and drills);
AutoStick;
LaserPlus; and
Wheel Probe.
FX Linear
The FX Linear provides exceptional value for money offering a wide range of options to increase productivity and accuracy. This year it will be fitted with a Nachi loader, an affordable automation solution that has been optimised for the highest volume diameters and lengths. It has a capacity range of up to 380 tools and a load cycle time of 15 seconds. In addition, there is no need to change gripper fingers between batches, which further maximises productivity. Ask one of the ANCA sales team to demonstrate:
The Nachi loader;
LaserPlus;
iView;
Auto wheel qualification;
Pop-up steady; and
Premier W25 PCA, AutoStick.
Visit ANCA CNC Machines and ANCA Motion at Hall 6, Booth K59.