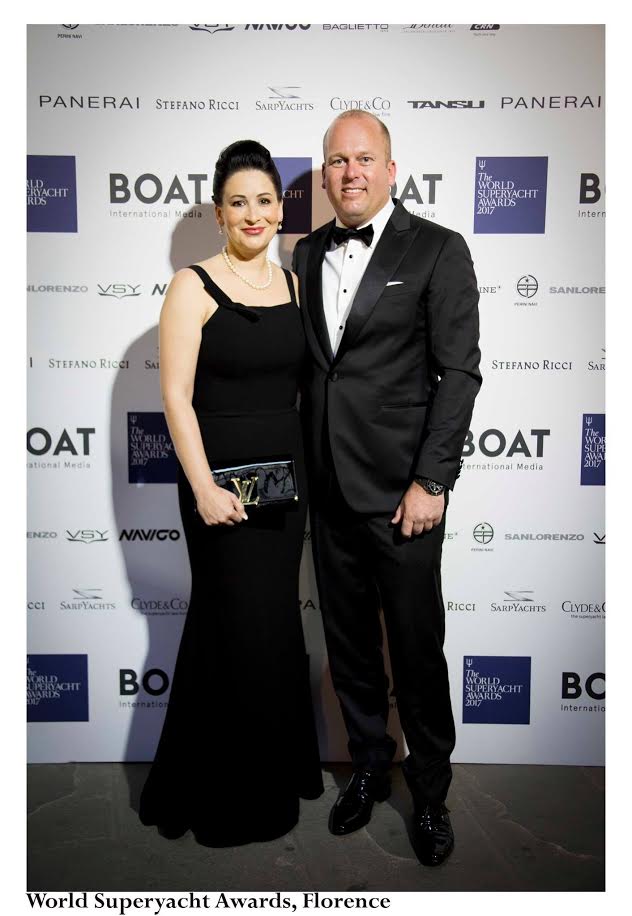 SUPERYACHT INDUSTRY PROVIDES BIG WIN FOR AUSTRALIAN TOURISM 
The winners of the World Superyacht Awards 2017 were announced at a glittering ceremony held at Palazzo Vecchio in the beautiful city of Florence Italy

on Saturday

night. 
The 3 finalists in this year's Voyager's category were all incredible journeys making the judges' task of selecting a winner not easy. But a winner had to be selected and the judges decided the meticulously planned cruise by the 49 metre Glaze, which is currently engaged on a circumnavigation with the owners and their young family stood out from the rest. The segment of their world cruise in Australia between Wyndham and Broome, where they visited the remote, spectacular and extremely rugged coastline known as "The Kimberleys" showcased a unique part of the world and confirms Australia's place as a new and exciting destination for the global superyacht fleet
This adventure-packed cruise explored the region's many inlets and rivers, mostly poorly or totally uncharted, and included many sightings of crocodiles and sharks, as well as experiences such as dipping their yacht's bows in waterfalls tumbling down the vertical red cliffs, whirlpools, tidal rapids, and visits to Aboriginal cave art, and even the well-preserved remains of a DC3 aircraft downed in WWII. This voyage will surely be an inspiration to all who follow. 
"Just to attend the World Superyacht Awards 2017 representing M.Y. GLAZE was an incredible experience, not to mention being nominated as a finalist for the prestigious Voyager's Award, for our Australian, Kimberley Adventure" stated Carl Brandes Captain of Glaze. 
Carl went on to say "My wife and I found ourselves standing amongst industry greats, people that we have only seen in the media, people that have shaped this extravagant industry to what we know it as today. These awards are recognised as the pinnacle of the Superyacht industry. Some say they are the Oscars of the luxurious Superyacht Industry. The competition was fierce and the other finalists were very deserving of the award. When they announced the winner, calling out GLAZE, it took a few seconds to sink in. My wife Melanie and I were honoured to accept the Neptune award on behalf of everyone involved with GLAZE and the Australian Kimberley Region."
"Winning this award was also unexpected recognition for the passionate lengths all the GLAZE crew go to, to be able to deliver life experiences to our owners and guests. Obviously none of this could be achieved without the vision, passion and enthusiasm that our owners have for their yacht, and for discovering these seldom explored areas. Cruising Australia has been like nowhere else around the world, we have been so privileged to have experienced so much, taken advantage of Australia's year round cruising season. I can only highly recommend Australia and the Pacific Islands to any Owners and Captains, to see this spectacular region for yourself. 
This win for Australia comes at a time when Superyacht Australia are lobbying for the Federal government to remove the restrictions on foreign flagged superyachts wanting to visit and charter in Australia. A recent independent economic impact study clearly shows the huge value in terms of jobs and revenue for the Australian economy if this barrier is removed. At a time when the federal government is looking for new revenue streams it would appear this is a huge opportunity. The superyacht industry would be a boom for regional Australia and this is one industry sector that has invested heavily in infrastructure to support and drive future growth. The government talks about removing red tape, driving the tourism dollar and creating jobs for regional Australia. This superyacht industry is a new industry sector that would provide regional Australia with the boost they need particularly post the recent cyclone. 
This win for Australia will also be a bonus for Tourism Australia who have recently seen the potential for this industry sector supporting several industry famils to bring high end tourism operators and charter brokers to Australia to experience the spectacular cruising destinations Australia can offer. 
One such famil is taking place in The Kimberleys right now. A region until now not well known to the global superyacht fleet. This marketing initiative organised by Sydney based charter broker Ocean Alliance on Superyacht Anda, a 42 metre superyacht brings international media, brokers and luxury travel agents to Australia to experience what Australia has to offer both in cruising destinations and capability to service the global superyacht fleet. This particular famil will get a huge boost with this significant award won by Glaze. 
High profile Queensland and international businesses have also been quick to back the first ever 
Australian Superyacht Rendezvous
 being staged in the new superyacht basin at Gold Coast City Marina on the
19 th and 20 th of May
in a bid to tap into economic potential of the estimated 20 billion euro global superyacht industry. The Australian Superyacht Rendezvous – aimed at showcasing the economic and tourism potential of superyachts in Australia - has attracted the support of some of the biggest names in the marine industry and will include a yacht hop event by day for tourism and events industry professionals followed by an invitation only glamour evening party for business, industry and media and will conclude with a superyacht crew party on the final day. 
Trent Gay the organizer of the event stated: "This win by Glaze confirms our investment in putting on an event such as this. We know Australia has some of the world's best cruising grounds. Whilst this win will attract the high end global tourism market to experience what Australia and the Kimberley region has to offer, it will also pique the interest of Australians looking for a unique experience. This weekend we are providing an amazing opportunity for this particular sector of the tourism market to come and have tours around the best yachts Australia has on offer." 
MaryAnne Edwards CEO of Superyacht Australia said "Congratulations have to go to Carl Brandes and the team from Glaze for their initiative in entering this voyage into these prestigious global awards. Thanks should also go to the owner of Glaze who has supported Carl and the crew in their endeavours to promote Australia. Given Captain Carl Brandes is from Sydney he is passionate about promoting Australia and thesafe, pristine, secluded cruising destinations on offer here. Carl has confirmed the significant spend Glaze and other international visiting superyachts spend in Australia while here providing significant support to regional economies. This is a fact also confirmed by the recent economic impact study". 
Edwards further commented, "It is fantastic that Tourism Australia also see the potential in this industry sector and are providing the much needed professional marketing advice and tools that the industry needs to compete in a very competitive global market. Our key goal is attracting vessels away from the traditional cruising grounds of the Med and the Caribbean and wins like this International prestigious Voyagers award will definitely put a spotlight on Australia. We are also excited to announce Melanie Brande will attend the ASMEX conference to talk with MC Martin Redmayne from the Superyacht Report about the award entry which Melanie put together and about the fantastic Kimberley voyage which she was also part of."