Deals app Clipp unveils all-new app and website
Written by

Macrina Lim I The Ideas Suite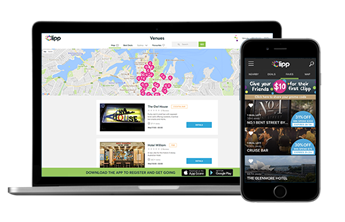 Australia's leading deals app for bars, pubs and restaurants, Clipp (clipp.co), has just unveiled its all-new app and website, and announces its partnership with Dimmi, to provide booking functionality through Clipp.
Clipp allows people to discover great venues, and leverage unique payment technology as well as find great deals to drink and dine out. The deals help Australians save up to 40 per cent off their food. The dynamic pricing model works in the same way airlines and hotels offer vacant rooms for heavily discounted prices at the last minute or during the off-peak season, and the deals account for more than 30 per cent of business at some venues.
"This is by far the most exciting update we have ever released," says Allan Evans, CEO of Clipp. "Our goal is to offer our users – Clippsters – a rich experience and help them discover venues they might not have considered and make it easier and quicker to get through the transactional side of a night out. The relaunch builds on our foundation and gives our customers the features they've been asking for over the years, including booking a venue directly though Clipp."
Clipp now has 130,000 users, and has collectively saved its users more than $1.1 million on eating and drinking outside the home. The app placed fifth in Beer Cartel's 2017 Australian Craft Beer Survey's top beer apps by usage[1].
"The new features help us tap into our role of helping Australians discover their cities and helps drive patronage in bars, pubs and restaurants," says Allan.
The update includes the following new features, which is available to iOS users today, and Android users soon.  
Book a venue (coming soon)

Through a new partnership with Dimmi, the leading online restaurant reservation platform in Australia, Clipp now offers integrated booking functionality to its users for its venues who are connected to Dimmi. This was the most requested feature from Clipp users and primarily helps users who lock in a deal of up to 40 per cent off book their table. To book a venue, users simply go to the venue page on the Clipp app or website and select 'book' (where available). Alternatively, after opening a tab, users will be promoted to book a venue (for venues that offer booking functionality).
A complete website experience

Clipp.co launches today with a beautifully redesigned interface. Previously, the Clipp experience was only available within the app but now the experience can be had through any desktop or mobile browser. New users will still need to register through the app for security reasons. Once signed up, users can browse venues and secure Clipp deals, as well as book through the website.
Leave and read reviews

Users can now leave reviews on venues and read reviews left by other Clippsters to learn more about the bar, restaurant or pub and the experience it offers. Reviews will be moderated by Clipp.
Favourite venues and see enhanced venue information

Starting today, users can see venue descriptions, reviews and upcoming events as well as add venues to their Favourites List. In addition, venues will be able to upload their food and drink menus, helping make choosing a venue even easier. Before now, users could search by venues or deals nearby, with the venue name and address being the only information visible.
Clipp Cash

The average user saves $48 per deal through Clipp. Now, instead of saving on the spot, users can opt to 'bank' their dollars saved from a Clipp deal to their own Clipp piggy bank for use at other venues.
Easier bill splitting

Clipp's bill splitting feature first launched in late 2015 and allowed more than 600 bars, pubs and restaurants the opportunity to offer cashless bill splitting and help Aussies get even with cheapskate friends. With the update, users now have easier and more flexible bill-splitting functionality, reducing the time to settle the bill with friends without cash, card or annoying IOUs.
The relaunched app and website comes after a big first half of the year for the business, with high profile restaurants such as Mike McEnearney's No. 1 Bent Street and Rockpool Dining Group's Rosetta Ristorante joining the platform. Rockpool Dining Group's Saké Restaurant & Bar, Café Ananas, Fratelli Fresh, Munich Brauhaus and Bavarian Bier Café have been part of the Clipp family since 2015. 
Clipp has also partnered with Sydney Beer Week (20-29 October) as its Official Payment App, allowing patrons to score free tastings, fast-track access and token purchasing through a virtual point of sale system for the Opening Gala.
"We're thrilled to be partnering with Sydney Beer Week and looking forward to rolling out our virtual point of sale system as a convenient payment solution for both merchants and patrons in future," says Allan.
Clipp is available to download from the App Store and Google Play, or via www.clipp.co.
About Clipp
Clipp.co is Australia's leading mobile payment and deals app for bars, restaurants, clubs and pubs across Australia, with more than 600 merchants on board since it was established in 2013. Clipp enables merchants to provide exclusive deals to consumers and provides users complete visibility over their tab, from orders to spend value. Quick, convenient and secure, Clipp allows users to close their tab and pay securely and directly from their phone, as well as explore venues around them, search for deals – including up to 40% off – pay seamlessly, and save big with reward points on every dollar spent at participating merchants. Clipp won Gizmodo's App of the Year and Tech23 in 2014, and was dubbed the next big thing by Mashable. The app is free to download on Apple and Android devices.
[1] Beer Cartel, 2017: http://www.beercartel.com.au/blog/2017-australian-craft-beer-survey-results