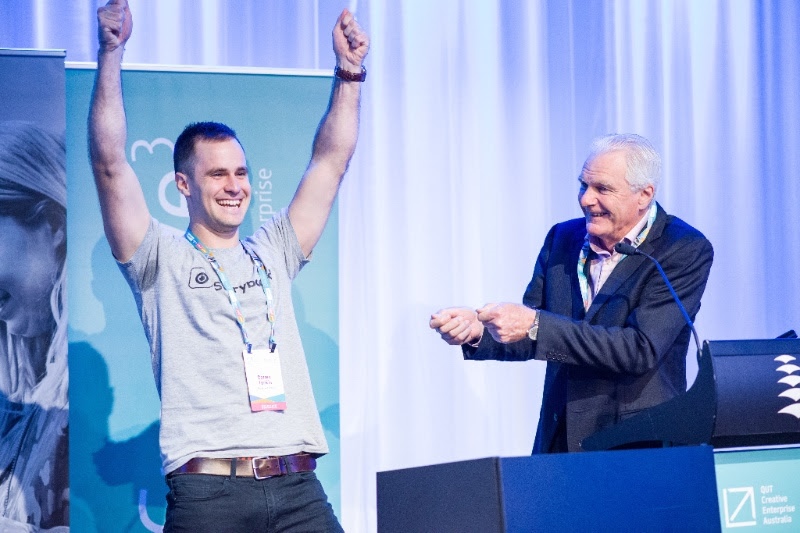 A video marketplace and an interactive organising platform are among the four finalists who have been selected to compete at Australia's biggest creative tech conference later this year.   
QUT Creative Enterprise Australia (CEA) has selected the four startups, two from Brisbane and one each from Melbourne and Sydney, who will participate in Creative3 Pitch.
The four finalists will be competing for the chance to represent Australia at the global Creative Business Cup conference in Copenhagen. The winner will also be given the opportunity to participate in Virgin Startups London accelerator program, StepUp.   
CEA is currently the only Australian organisation that can nominate startups for both the Creative Business Cup and StepUp program.
Former ABC judge on 'The New Investors' and host of the 'This Week in Startups' podcast, Mark Pesce, says that scaling globally and gaining global opportunities are an important part of the growth cycle for Aussie startups.
"Scaling is probably the most difficult problem a startup faces during its lifetime, and it's something that can't be postponed," says Pesce, who will also be hosting the Creative3 conference.
"Australian startups need to grow internationally as soon as they can possibly support the effort, because our home market usually isn't big enough to support a decent-sized enterprise."
"When we compete, we punch above our weight. But too often we simply choose not to compete. The founder of a company I worked for told me his secret was to surround himself with people who were smarter than himself. I've always tried to make sure that I'm working with people who are brighter than me, whom I'm learning from all the time. It's necessary - and humbling."
"A creative process is not just making something up and throwing it over the fence. It's continuous involvement, adjustment, listening, improvement, and even fronting up to removing something from the market that's turned out to have unfortunate consequences."
The four startups going through to Creative3 Pitch will shape the roadmap for the Australian creative tech scene. Folktale, Creatively Squared, Pluss and Postie will compete in Brisbane for the Creative3 Pitch event late this year.
CEA continues to lead the charge when it comes to attracting the brightest entrepreneurs and the drivers behind the female founder boom.
"While Creative3 has been gaining traction every year, we're continuously satisfied with how many female founders this event appeals to," says Mark Gustowski, Acting CEO of QUT Creative Enterprise Australia.
"In both 2016 and now 2017, around a third of the founders who have applied for Creative3 Pitch have been women, and this year two of the four companies who will be pitching at the event have female founders."
"This year's Startup Muster report found that just over 23 percent of startups have female founders, with the report predicting that this will rise to be more than 30 percent in the future."
"We're really proud to be continuing our strong support for gender equality in Australian startups and promoting work that inspires the talent behind creative tech."
Creative3 Pitch forms part of CEA's annual Creative3 conference, which will be held in Brisbane on September 22 this year.
The finalists of Creative3 Pitch 2017
Folktale
Sarah Mak and Dave Lloyd-Lewis

Folktale is a creative video marketplace that helps connect brands to customers, through a community of mobile-enabled content makers to help co-create authentic brand stories through video.
While video is a rich and engaging medium that delivers immense value to marketers, it is often too cost-prohibitive, technically challenging and time-intensive for most organisations to create at scale. That's where the Folktale community comes in.
Creatively Squared
Ruth Stephensen and Scott Thomas

Creatively Squared is a platform to connect businesses that need creative and engaging visual content with talented stylists.
Through Creatively Squared, businesses can access a network of content creators to produce images of their products for use on social networks and other platforms. Businesses simply post the items to the content creator of their choice and let the online platform organise the rest.
Pluss
Martin Smee, Dylan Verrier and Thor Hansen

Pluss is the software designed for young people who want to experience more in real time.
The open organiser platform allows you to find, track and showcase all of your favourite things, from recipes, to your dream travel destination, as well as see what the people around you are interested in at the same time.
Millennials are increasingly software focused, entering their peak spending years with a different mindset around achievement than any generation before them, which makes them the perfect market to grow an organisational concept that appeals to both the younger and older spans as they enter a crucial and challenging span of life.
Postie
Peter Davis

Postie is a digital marketing platform for any business that engages in creating and sharing content socially.
Postie is a platform that helps brands excel in the highest ROI areas of digital marketing, ie email newsletters. Postie powers everything with the very best of their content that was originally created for Instagram. Create powerful, beautiful campaigns, with content that has been validated by their social audiences delivered in a fraction of the time that it takes to build a campaign in Mailchimp or Campaign Monitor.
About QUT Creative Enterprise Australia
QUT Creative Enterprise Australia (CEA) is Australia's only dedicated incubator, accelerator, co-working space and investment fund for creative tech startups.
CEA currently houses over 100 startups on site and has engaged with over 4,500 entrepreneurs. Since 2008, CEA has supported over 550 creative industries businesses on site and raised over $65 million in capital.
With a focus on creativity, disruptive technologies and innovative business models, CEA accelerates emerging and highly scalable startups.