Does education impact the journey to becoming a CEO?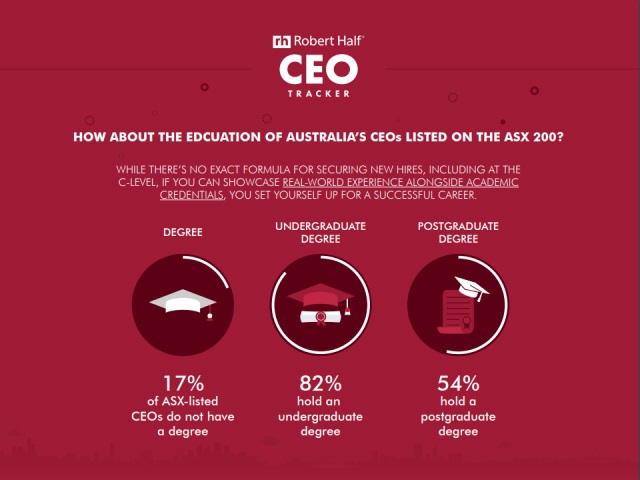 As the highest ranking executive officer who sets the strategic direction of a business, it's not surprising so many people aspire to become a CEO. Many driven and highly talented professionals will be eager to know exactly what it takes to secure the top job at some point in their careers. Through extensive research, specialised recruitment company Robert Half has identified key trends and facts about the CEOs of the ASX 200 in the inaugural Robert Half CEO Tracker.
Unsurprisingly, those aspiring to become a CEO generally require a considerable amount of intelligence, determination, flair for business, and an aptitude for continuous learning – which means they typically have a strong educational background focused on the most relevant disciplines to set them off on course for success. The research has found that 82% of ASX 200-listed CEOs hold an undergraduate degree, with the most popular Bachelors' degrees including Commerce, Science, Economics, Engineering, and Business.
Over half (54%) have also completed a postgraduate degree. A Master of Applied Finance is one of the top five most popular postgraduate qualifications held by CEOs according to the research, alongside an MBA, Master of Science, and the Harvard Advancement Management Program.
While education is key, so is a background in finance. Half (50%) of the ASX200-listed CEOs have a background in either financial services, finance and/or accounting. Holding the CEO position generally requires to be well versed in financial leadership, with demonstrably high levels of commercial acumen. Commercially savvy business leaders with exceptional financial awareness will find themselves in high demand in today's increasingly competitive and ever-changing business environment because they're generally well equipped to understand the financial ramifications of the business decisions they make.
While an official university degree is a highly useful asset on the employment market, it is possible to develop a flourishing career without holding a diploma. There's no denying that real-world skills and practical experience offer benefits that go beyond the classroom, making climbing the ranks internally a potential career path as well. While there's no set formula for earning the top job, professionals who showcase real-world experience alongside academic credentials are best placed for career success.
Robert Half Executive Search specialises in the search for and placement of executive leadership talent across a broad spectrum of function areas and industry sectors.