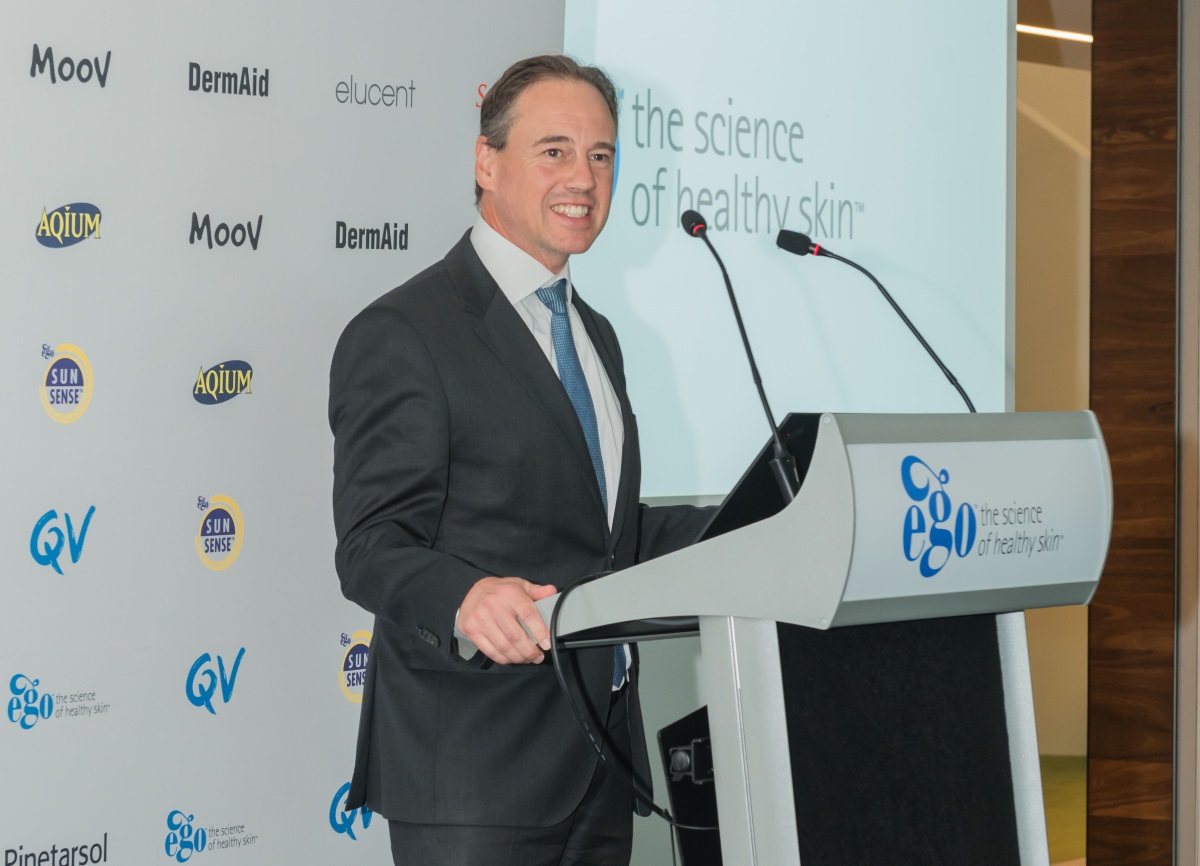 Australian Exporter of the year continues local investment with $35M global headquarters opened in Melbourne by Minister Hunt
The Hon. Greg Hunt MP, Federal Minister for Health officially opened Ego Pharmaceuticals new $35M global headquarters in Dandenong South on Wednesday the 21st of February.
The investment comes off the back of huge growth in Ego's international exports, which is now approaching 50% of the company's sales, selling into areas including the UK, Middle East and Asia.
Ego Pharmaceuticals is an Australian made and family owned business which manufactures dermatological skin care, including well-known brands such as QV Skincare, SunSense, Aqium hand sanitiser and Pinetarsol. Established in 1953, it now produces 120 products, all of which are manufactured in Melbourne.
Minister Hunt spoke about the importance of Ego Pharmaceuticals within the health industry; with many Ego products being routinely used in hospitals, aged care facilities and doctors' surgeries, and even within his own family.
"When I look at the names…I think through our family. With Aqium…it protects me and it protects people from me as I go in and out of hospitals. Virtually everywhere I go there is Aqium attached to the walls of the wards…my daughter has a very mild eczema, so she uses QV, and my son is an 8 year old boy, so he uses the lice protection products, as should every 8 year old boy in Australia."
As a family-owned, Australian brand, Ego Pharmaceutical's reputation has been built on 65 years of dedication to provide its loyal customers with specialist, quality skincare. Although expanding with large exports internationally, the brand remains true to its Australian heritage and continues to manufacture all of its products in Victoria. The organisation also runs on a pharmacy only distribution model which supports pharmacies all over the country.
"You create jobs, you create wealth for Australia, but above all else you are part of a grand sector which is evolving and translating research and discovery, into delivery and better health outcomes for Australia." Minister Hunt commented.
"We are at a golden moment in Australia's medical research history. We have the national health and medical research council, but we are right in that moment of doubling medical research funding and dramatically expanding our med-tech, bio-tech and pharmaceutical sector in Australia and in many ways you are the emblem and symbol of that potential."
Ego Pharmaceuticals MD, Alan Oppenheim commented on the importance of export to the growth of the business and the positive effect this has on local jobs, with Ego being awarded the Australian Exporter of the year in 2017.
"Six years ago we had 300 employees; today we have 593 wonderful Ego staff across 12 nations. In six years we doubled our staff. Over the next six years we will likely double our business again, to create hundreds more new jobs." said Mr Oppenheim.
"I believe that the best thing that we can do for the community is to grow high technology manufacturing in Australia, making products for the world."
The Federal Health Minister was also impressed by the environmental design of the building as he toured the facility, with Scientific and Operations Director, Dr. Jane Oppenheim, explaining the design of the building.
"All up this was a $50M project, which took us about 5 years to complete. Paul Cushion, the mechanical engineer has designed an energy and water efficient building that meets our wish to engage in a technology inspired sustainable future.
"Technology such as the automated air exhaust system in the warehouse, that keeps it under 25 degrees even on the hottest of days without any refrigerated air-conditioning. We have solar panels, grey water and rain water systems and more."
Looking towards the future, Minister Hunt noted that with 2018 being Ego's 65th Anniversary, "It's a 65 year old company, dating back to 1953…and this site is planned with the expansion potential for the next 65 years…You have a long and glorious history behind you, but an even longer and more glorious history ahead of you."
About Ego Pharmaceuticals:
In 1953, Ego Pharmaceuticals was founded in Melbourne when chemist, Gerald Oppenheim, began creating ground breaking skin care products to meet the needs of dermatology patients. Now over 60 years on, Ego has become a pioneer in the industry and is the largest Australian pharmaceutical business specialising in the research and creation of high-quality skincare products, exporting to over 20 nations around the world. Ego's reputation has been built on consistently delivering effective and innovative products manufactured to Australian and international pharmaceutical standards and backed by science.
Today the still family owned business remains committed to creating high-quality skin therapies and everyday skincare products. Ego's brands include QV Skincare, SunSense, Elucent Skincare, Aqium and ViraproX.